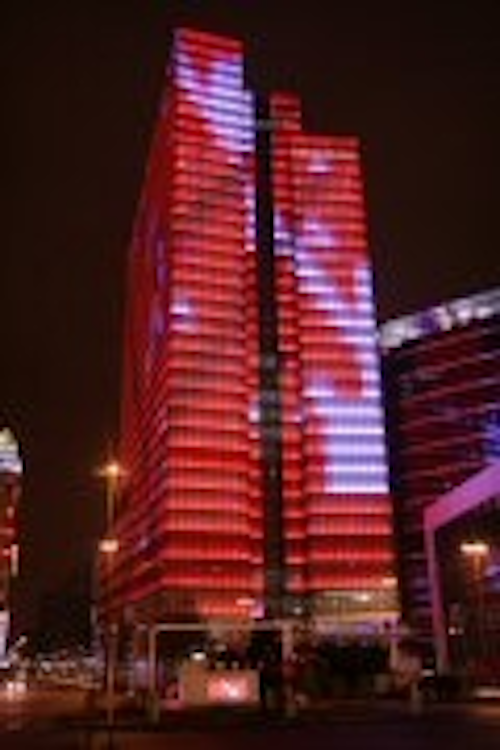 LAb[au], a Belgian digital design and art lab, has implemented a unique interactive project using a Brussels building illuminated with LEDs.
The 145 m high Dexia Tower, headquarters of the Dexia Group, contains 4200 windows that are each fitted with individually controlled RGB LED bars, turning the façade into a huge screen.
The "Touch" project developed by LAb[au], the Laboratory for Architecture and Urbanism, ran from December 26, 2006 to January 15, 2007.
LAb[au] says that instead of considering the building infrastructure as a flat screen displaying pre-rendered video loops, the project utlized the architectural characteristics of the tower and its urban context. The main thrust of the project was to allow people to directly interact with the tower.
On Brussels' Rogier Place, at the bottom of the tower, a station was mounted where people could interact with the visual and luminous display through a multi touch screen. The touch screen accepted both static and dynamic input, based on parameters such as width (e.g. of a finger or hand), direction, duration and speed.
Once a composition was created on the giant LED display, a snapshot of the tower was taken from a distant location. The image could be sent as an electronic postcard, and was also uploaded onto the project website (www.dexia-tower.com).
LAb[au] says that the project provided Brussels inhabitants and passers-by with "the possibility to share the positivism towards the upcoming year and future through a real-time, collective interaction on an urban scale."
LED lighting
LED lighting fixtures for the project were supplied by Italy-based Space Cannon. A total of 4200 Ath-Luxor custom LED bars (24 LEDs per bar) in RGB with three channels and 2 Titan 4000W were supplied for the windows.
A further 22 custom fittings in monochromatic blue light with 40 3-watt LEDs were fitted to the columns and 60 Ath-Luxor custom of different lengths follow the perimeters and light up the inner door of the main entrance of the building.
Space Cannon says that the project is undoubtedly the biggest-ever installation controlled by DMX cables, with a total of 25 km of cables running through the building. Every single LED fixture is controlled independently, thanks to the design of a wiring system of DMX and Ethernet cables and the creation of software that has been installed in a large central computer. This can control each floor individually and combine all the shows.