Barco supplies miles of tiles at 2007 Detroit Auto Show
Thousands of LED modules have been used to enhance the appearance of car-makers booths at this year's Detroit Auto Show.
Jan 18th, 2007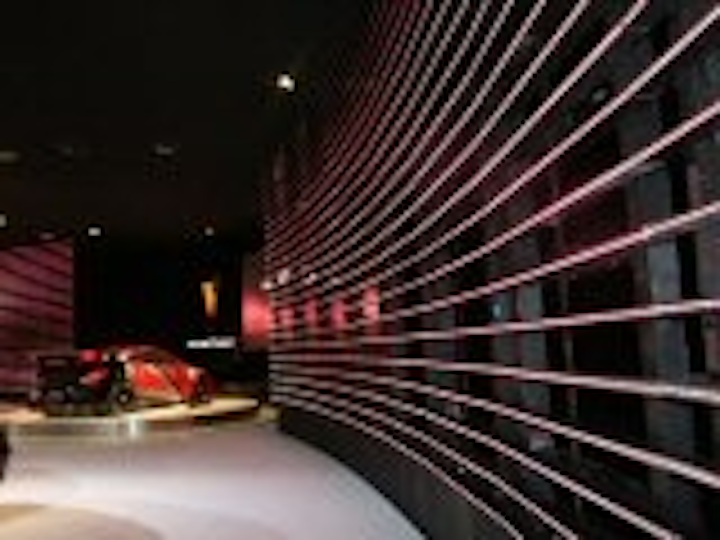 A large number of auto manufacturers exhibiting at the 2007 North American International Auto Show (
NAIAS
), running through January 21 at Detroit's Cobo Center, have selected Barco LED tiles for their booths.
Continuing with last year's "immersive video" trend, Barco LED products have been designed architecturally into the walls themselves — often created with complex curves and sweeping arcs of video imagery.
Rental partners XL Video, Creative Technology, CT Germany, IMAG and Bluewater, have all used Barco LED products in highly creative applications ranging from graphic backdrops to large format content playout screens.
Auto manufacturers including Cadillac, GM, Ford, Saturn, Toyota, Lexus, Nissan, Porsche, KIA, Land Rover, Hummer, Jeep, Infinity and Buick have all selected Barco LED tiles — not simply as video presentation forums, but also for virtual scenery and the ability to create dynamic color transitions with ease.
This year, creative standouts include: Ford used Barco ILite 6 XP tiles in a curved and visually dynamic series of walls that display content one moment and an ever-changing array of Ford "blue" hues the next.
Nissan used OLite 510 tiles for a huge, overhead carousel of video, displaying graphics, text, and new vehicle promos.
Acura used towering arrays of MiSTRIP modules for graphically rich backdrops behind two auto turntables.
GM used MiTRIX (the newest addition to Barco's LED portfolio) to showcase GM's introduction of its new E-Flex vehicle (the Chevrolet Volt Concept Car) on a rotating stage. GM's booth also sported an overhead, 300 meter long border of MiSTRIP modules that enclosed the entire booth, with elegant motion graphics that visually traveled the entire length of the strip.
MiTRIX modules are semi-transparent, with a self-supporting central backbone. The modules are designed with a 24mm pixel pitch, an extremely small size (384 x 192mm), and a very light weight design (1kg).