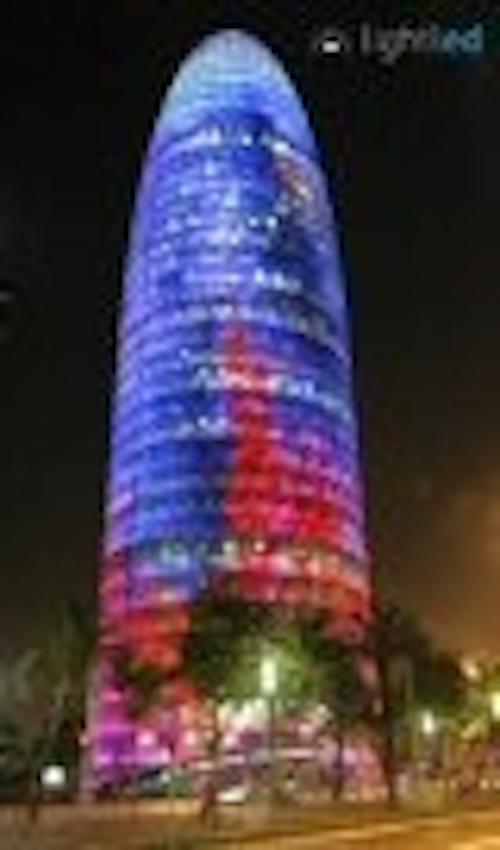 An LED lighting solution from the Spanish company LightLed has been chosen to light up the famous Agbar tower, the latest work in Barcelona by the prestigious French architect Jean Nouvel.
At night this building, which houses the Barcelona Water Company corporate headquarters, becomes a giant flame of light, rising 142 metres high from the city centre.
A total of 4,500 L3 RGB lights were installed to illuminate the 32 floors of offices in the Agbar tower.
The construction of the tower's lighting system had to meet strict sustainability standards – it needed to be self-contained, quasi-intelligent, and easy and cheap to maintain, while avoiding light pollution. The system also had to be controllable from a single computer, either manually or following the instructions of different programs.
In order to meet the requirements for this project, LightLed, a Catalan company which is part of the Spain-based Odeco Group, created the LightLed L3 RGB system for architectural and monumental illumination.
This system can be adapted to any building, is very easy to maintain and does not cause light pollution. With it, 1000 lights use up less energy than seven domestic hair dryers.
Each lighting device consists of a cast aluminium gondola containing:
- 18 1-watt RGB Luxeon LEDs
- Input linear power supply of 220 VAC and output of 24 VDC
- DMX control to establish communication with the central system
- Module controlling the direction of the lighting devices which allows them to be identified throughout the DMX 512 line.
Moreover, the system is able to control each light and each section individually, with information feedback allowing self-diagnosis of its operation. It can be run from a PC, a mobile phone, a PDA or a laptop computer from the outside, within a radius of up to 500 metres.
The integrated lighting unit concept makes the system highly robust due to the aluminium structure, reliable due to the LightLed light source, versatile in use and adaptable to this and other projects.
The opening ceremony of the Agbar Tower took place at the end of 2005 in the presence of Spain's King Juan Carlos.
Jean Nouvel commented, "This is not a tower, a skyscraper, in the American sense. It is a more an emergence, rising singularly in the center of a generally calm city. Unlike slender spires and bell towers that typically pierce the horizons of horizontal cities, this tower is a fluid mass that bursts through the ground like a geyser under permanent, calculated pressure."