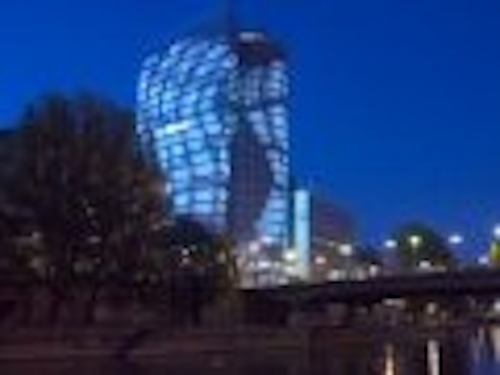 Belgium-based LED display manufacturer Barco has installed its first permanent LED installation on a building façade.
The 20-floor Uniqa building in Vienna, Austria has been fitted with 45,000 LED blocks covering a staggering 7000 square meters (about 75,000 sq. feet).
The Barco MIPIX LED blocks have been fixed in a special housing which is IP65-certified, and are attached to profiles in between the window panes. The blocks are about 4 cm square and each contain 4 RGB LEDs.
There are 2800 sections of MIPIX blocks, each 1.3 meters in length, placed end to end in pairs - making 1400 separate sections each totaling 2.6 meters long.
Designed by lighting designers Licht Kunst Licht, the installation is a fantastic example of how LED can be used creatively to transform buildings and identify them as distinctive landmarks. Licht Kunst Licht understand lighting design as an integral part of architecture by emphasizing its effect on spatial quality as opposed to stressing the formal lighting fixture design. At night the tailor made content for Uniqa brings the building to life and ensures Uniqa is noticed by everyone in Vienna.
The installation posed a range of unique challenges for the Barco team to overcome. No cables were allowed to run into the building from the outside except via the roof, and this was coupled with the extremely short timeframe of 5 weeks for the installation.
"This is truly a fantastic and unique installation," said Stephan Paridaen, President of Barco's Media and Entertainment division. "The Uniqa building marks the beginning of the latest evolution in LED technology, from video walls to creative architectural visual design."
Barco displays at TV events
An estimated 400 million viewers of this year's 2006 Eurovision Song contest will see a stage design featuring more than 1,100 Barco ILITE 6 XP LED tiles, as well as 4,800 OLITE 510 modules, all controlled by the ENCORE show control system.
The OLITE 510 modules are integrated into the gigantic 13-metre-wide stage floor. Sections of this stage will rise up out from the stage floor forming raised performance decks with OLITE modules integrated on all four sides as well as on top.
Surrounding the back of the stage are six enormous, mobile pieces of scenery with two pivots each. The ILITE 6 XP LED tiles (measuring 45 cm square, with a 6 mm resolution) have been creatively integrated into each piece which will allow individual video backdrops to be projected for each song.
Meanwhile, the MTV Asia Awards in Thailand is built around two OLITE 510 LED displays totaling 30 square metres of modular LED blocks. Set back from the OLITE were a total of 8,000 MiPIX blocks to give the set depth. All Barco products were supplied and installed by Tedtronic Pte Ltd of Singapore, one of Barco's largest Asian rental partners.