Dark skies overcome by LEDs on Melbourne tower
Melbourne's dark sky requirement pointed to the use of LED fixtures to illuminate a prominent building.
Apr 12th, 2006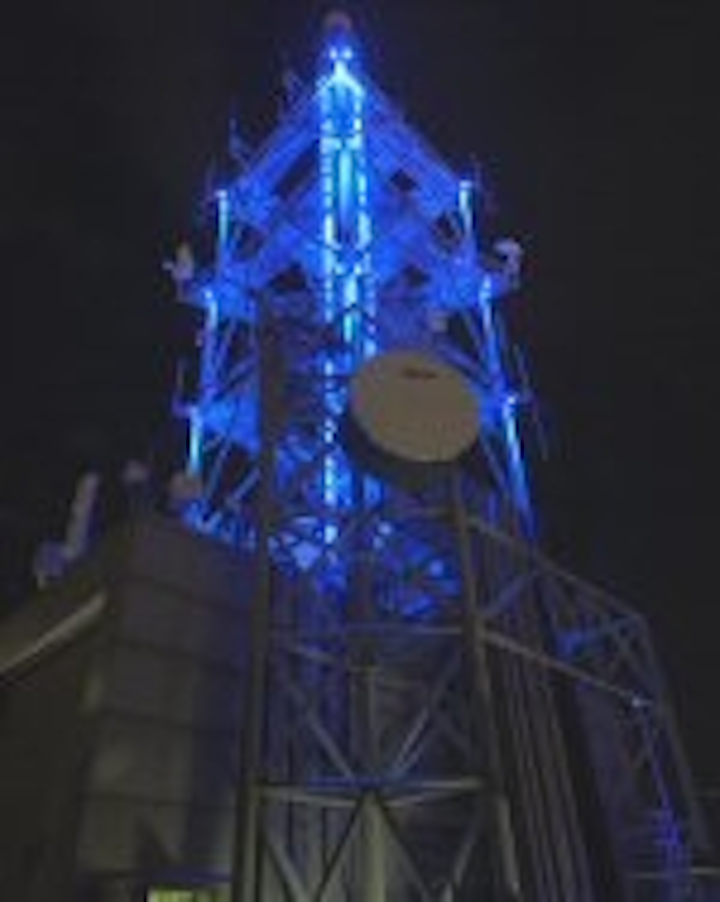 Coemar DeSisti Australia recently completed a high profile architectural illumination project, in conjunction with fellow Australian company Laservision, to install LED lighting in the 120 Collins Street building in Melbourne. The 264m-tall building is topped with a 50m communications tower.
Initial designs incorporated discharge-lamped colour changers spread throughout the tower with the outer uprights highlighted with an LED tube system.
However, planning approval was stalled by Melbourne City Council due to its commitment to a "dark sky" scheme. The main issue was the high-powered light sources pouring light into the Melbourne night sky.
The problem was overcome by a new design which eliminated the discharge colour changers and which lit the communications tower using only LED fixtures facing downwards.
The project utilized a number of Solar GB high-powered LED fixtures (20 x M100 – 18 watt RGB fixtures, 24 x M200 – 36 watt RGB fixtures) to light the external and internal skeletal structure of the communications tower. These fixtures were modified through the addition of custom front radiation grills, creating a "farad cage" to overcome the problems of having the fixtures in close proximity to the communications transmission equipment.
Also, 200m of LED tubing was mounted within the internal core of the communications tower, producing four very distinguishable lines of colour changing LED lighting used to create marvellous, flowing lighting effects.
All equipment on the tower is controlled via DMX signals using an advanced Laservision DDP control system which allows for internet programming and remote access to the system.
Installation was arduous due to the height of the building and the numerous transmission devices on the communications tower. Radiation meters were used, as was a rigging company capable of scaling the dizzy heights to install much of the lighting hardware. The simple plug and play facility of much of the LED lighting was the perfect solution in this difficult location.
Able to be seen from many kilometres away, the lighting has made a notable building even more prominent in Melbourne's night-time skyline, and featured quite prominently in the networked television coverage of the opening and closing ceremonies for the Commonwealth Games.