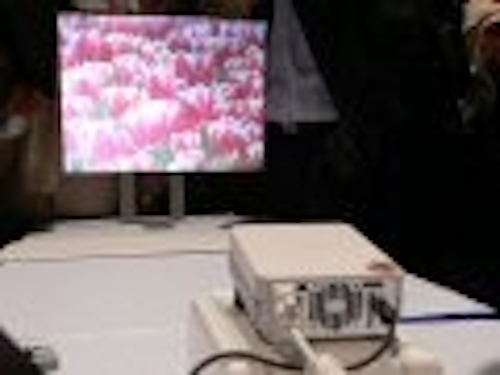 Using RGB LEDs as light sources, Sony has developed the world's smallest LED projector, according to an
article
on New Launches website.
The projector has a volume of just 410 cm3, its top surface area is equivalent to that of two business cards and it is shorter than a standard ball pen.
All so-called "pocket projectors" available on the market today use Digital Light Processor (DLP) technology, in which light is reflected from a DLP chip to create the image. These products are discussed in detail in an article in the
June issue
of
LEDs Magazine Review
, due to be published on June 27.
Sony's projector uses an alternative approach known as 3LCD, which, as the name suggests, uses 3 transmissive LCD screens, one for each color. Red, green and blue light passing through the screens creates 3 images which are combined in a prism before being projected.
The Sony projector uses 0.62-inch-diagonal 800 x 600 transmissive LCDs as display devices. A total of 14 LEDs are used -- four red, four blue and six green.
The power consumption required for the LED unit and the entire projector is 20 W and 30 W, respectively. A wide color gamut of 120% NTSC can be achieved.
Also, Sony has developed a proprietary screen that can reduce the reflection of external light, resulting in extremely high screen luminance.
More projection news: Unaxis invests in Novalux
Unaxis Optics, which develops coatings technologies for optical components primarily used in projection displays, has acquired a stake in California-based Novalux, which manufactures high-power lasers. The Unaxis investment was part of a series B financing round which raised $21.7 million for Novalux.
According to the agreement, Novalux will license its RGB laser reference design to Unaxis, as well as supplying NECSEL (Novalux Extended Cavity Surface Emitting Laser) chips. Unaxis will then mass produce RGB laser modules and distribute them into the projection display supply chain.
Lasers such as the NECSEL are being promoted as alternatives to LEDs as replacement light sources in the rear-projection TV and other markets.
For full details, see Unaxis Optics makes 'strategic' investment in Novalux on optics.org.
More projection news: Bookham multiplexer technology
See Bookham launches modular multiplexer technology for LED projection systems