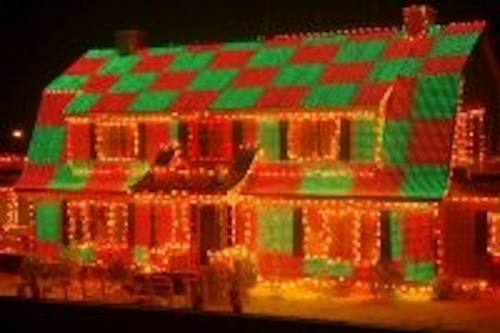 Color Kinetics' LED lighting technology plays a key "role" in a new family holiday movie
Deck the Halls
, starring Danny DeVito and Matthew Broderick as dueling neighbors.
DeVito's character attempts to turn his house into the world's biggest and most brilliant holiday display, and succeeds when the entire house is transformed into a traffic-halting multimedia light show made possible by Color Kinetics' LED technology.
"This is a film that literally hinges on the lighting -- where the lights are a central character. Anything less than spectacular would have failed the story," said Jason McKinnon of Electric Aura Lighting Design, who conceptualized the ground-breaking lighting sequences along with Rob Sondergaard.
"Based on their highly programmable and durable nature, we knew that LEDs were the only feasible choice to make our concept a reality."
The project was achieved using Color Kinetics® iColor® Flex SL, which resembles a traditional holiday string light, but allows precise digital control of every RGB LED node on the strand. Based on the vision of Deck the Halls director John Whitesell and production designer Bill Brzeski, holiday-themed light animations were designed and streamed via a media server to the LED nodes.
A total of 14,300 RGB nodes were used, drawing 7,150 watts of energy – the equivalent of four average hairdryers. By comparison, wrapping the house in the same fashion with conventional exterior string lights (7-watt C9 lamps) would have drawn approximately 100,100 watts i.e. 14 times more than the LED installation, yet without the capability for programmable effects.
The electrical current draw of the entire LED installation was 126 amps, the approximate draw of 1.3 average households. By comparison, the same configuration using conventional exterior string lights would have drawn 812 amps.
"Even by today's elaborate standards, this is a holiday lighting display that breaks new ground in its ambitious scale and design – far surpassing the capabilities of conventional light sources," said Bill Sims, President and CEO, Color Kinetics.
The entire lighting scheme had to be defined, installed and programmed in just five weeks. Filming was interrupted numerous times by small aircraft that were attracted to the set by the lights.