Osram LEDs illuminate small, medium and large displays
Osram has introduced two new LEDs specifically for display backlighting, and has contributed to products such as a 42-inch curved display from Ostendo.
May 22nd, 2008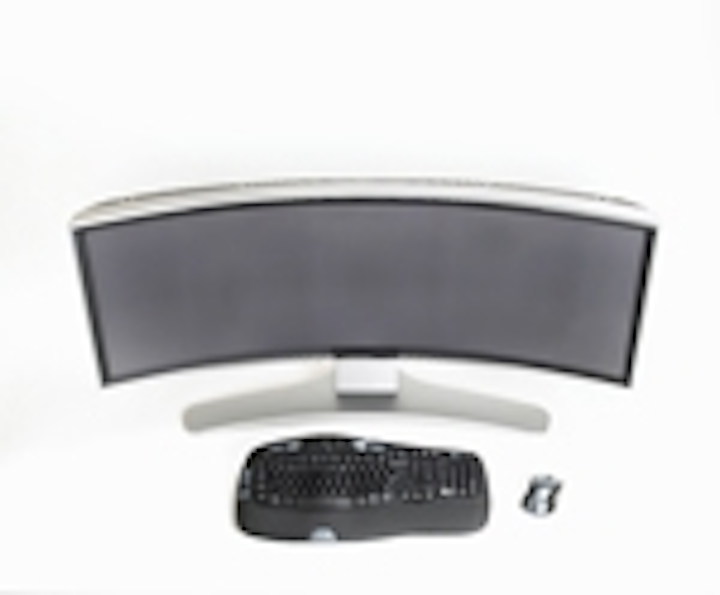 Wrap-around display uses OSTAR-Projection LEDs
The Ostendo CRVD curved display, which measures 42.4-in. diagonal and provides a 2880 x 900 pixel resolution (double WXGA+), is backlit using Osram's OSTAR-Projection 6-chip LED light sources.
An immersive desktop display, the CRVD wraps around the viewer while serving up billions of colors, >300 nits brightness, and a contrast ratio of >10,000:1.
The display is useful for applications such as simulation, gaming, financial analysis, digital imaging, web-content creation or any desktop computing application that benefits from significant amounts of seamless real estate.
"It's an incredible display," said Tom Shottes, president and CEO of Osram Opto Semiconductors Inc. "This is the first display that provides such a wide field of view with such dynamic range and wide color gamut. We've worked with Ostendo since they began developing the technology. The high luminance and design flexibility of our OSTAR-Projection technology was a perfect fit."
High-power Ceramos Reflector LED for slimline displays
The new high-power Ceramos Reflector LED is developed for injecting light into a light guide, specifically for backlighting medium-sized LCDs (5 to 20 inch).
The Ceramos Reflector provides luminous efficacy of 70 lm/W from an operating current of 80 mA. Its small ceramic package measures just 2.3 x 3.2 x 0.8 mm and is thermally stable, allowing high packing densities. An oval out-coupling window enables light to be injected into 2 mm high thin light guides. This is in keeping with the latest trend for slimmer and slimmer displays with high luminance.
Applications include satellite navigation devices for road vehicles and aircraft and any other displays that need to be read in bright ambient light.
"More and more display manufacturers are looking for an eco-friendly alternative to cold cathode fluorescence lamps," said Winfried Schwedler, marketing manager for LCD backlighting at Osram Opto Semiconductors. "With our high-power LEDs such as the Ceramos, we offer ultra-bright and efficient light sources that also save energy."
RGB MicroSideLED: big on light, small on space
The RGB MicroSideLED is designed to inject light sideways into extremely thin light guides, for mobile applications such as cell phones, PDAs, satellite navigation systems and super-slim notebooks.
The compact LED package is only 0.6 mm high and accommodates three colored chips that can be individually controlled and together cover more than 100% of the NTSC color space. The results on the display are vibrant colors of exceptional brilliance. Depending on the white point, the luminous efficacy is 35 to 40 lm/W – a high efficiency that comes from the high-power thin-film (red) or ThinGaN chips (green, blue).
The green chip provides the highest luminance for this color on the market with a value of 1000 mcd from an operating current of 20 mA. An extremely low-profile out-coupling window enables very thin light guides to be used. This is essential for super flat displays.
Notebook backlighting has to function reliably at 60°C for more than 15,000 hours, which is not a problem for the MicroSideLED. The LED is mercury-free and RoHS compliant. Its 6-lead design ensures efficient heat dissipation and enables the LEDs to be connected in series.
"Our RGB MicroSideLED combines exceptional brightness with an extremely low-profile form factor," said Winfried Schwedler. "Its special SMT package is suitable for standard solder processes and allows display manufacturers to specify high-power LEDs for super-compact displays."