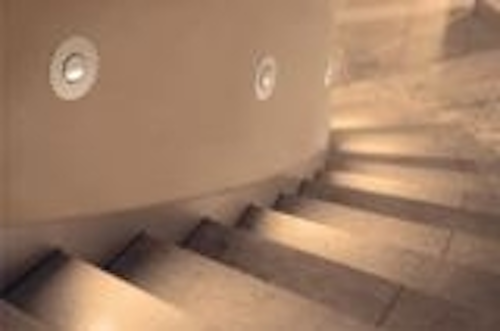 Approximately a year after the (market) introduction of GE's Vio high-power white LED, five lighting fixture manufacturers are marketing and selling commercial and residential fixtures that incorporate the chip-on-board LED package from Lumination LLC, GE Consumer & Industrial's LED business.
"These fixture OEMs are leading a shift toward accent and general lighting with efficient, reliable GE LEDs that will last as long as the fixture. This is the future of lighting," says David Elien, Lumination's president & CEO.
Vio high-power white LEDs contain a violet-emtting chip and appropriate phosphors, and produce less than a 75K color shift over a 50,000-hour rated life. According to Lumination, this means they are able to overcome many of the inherent color control issues of standard blue with yellow phosphor or RGB LED devices. This enhanced color stability allows Vio to more closely mirror halogen or incandescent light quality.
"We like the violet LED technology because it minimizes color variation but still allows for color temperature flexibility," says Douglas Grove, president of 3Style Architectural Lighting, the first fixture company to commit to using the GE LED in a fixture.
"This mix of consistency and control makes it a perfect choice for general or specialized lighting applications such as under-shelf, pathway or accent downlighting. The GE Vio offers the best balance of quality white light, life and energy efficiency with the most vivid color rendering," continued Grove.
OEMs currently offering Vio–powered fixtures include: 3Style Architectural Lighting, Ardee Lighting, Barbican Architectural Products, Gardco and Lightolier.