Dialight Lumidrives LEDs light up Glasgow bridge, Swedish hotel
LEDs from Dialight Lumidrives have created a dramatic effect for Glasgow's newest bridge, and have also been used to light up the prestigious SAS Radisson Hotel in Linkoping, Sweden.
Jan 2nd, 2008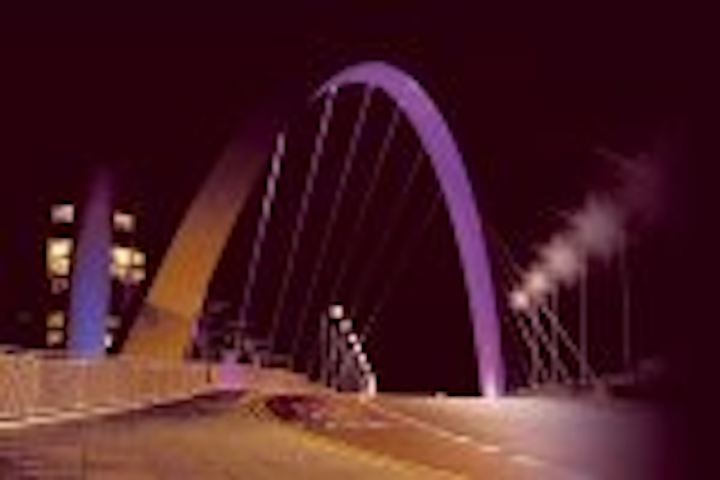 Glasgow's newest bridge, Finnieston Bridge at Pacific Quay, is lit up using LEDs from Dialight Lumidrives, the UK-based LED technology provider.
Carmichael Lighting Ltd used colour-changing LEDs, controlled by 40 Colourdriver 36 modules, to create a dramatic effect on the new 169-metre long road bridge across the River Clyde.
Gordon Routledge, managing director at Dialight Lumidrives says: "LEDs provide a superb lighting effect for the bridge. What's more, the LED power consumption of the light arch is only 96 watts whereas lighting by traditional sources would require around 500W. LEDs are therefore extremely energy efficient, long lasting and require virtually no maintenance."
The £20.3m Finnieston Bridge is a dramatic new landmark for Glasgow, featuring a central arch span which crosses the river at an angle between the roundabout at Broomielaw/Finnieston Street and the south side of the river.
The bridge accommodates four lanes; two dedicated to public transport and two for private and commercial traffic, with additional pedestrian and cyclist paths. It has a main span of 96 metres with two end spans of 36.5 metres.
Dialight Lumidrives is the illuminations division of Dialight Plc, one of the world's largest suppliers in the field of applied LED technology.
Dialight Lumidrives LEDs light up SAS Radisson
Swedish lighting designers Flux have lit up the prestigious SAS Radisson Hotel in Linkoping, Sweden, using UK-based Dialight Lumidrives' LED modules.
The hotel exterior uses Dialight Lumidrives' Colada 425 linear LED modules driven by a Colourdriver 36 controller to create six columns of colour on the building's front façade.
Colourdriver 36 gives control of up to 36 LEDs, is compliant with Luxeon power light sources and can be remote mounted by up to 30 metres from the LEDs. With thermal feedback protection and a 3 channel driver powering a minimum of 4 to a maximum 36 x 350 mA LEDs, Colourdriver 36 is ideal for exterior architectural lighting.
Colada modules offer users a variety of options dependant on requirement. They are available in silver or black finishes and can be used with single colour or rgb LEDs. IP and non IP versions are available with size options covering 12 LEDs (425mm length), 16 LEDs rgb and 18 single colour (615mm) and 36 LEDs (1190mm). Optic options include spot, medium, wide and oval.