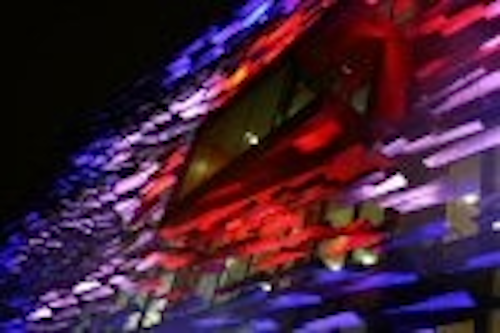 The LED lighting scheme installed at the Richard Desmond Children's Eye Centre, London was awarded Exterior Project of the Year at the
Lighting Design Awards
.
Another LED winner was the Tempura fixture from Zumtobel Lighting, which was successful in the Innovation - Interior Luminaires category.
The Moorfield Hospital lighting scheme (see article) was designed and supplied by Roger Beckett and James Duncan from the Light Projects Group using a combination of linear Light Projects' and Tryka RGB colour-changing LED equipment mounted along the inner edge of the maintenance walkway at each floor level.
The judges, unanimous in their decision, described the scheme as "stimulating", "engaging and inviting", "imaginatively designed" and "a visual delight".
The colour change fittings are controlled by a DMX 512 control unit inside the building with a Light Projects' designed programme which creates both gradual and fast effects with random colour and intensity spikes. This creates shifting light schemes to fit all aspects of celebration and to create a living, breathing experience.
The lighting on the building constantly changes, particularly at the weekend producing different textures, pastel colours and intensities.
The project brief was to design and supply a creative lighting scheme to complement the building's unique south-facing façade. The south façade, looking onto the open space across Peerless Street, is protected from solar gain through an unusual arrangement of freely placed folded aluminium louvres, held within a large array of tensioned cables suspended 700mm in front of glass curtain walling.
A projecting bay breaks through the louvres signalling the most populated part of the building - the main out patient waiting area - on the third floor (and which forms the centre of the eye).
This is unlike any hospital scheme seen before. The façade appears to be animated by the filigree of louvres, apparently in free-fall and designed to evoke the feeling of a wheeling flock of birds. The intervals between the louvre blades was precisely angled and designed to avoid light spill into the flats opposite and also backwards into the windows of the children's areas.