Chamaeleon and Lightfolio turn on lights for Glasgow pupils
Pupils in a Glasgow school will soon by able to change the building's lighting effects by controlling LED fixtures in the windows.
Mar 13th, 2008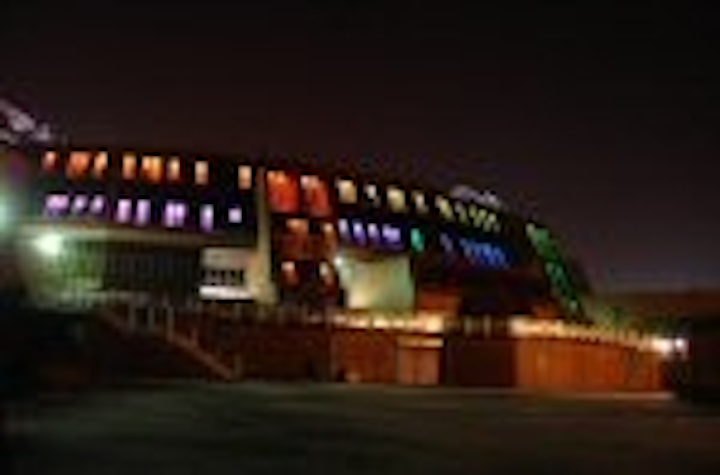 An innovative lighting scheme has been installed in Cardinal Newman High School, a local landmark visible from the A125 road into Glasgow, Scotland. The scheme was designed by Ian Walker and Reg Grove of Lightfolio, with lighting and controls supplied by LED specialists Chamaeleon Technologies.
To create the greatest effect, and working in close collaboration with School Head Isabelle Boyd, Lightfolio opted to individually light 140 of the school's windows with color-controlled RGB lightbars creating a constantly changing façade with the color movement determined by bespoke scene programming.
For the beginning of the next curriculum year Lightfolio and Boyd have planned for the entire lighting scheme to become interactive, and the pupils will be able to design and control the lighting effects of individual windows from their classrooms via SMS messaging.
North Lanarkshire Council commissioned Edinburgh-based Lightfolio to produce a lighting strategy for the Authority. To emphasize the importance of the strategy, Lightfolio were further commissioned to identify pilot projects that would create talking points within the community and signify the intention to promote North Lanarkshire as an area of regeneration and growth.
Cardinal Newman High School in Bellshill was chosen because of its shape and architecture to make a bold light statement. The idea was to completely change its appearance at night by the use of constantly changing color.
Chamaeleon Technical Sales Consultant Adam Knight said, "Our Astrum 400 RGB lightbar units were chosen by Ian Walker and Reg Grove not just for their excellent color rendition but also for the neatness and robust construction, which would be essential in a school environment. Also, LED technology was of paramount importance within the overall design plan to provide the school with a low running cost and minimal maintenance."
"Chamaeleon's expertise with DMX programming was also a factor" continued Knight. "We provided Lightfolio and their client North Lanarkshire Council with the flexibility to create a series of different color scenes which the school can access at the touch of a button. What we've completed so far is just the first stage of the project."
Knight also praised installation engineers Hugo and Brian Grant of Glasgow-based ETI, saying: "The guys were technically excellent, lighting the windows utilized the capabilities of our fixtures to their maximum and seeing everyone's work knitting together was an amazing experience."