Pandora leverages LEDs to reimagine Michael Jackson classic video
LED-enabled floor panels recreate the dance floor from Michael Jackson's 1983 music video "Billie Jean" in the Chicago office of Internet radio provider Pandora.
Aug 2nd, 2016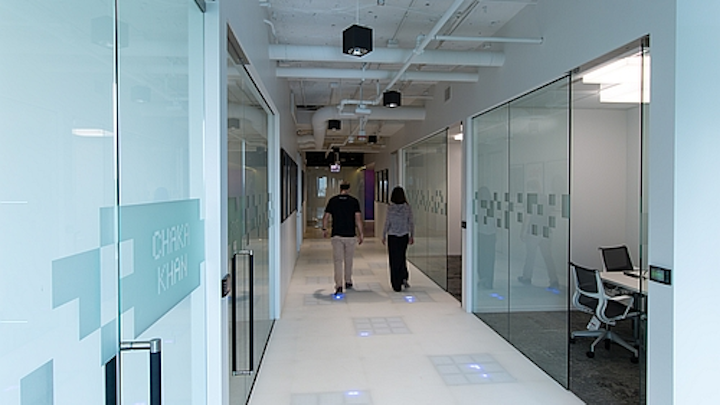 LED-enabled floor panels recreate the dance floor from Michael Jackson's 1983 music video "Billie Jean" in the Chicago office of Internet radio provider Pandora.
Acclaim Lighting has supplied LED-based Catwalk Light Panels for an innovative lighting project commissioned by Internet radio provider Pandora at its office on the eighth floor of One Prudential Plaza in Chicago, IL. Architects from Eastlake Studio created a replica of the dynamically-lit dance floor from Michael Jackson's 1983 music video "Billie Jean" in a central hallway that connects meeting rooms and the company's IT lab with the solid-state lighting (SSL) and décor extending the theme throughout the space.
Interested in articles & announcements on LED lighting?
LED sources have enabled some extremely compelling lighting projects because the sources can be embedded in materials like no legacy source could be deployed. For instance, we covered a project in a historic Swiss town in which LEDs were embedded in sidewalks to engage with visitors to restaurants and a public market. And in a German town square, in-grade-LED lighting can produce dynamic color effects.
Still, the Pandora installation is unique in that the wildly-popular "Billie Jean" video depicts a floor that responds to dancers. And Eastlake sought to replicate that experience in the Pandora office. The architects teamed with lighting design firm PG Enlightenment to create the implementation that includes both RGB (red, green, blue) panels integrated in the floor and an elaborate control system that responds to people walking through the space.
"A main goal for the project was to be able to show the footprint and then have it disappear in a timely manner," said Patti Geier, principal at PG Enlighten. "Based on our objectives, we had to develop inherent controls so that we could coordinate the background and trace colors with a time-delay function. The colors had to be bright enough to create a striking effect and be able to revert quickly back to the original background colors."
The team turned to the Acclaim Catwalk Light Panels that measure about 8×8 in., and that are designed to be affixed to a translucent surface. The panels include an array of RGB pixels. Moreover, the panels include an infrared sensor that can detect a touch on the top of the translucent tile to which the panels are affixed. Eastlake Studio created the custom translucent acrylic tiles used in the project.
A DMX system provides overall control for the SSL installation. Indeed, the control system could be used for programmatic effects and any mix of colors, although the reimagined dance floor is the primary experience that employees and visitors will enjoy. Geier added, "Now, dancing is not only allowed, but it is encouraged on the eighth floor."
Indeed, for Pandora the motivation for the project was creating a positive experience for employees and prospective new hires. "Good team communication and thoughtfulness were the keys in ensuring Pandora would have a unique design element that speaks to its brand, helps them recruit and retain talent and, most importantly, gives the company a place where its employees can have fun at work," said Kevin Kamien, principal at Eastlake Studio.
Acclaim Lighting, meanwhile, has been involved in other specialized lighting projects where dynamic colors and controls come into play. Just before LightFair International went to Philadelphia for the first time in 2013, the company installed RGB façade lighting on the city's convention center. And the company also supplied a unique RGB LED wall at a posh San Diego, CA nightclub back in 2009, although that club closed a few years back after several years of success.