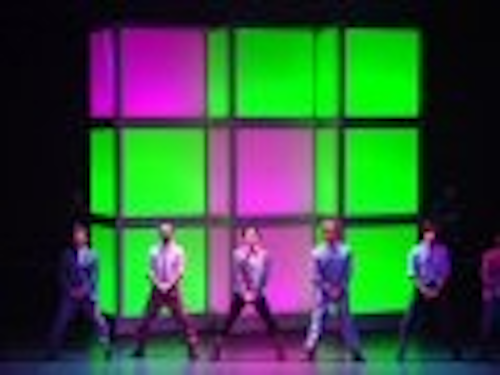 The modern and attractive stage decoration for the musical "Love Me Just A Little Bit More" featured nine multi-usage cubes, lit by LagoLED®DMX-i PowerLED Strips from Lagotronics.
Princess Entertainment Group presented the musical "Love Me Just A Little Bit More" – a comedy show from the eighties based upon hits from the "Dolly Dots". The tour started in September 2004 and ended in February 2005 after touring throughout the Netherlands.
The cubes were a very central part of the stage; therefore, it was important to install a colour changing lighting system that was capable of producing a sufficient quantity of light and was durable enough to operate throughout whole tour, with just the minimum of maintenance.
Denise Feenstra, Lighting Designer for "Love Me Just A Little Bit More" commented: "I have visited several shows where LEDs were being used, and they were always from Lagotronics. After viewing the website, I contacted Lagotronics to help create the look I wanted to achieve. The cubes look marvelous and are really the eye catchers of the show.
"For me it is the first time that I have worked with LEDs and it has been a very positive experience working with Lagotronics."
The latest LagoLED linear lighting devices use three/four Luxeon I LEDs for fully DMX controlled RGB lighting systems. Altogether six different versions are available: RGB, RGB + white and RGB + amber, all with and without optical system, are available now.
Each of the nine cubes measured 150 x 150 x 150 cm, and used 48 LagoLED®DMX-i PowerLED Strips (a total of 432). A total of 72 LagoLED®DMX-i PowerLED controllers were required, and each cube used three DMX channels and had a total power consumption of only 175W.