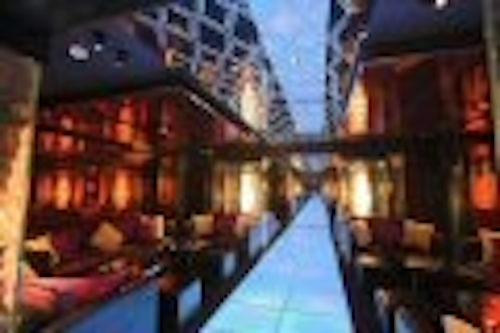 Metropolis AV's new Met 3 LED lighting products have been specified and installed at the new private members club Fifty London at 50 St James Street, London.
The building was first opened as a casino in 1827 and has recently undergone complete refurbishment, with an interior design by Jeffrey Beers. Fifty offers a spectacular gaming room, private gambling facilities and five floors of upscale bars and restaurants plus the Fifty Below club lounge downstairs.
The sound and lighting installation was undertaken by Touch Media, whose Iain McLachlan specified 24 Met 3 RGB down-lighting fixtures for the low ceiling of Fifty Below's 'catwalk'.
These are recessed into the ceiling and provide subtle colour changing effects in the club's discreet and contemporary environment.
McLachlan chose the fixtures because they are "the brightest currently available on the market," and are also reliable and easy to fit.
Out in Fifty's main entrance hall on the first landing of the grand staircase is a large mirror etched with a rose design. To create a subtle and memorable lighting effect, McLachlan fixed two Met3 73 mm pitch 600 mm colour changing linear strips to the back of the mirror.
They had initially intended to use 6 strips, he explained, but the fixtures proved so bright that that wasn't necessary. The light reflects back off the wall behind the mirror and the side light catches the slightly indented etched shape, gently highlighting the contours of the rose.
The Met3 fixtures at Fifty London were programmed and are stored on a Pulsar Replay unit. Along with all the other lighting throughout the venue, the master controller is a Crestron system.