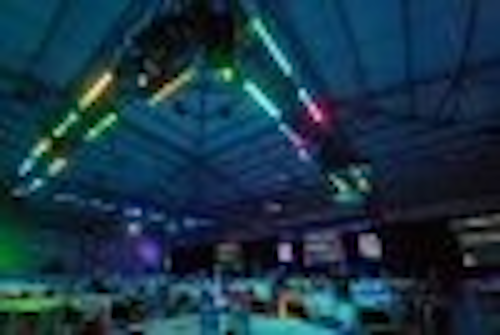 Futurist's Michael Lister teamed up with Radical Lighting's Emma Long and Simon Carter to present a completely different conceptual approach to lighting the Yorkshire Forward business conference in Harrogate, UK.
They took the bold move of deciding to light and create a visual environment for the whole event using just video and LED lighting. The lighting rig included 44 James Thomas PixelLine battens, 24 RGB PixelPAR fixtures and 6 of JTE's new daylight white PixelPARs. The LED fixtures were run through one of Radical's PixelDrive control systems.
The lighting scheme highlighted many advantages. Creating a different look and aesthetic topped the agenda, introducing different and exciting visual dynamics into the environment.
Another was neatness, especially with the tidy profile of the PixelLines in a venue with relatively low ceiling height.
Reduced heat output from the light-sources made it easier to ensure comfortable climate and temperature control for delegates, and another advantage was energy saving, and needing no additional power supply to be provided to stage the event.
The quick and easy programmability of the lights via the software and media servers was also an asset.
Theresa Lindsay, Head of Communications at Yorkshire Forward comments "The level of creativity and innovation that Futurist provides to us and other organisations in the region is pure brilliance. We love working with them, the ideas are fun, effective and push all the right buttons for us."