LEDs Magazine April 2010 issue
The April 2010 issue of LEDs Magazine is now available.
Apr 23rd, 2010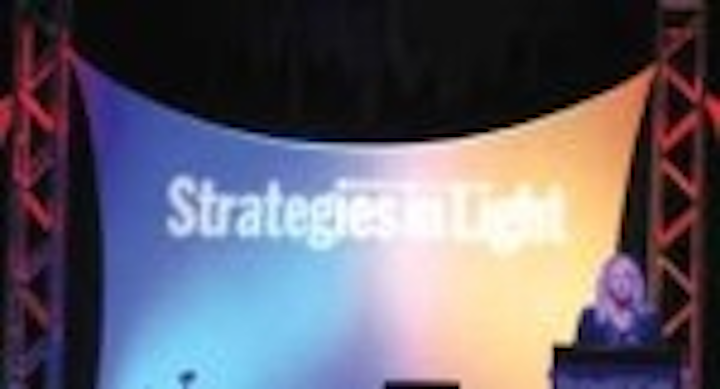 +++ Cover +++
Dialight has installed its DuroSite LED high-bay lighting at the Frontline manufacturing facility.

+++ Features +++
SHOW REPORT: STRATEGIES IN LIGHT
Strategies in Light 2010 illuminates the start of a new era for LED market growth
In its eleventh year, the Strategies in Light 2010 conference and expo was full of optimism for strong market growth in the years ahead. TIM WHITAKER and MAURY WRIGHT report.
STRATEGICALLY SPEAKING: LED MARKET
LCD backlights and lighting drive largest growth yet seen in HB-LED market
A period of very rapid LED market growth will see unit volume demand increase to more than 200 billion units by 2014, says BOB STEELE.
FOCUS ON
Luminaires
The Next Generation Luminaires judges anointed four luminaires as "Best in Class" and 43 other entries as "Recognized" winners.
THERMAL
Systematic thermal approaches enable modular and retrofit LED lighting
Thermal issues are particularly thorny in space-constrained retrofit lamps, and also in systems with replaceable modules, says Maury Wright.
STANDARDS
LED lighting community benefits from ongoing standardization efforts
Industry input is providing valuable feedback on the LED lighting standards that have already been put in place in the USA, while further standardization efforts are continuing, writes JIANZHONG JIAO.
LIGHTING RETROFITS
Demand-side economics speak in favor of LED lighting
An evaluation of an LED retrofit project and various financing options indicates that many users should move forward and embrace the benefits of LED lighting, writes MATT MILLMAN.
DESIGN FORUM
Intelligent LED drivers combine a constant-current source with sensing and control capabilities
Roll your own intelligent LED driver for maximum functionality and to establish your own intellectual property base for future products writes Stuart Woodrow.
LAST WORD
LEDs can enable smart homes and enhance lifestyle
LED lighting could spawn integrated intelligence that can be spread throughout the home delivering myriad potential benefits, says DON PEIFER of LUNERA LIGHTING.



+++ Columns/departments +++

COMMENTARY
LEDs top of the bill at Light+Building
NEWS + VIEWS

Zumtobel guarantees luminaires, adds LED lamp business
SSL market to reach $14 billion by 2013
Toshiba cuts incandescent lamps, focuses on LEDs
Networked lighting builds energy savings
Surge in LED demand prompts new fabs
FUNDING + PROGRAMS

DOE publishes updated R&D plan for solid-state lighting
Zhaga looks at light-engine interfaces
DOE report analyzes savings potential of LED-based lighting
Flicker and LED lighting reviewed by IEEE group
PRODUCT FOCUS