MAGAZINE: Taiwan develops LED Cluster in Southern Taiwan Science Park
Echoing the Taiwan government's plan to stimulate growth in both the LED and photovoltaic industries, the Southern Taiwan Science Park is aiming to create a significant photonics industry manufacturing base in the Southern Taiwan region.
Oct 12th, 2009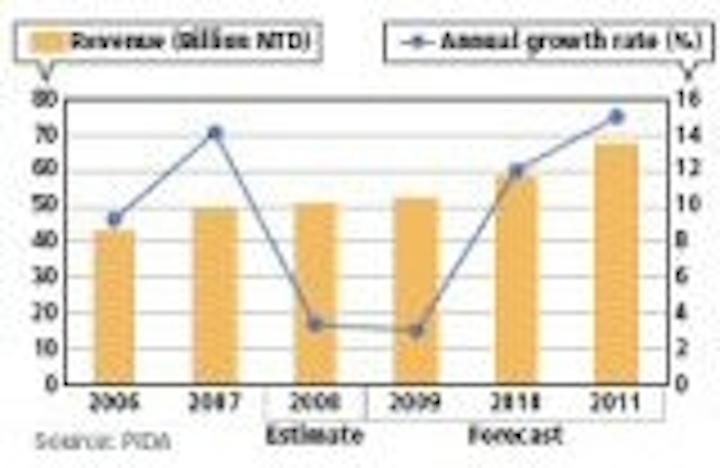 Inf luenced by the economic downturn, the scale of Taiwan's LED epitaxy and packaging industry only reached NTD 82 billion (US$2.51 billion) in 2008, around the same level as in 2007.
This fell a long way short of the expected NTD 100 billion. The revenue of Taiwan's LED epitaxy industry in 2008 was NTD 32 billion, representing a drop of 4% in comparison with the prior year. The LED packaging industry, on the other hand, had a low growth rate of around 3% in 2008, reaching NTD 50 billion (US$1.53 billion). Compared with the growth rates in the previous two years (see Fig. 1), this figure was not encouraging for companies in the industry. The four major markets of LED application are signal lighting, indicator lights for electronic products, cell-phone backlights, and automotive lighting. Increasingly, LEDs are being used for the purpose of energy saving and carbon reduction.
Eying the huge potential of the LED lighting market in Taiwan, and wishing to encourage "green energy" industry development, the Taiwan government has put a lot of effort into promoting LED lighting technology and creating national standards for LED roadway lighting. The Ministry of Economic Affairs (MOEA) has taken several actions to bring together the strengths of manufacturers, academia, research institutes and industry associations to jointly improve the competitiveness of Taiwan's LED lighting industry.
++++++
This article was published in the Sept/Oct 2009 issue of LEDs Magazine. To read the full version of this article, please visit our magazine page, where you can download FREE electronic PDF versions of all issues of LEDs Magazine.
You can also request a print copy of LEDs Magazine (available by paid subscription) and sign up for our free weekly email newsletter.