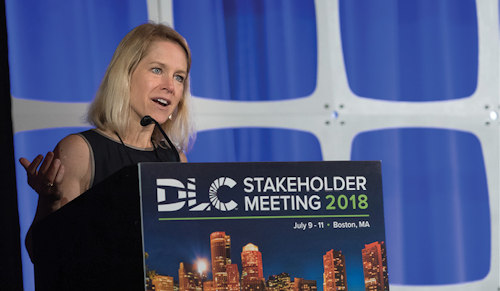 LEDs have delivered amazing energy savings, but CHRISTINA HALFPENNY explains the DesignLights Consortium view that even bigger SSL-centric savings will come with greater penetration, the exploration of new applications, and the move to networked lighting controls.
The rapid evolution of light-emitting diodes (LEDs) over the past decade — a phenomenon fueled by advances both in technology and public policy — has transformed the world lighting market and catalyzed a path to huge energy savings. According to the Department of Energy's (DOE) most recent report on LED adoption in the US, use of the technology delivered energy savings of nearly 470 trillion BTU in 2016 and reduced energy bills by approximately $4.7 billion. A relative novelty less than ten years ago, LEDs now dominate the residential lighting market and are making steady progress in commercial and industrial applications — with commercial market penetration increasing from less than 1% in 2012 to just under 13% today. By 2035, the DOE predicts LED lamps and luminaires will constitute 86% of all lighting products in the US — saving electricity equal to the total consumed annually by 45 million US homes and reducing energy costs by nearly $52 billion.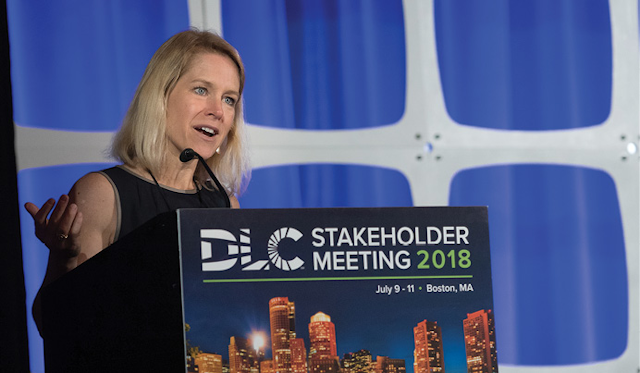 Christina Halfpenny
Mission accomplished? Not quite
Like many new technologies that burst onto the scene, LEDs almost instantly eclipsed the benefits their predecessors delivered. But as impressive as these gains are, they scratch the surface of the technology's full capabilities. LEDs are at a pivotal crossroads, with innovations underway and on the near-horizon promising to greatly multiply potential energy and cost savings, while improving wellbeing and quality of life and providing a practical route to a smart building future.
At the DesignLights Consortium's (DLC) Stakeholder Meeting in July, more than 250 efficiency program managers, utility contractors, solid-state lighting (SSL) manufacturers, testing laboratory staff, lighting designers, researchers, and others discussed the data, perspectives, predictions, challenges, and opportunities embodied in the current wave of LED innovation that's set to unlock the technology's next tier ofpotential.
For starters, even as we look at the need to replace some first-generation LEDs, there are myriad businesses and institutions across the country that haven't yet adopted the technology at all. The industry has made much progress bringing high-performance lighting to market, but LED saturation in the commercial and industrial sector is still far off. At less than 13% market penetration, the commercial lighting market remains ripe with opportunity for energy savings — particularly in indoor lighting — and opportunities abound to incentivize greater adoption.
It's useful to step back and consider why this matters at this moment in time. At our conference in Boston, Mayor Martin Walsh's director of energy policy and programs Brad Swing told attendees that every energy decision the city makes is aimed at advancing Boston's target to be carbon neutral by 2050. Boston is hardly alone in its quest to rein in the causes of climate change. It joins New York, Washington, Minneapolis, Boulder, San Francisco, Seattle, Portland, Toronto, Vancouver, and other international cities on the Carbon Neutral Cities Alliance seeking to cut greenhouse gas (GHG) emissions 80–100% by 2050. In addition, some 2700 leaders of US cities, states, and businesses have signed on to America's Pledge, vowing to honor the Paris Agreement's goal of reducing GHG emissions to ensure the global average temperature increase is less than 2°C above pre-industrial levels.
As they are the fastest way to reduce energy consumed by buildings, LEDs are truly low-hanging fruit in the battle against climate change. With the technology ready and waiting to take advantage of remaining savings opportunities in the commercial space, LEDs are poised to change our energy load nationwide, reducing the peak and thereby the need to utilize not only more electricity but electricity generated by our dirtiest, carbon-emitting power plants.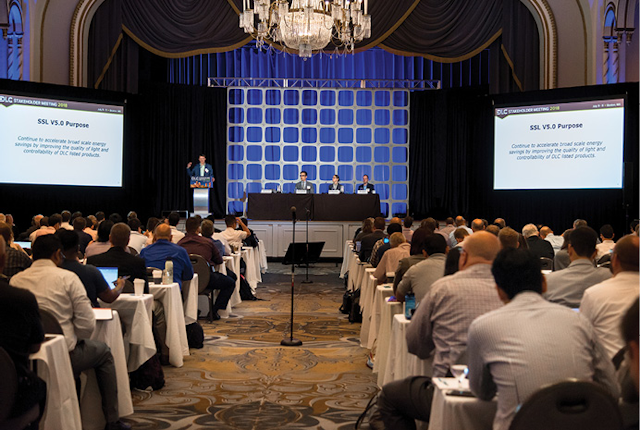 At the July DesignLights Consortium Stakeholder Meeting and Conference held in Boston, MA, speakers and attendees representing key organizations and groups such as utilities, municipal and federal government authorities, energy-efficiency programs, lighting manufacturers, and lighting designers learned how DLC efforts will be shaped by market drivers and high-value applications.
While LEDs alone have certainly revolutionized the lighting sector, a new report prepared for the DLC by Energy Futures Group (EFG) of Vermont illustrates that adding networked lighting controls (NLCs) to the LED equation is the real game-changer. The EFG study found that adding NLCs to LED installations boosts energy savings by an average of 47% beyond savings from LEDs alone. This savings potential is equivalent over five years to 75 terawatt hours (tWh) of electricity — about 17 times greater than the 4.5 tWh annual output of the Hoover Dam.
In addition to tremendous energy-saving potential, NLCs promise a suite of non-lighting benefits such as greater personal comfort, better office space utilization, and enhanced workplace security. With sensors embedded in ceiling LED luminaires, for example, lighting can be the pathway to connected, "smart" buildings that enable employees to find and reserve vacant workstations and meeting rooms from a phone app, while employers and building managers can observe areas that are unoccupied at any given hour or day and correspondingly turn down heat, air conditioning, and lighting.
Unfortunately, widespread market penetration of NLCs isn't likely to occur organically, due to their complicated nature, under-trained contractors, poorly understood benefits, and limited utility support. Meanwhile, continued installation of LEDs without controls hamstrings the technology's vast promise for optimizing building performance, enhancing quality, and building a platform to the connected building future.
The EFG report found that with aggressive utility support and promotion, however, savings possible from NLCs by 2035 could be more than twice what's expected to be realized under current utility promotion scenarios. It's encouraging that utilities were among those voicing support for pushing the NLCs envelope at the recent DLC Stakeholder Meeting. Robust promotion of NLCs leading to significant market uptake can wring several additional years of savings out of current utility efficiency programs. For its part, the DLC has recently rolled out a new set of technical requirements for NLCs and developed installer training and a savings calculator designed to support utilities and the industry in bringing this technologymainstream.
The DLC's advocacy for NLCs is consistent with our growing emphasis on controlling and enhancing the quality of light — something that will be evident in the "5.0" version of our Qualified Products List (QPL) specifications that will be out for comment January 2019, with a target effective date of January 2020. While product efficacy has taken center stage since issuance of our first specifications in 2009, this revision will give considerable weight to quality of light, while continuing to support products that accelerate broad-scale energy savings. Research tells us that quality of light affects people in profound ways — from productivity, performance, and safety to health, wellbeing, and mood. Yet, in our drive to save energy (and energy dollars), the industry as a whole has sometimes forgotten what lighting is really for: enabling people to see, perform necessary tasks, and feel comfort.
I saw this firsthand on a recent visit to my children's pediatrician, when the conversation turned from immunization schedules to lighting. Glare from newly-installed LEDs in the exam room was causing physical stress to the staff working under them all day, the doctor and nurse lamented. And it was anything but soothing to small, young patients lining up for throat cultures, tetanus shots, and other medical procedures. Yes, they were saving electricity but at the expense of their core business function: comforting and healing sick children.
While that experience is anecdotal, it reflects an unintended byproduct of high-performance lighting that is not uncommon. Although no one wants to run back the clock to the inefficient pre-LED era, performance standards for LEDs are ripe for tweaking — as is the often the case after speedy and pervasive adoption of any new technology. What's more, incentivizing better quality of light is not at odds with energy efficiency. It's just the opposite, as a matter of fact, since better light quality will result in greater adoption of LEDs, translating into more savings.
Paying closer attention to quality of light in product selection and application is not just good for humans. Controlling for glare, flicker, and other aspects can mitigate the negative impacts outdoor lighting has on animals, birds, and insects — including its ability to disrupt reproduction, frustrate pollination, and altermigration.
For Homo sapiens, it's increasingly clear that quality of light is a serious concern. As Kelly Seeger, technical policy manager at Signify (formerly Philips Lighting) in Burlington, MA, noted at the DLC's July conference, "Health is the new sustainability," and smart lighting is an enabler for healthy buildings. Under a newly-emerging paradigm, quality of light is not just about vision but is also critically important for supporting human beings' natural circadian rhythms, encouraging morning alertness and eveningrelaxation.
Human-centric lighting often involves lighting controls that adjust for factors such as brightness and color, as well as sensing and adjusting for the amount of natural daylight entering a room. With the US Environmental Protection Agency reporting that Americans spend 90% of their time indoors on average, lighting that mirrors or mimics the daylight outside their office windows is known to boost productivity — as well as spirits!
Designing efficiency programs to strategically address the issues outlined here, as well as to maximize efficiency and performance of new products used by the country's expanding indoor horticulture and agriculture industries, will be top of mind at the DLC for the foreseeable future. It's an exciting and important time to be in the field of commercial lighting. Many intriguing challenges, opportunities, and collaborative efforts lie ahead as we put our collective shoulder to the wheel of possibilities for high-performance lighting to lead the way to a cleaner, smarter, healthier world.
CHRISTINA HALFPENNY is executive director of the DesignLights Consortium. As executive director of the DLC, Halfpenny drives success through strategic planning, stakeholder engagement and collaboration, and continuous improvement of business systems. She established the DLC as an independent nonprofit with the mission to drive efficiency through lighting. As the ED, she works to identify opportunities for broad-scale energy savings and innovation that can be realized with applied planning and implementation tactics. Halfpenny has more than 15 years of experience in energy efficiency and clean energy policy and practice.
*Updated Sept. 12, 2018 6:27 PM for QPL timeline.
*Updated Sept. 13, 2018 10:25 AM for additional biographical detail.