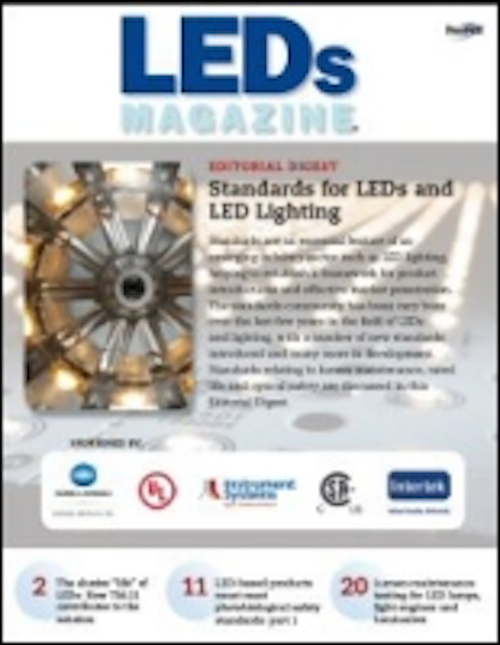 LEDs Magazine
has published a new Editorial Digest entitled "
Standards for LEDs and LED Lighting
."
Standards are an essential feature of an emerging industry sector such as LED lighting, helping to establish a framework for product introductions and effective market penetration. The standards community has been very busy over the last few years in the field of LEDs and lighting, with a number of new standards introduced and many more in development. Standards relating to lumen maintenance, rated life and optical safety are discussed in this Editorial Digest. Articles include:
The elusive "life" of LEDs: How TM-21 contributes to the solution
LED-based products must meet photobiological safety standards: part 1
Lumen-maintenance testing for LED lamps, light engines and luminaires
Click here to log in and download the Editorial Digest as a PDF file.


This Editorial Digest is sponsored by:


Konica Minolta Sensing Americas
UL
Instrument Systems
CSA International
Intertek
++++++++++++++++++++++++++++++++++++++++++++++++++++++++++++++++++
About
LEDs Magazine's
Editorial Digests:
Our Editorial Digests contain selections of editorial content and feature articles focusing on a specific subject area.
Subscribers can follow the links below to log in and download each Editorial Digest as a PDF file.
Contact us for information on how to sponsor forthcoming Editorial Digests.