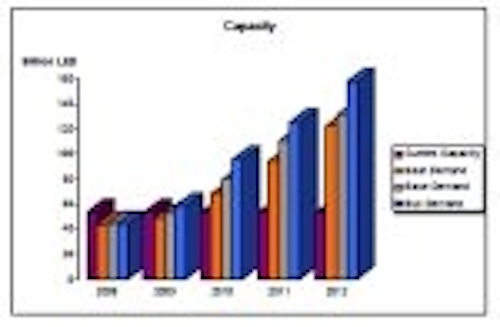 Jed Dorsheimer, Principle Senior Equity Analyst at Canaccord Adams, presented an overview of the LED market at Strategies in Light, defining the market by application cycles. Dorsheimer projected a bright near-term outlook driven by the LED-backlit TV market.
Dorsheimer predicts that LED penetration in the TV backlight market will hit 74-85% by 2012. He believes that the industry will experience significant under-capacity beginning this year and a 70 to 100 billion LED deficit by 2012. That said Dorsheimer also predicts a cyclic market that will ultimately experience over-capacity as well. But the TV market will help to enable a third boom cycle driven by lighting. He stated, "Lighting demand could go from 5 billion LEDs to 30 billion in one year."
The first cycle for HB LEDs began with mobile handsets in the early 2000s according to Dorsheimer. First the LEDs were used to illuminate keypads and later to backlight color screens. That led to a surge in LED manufacturing and over-capacity by the 2004/2005 time frame.
Still the LED performance improvements and declining prices driven by the first cycle enabled the backlight market cycle that was started by Apple with the Macbook Pro and is now driven by TVs. Based on the ramping TV market, Dorsheimer believes the LED manufacturing industry needs to add 515 to 780 more MOCVD reactors through 2012. And independent of the tools, Dorsheimer believes a sapphire shortage could still impede adequate supply.
So what happens beyond 2012? Dorsheimer believes current trends will lead to a 30% overbuild for the TV market. That will yield a surplus of as many as 60 billion LEDs, and what Dorsheimer calls a "one to two year digestion period" in the 2014 to 2016 time frame with little capacity growth. Once again the price declines and performance gains made in LEDs will help enable the third cycle driven by lighting.
Dorsheimer also discussed obstacles to LED adoption in the lighting space. He pointed out that the actual cost of the LEDs remains significantly too high. In current LED-based replacement bulbs, Dorsheimer claims that LEDs account for as much as 40% of the bill of materials (BOM), and that's despite the fact that the bulbs require a power-converter printed circuit board and robust heat sink.
Today, Dorsheimer estimates the LED portion of the BOM at $25. He believes that number needs to drop to $4 to enable a $10 retail price for a 1000 lm bulb. The cost is critical because in residential applications Dorsheimer estimates the current payback time for an LED bulb to be 11 years.
Dorsheimer also discussed how the industry might get to lower prices. He sees a move to larger wafers as key. He predicts a move from 2-inch wafer to 4- or 6-inch wafers because the larger wafers offer better thermal stability and ultimately better yield. Dorsheimer stated, "Yield trumps all in this industry."
Canaccord will offer more details on the third cycle later this year. Dorsheimer believes that lighting could consume more than 100 billion additional LEDs by 2020.