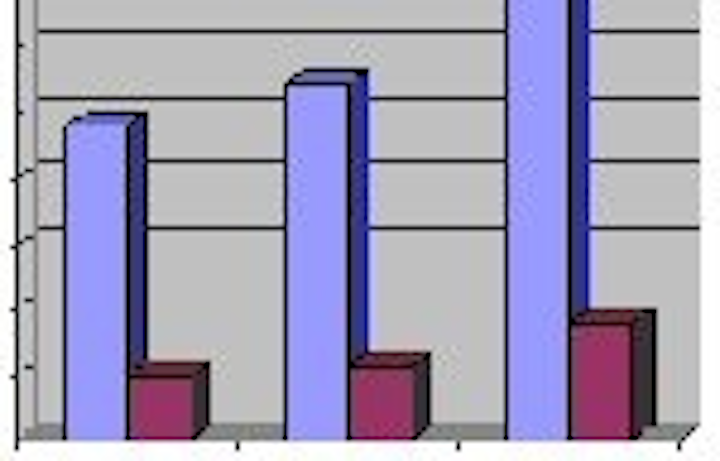 BCC Research; "LEDs for Lighting Applications"
According to a new technical market research report, Light Emitting Diodes for Lighting Applications (SMC018B) from
BCC Research
, the total market for high-brightness LEDs reached $5.8 billion in 2005.
BCC Research projects the global market to grow to $6.6 billion in 2006 and then increase to $10.6 billion by 2011, an average annual growth rate (AAGR) of 10.2%. Total shipments are broken down into LEDs and substrate materials, as shown in the graph.
Strategies Unlimited: "Substrates for GaN-Based Devices"
Strategies Unlimited has completed a comprehensive report that looks at the GaN substrate market. The report includes a market forecast through 2010, profiles of major industrial suppliers, universities and research centers active in GaN substrate activities. The number of such organizations has increased to over 700 in 2006 from roughly 350 in 2000.
The market for blue, green, and white GaN-based LEDs reached $3.2 billion in 2005, with white LEDs responsible for over 50% of the total GaN-related LED market. Future high-growth GaN devices include high-power LEDs for lighting as well as deep-UV emitters and laser diodes. The latter will be used in the next generation of optical storage technology and their development will be spurred by increasing availability of GaN and AlN substrates.
The report looks at technology issues, including research activities for deposited and bulk-crystal-growth substrates such as sapphire, SiC, GaN, AlN and GaN-on-Si.
Other areas covered include a comparison of the basic physical properties of the substrate materials; the compatibility of substrates with deposited compound semiconductor layers, and device performance, yield, and reliability comparisons as a function of substrate material.
The report also provides substrate/device market status and projections through 2010, and discusses major applications for which each substrate is best suited.
The Freedonia Group: U.S. Lighting Fixture market
Shipments of lighting fixtures in the U.S. are projected to advance 2.1 percent per annum through 2010 to $12.6 billion, an improvement relative to the performance in the 2000 to 2005 period. However, import competition will remain intense in each of the lighting fixture segments, thus limiting overall shipment gains.
Non-portable fixtures, which have widespread use in the full range of residential and non-residential buildings, non-building construction and vehicular applications, accounted for more than three-quarters of total US lighting fixture shipments in 2005.
Non-portable fixtures are expected to see a rebound in shipments, as non-residential and non-building construction spending recovers from a weak environment in the 2000 to 2005 period.
Shipments of non-portable HID and other non-incandescent fixtures, such as those using LEDs, are expected to post above-average gains. HID lamp ballasts and other components used as part of energy-efficiency retrofits will also benefit from increased focus on improving the efficiency of lighting systems.
Construction applications dominate overall lighting fixture demand, accounting for just over 60 percent in 2005. The construction market will lead gains through 2010. The overall outlook for the market will improve significantly compared to the 2000 to 2005 period, as non-residential and non-building construction activity expands.