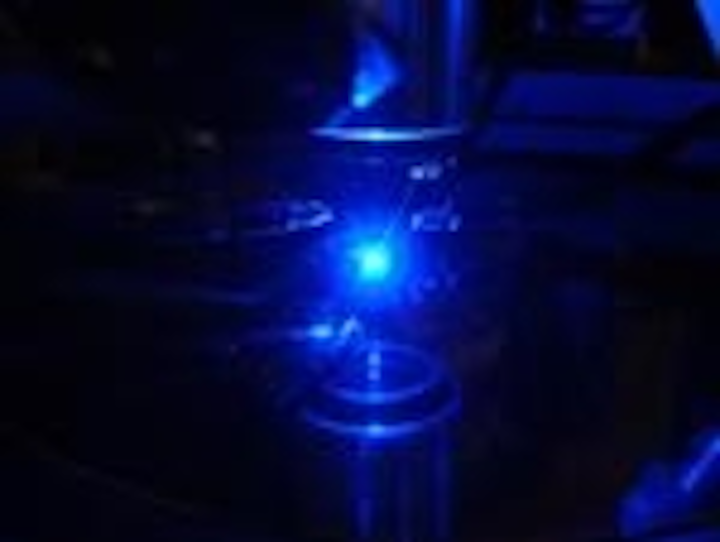 SemiLEDs produces UV LEDs with 40% external quantum efficiency
SemiLEDs Corporation (Nasdaq: LEDS), a manufacturer of LED chips and components based in Hsinchu, Taiwan, has announced that its UV LED chips are capable of emitting radiation at a wavelength of 390-420 nm with 40% external quantum efficiencies (EQE) at 350 mA. EQE refers to the diode's ability to convert electrons into photons.
In curing applications, lamps based on UV LEDs offer advantages such as delivery of high power densities, minimal heating of the substrate and longer lifetime than mercury arc lamps. "Our patented structure and metal alloy substrate allow us to produce and supply to the industrial curing market UV LEDs that are capable of operating at high current with high output power density," said Chuong Tran, COO and president of SemiLEDs.
Intematix named top phosphor supplier in China
Intematix, a provider of phosphors and phosphor components based in Fremont, CA, has been named the number one phosphor supplier in China in 2011, according to the LED market research company Gaogong LED. Intematix has also been named one of the seven most recognizable LED lighting brands by the China National Semiconductor Lighting Association.
"Intematix has built its phosphor leadership in the Chinese LED market by offering extensive product choice and working closely with our customers," said Yiqun Li, chief technology officer and executive vice president at Intematix.
According to Gaogong's statistics, China produced 32 billion yuan ($5.1 billion) in packaged LEDs in 2011, more than a third of the global total and at an annual growth rate of 18 percent.
Intematix has expanded its product offering in the last year with 14 new phosphor products and its remote phosphor product line, ChromaLit. The company recently opened a new 124,000 square foot manufacturing facility in Suzhou, China and its Shenzhen-based office provides comprehensive sales and applications support.
Plessey acquires CamGaN and GaN-on-silicon technology
Plessey has acquired CamGaN Limited
, a University of Cambridge spin-off formed to commercialize the growth of gallium nitride (GaN) LEDs on large-area silicon substrates.
CamGaN's proprietary GaN-on-silicon technology will be used to produce LEDs in Plessey's 6-in. production facility in Plymouth, UK. The company anticipates cost reductions of up to 80 percent relative to LEDs grown on SiC or sapphire substrates due to reduced scrap rates, shorter process times, and automated semiconductor processing. Plessey aims to produce LEDs with efficacy of 150 lm/W by the end of 2012.
Plessey plans to release a range of products for smart lighting concepts that incorporate its existing sensing and control technologies including its EPIC electric potential sensor.
GT Advanced Technologies sells sapphire cores to Silian
GT Advanced Technologies Inc., (Nasdaq:GTAT), has announced that its subsidiary, GT Crystal Systems, has entered into a purchase agreement with Chongqing Silian Optoelectronics Science & Technology Co. Ltd. (Silian) of Chongqing, China. GT will supply 6-inch diameter C-plane sapphire cores (equivalent to 500,000 2-inch cores), which Silian will use to produce high-quality sapphire substrates for the LED industry.
The large-diameter cores will be produced from boules grown in GT's ASF sapphire-growth furnaces installed in the company's sapphire manufacturing facility in Salem, MA. This is the same technology that has been sold commercially to GT's ASF equipment customers.
Rubicon announces large contract, previews 4Q results
Rubicon Technology, Inc. (Nasdaq:RBCN), a provider of sapphire substrates based in Bensenville, IL, has entered into a $20 million contract with its largest customer for 6-in. diameter sapphire wafers. The contract represents a baseline level of shipments that will be made from June through December 2012.
At the Strategies in Light conference last week, Raja Parvez, president and CEO of Rubicon stated that approximately five percent of Rubicon's production today is dedicated to 6-inch sapphire substrates and the company is supplying R&D volumes of 8-inch wafers to select customers.
Rubicon has reported fourth-quarter revenue ending December 31, 2011 of between $19 and $20 million, slightly below its previous guidance of $20 to $23 million. The company expects to release complete results for the fourth quarter on February 23.
"The fourth quarter of 2011 was a period of limited demand for sapphire substrates resulting from the accumulation of excess inventory in the LED supply chain," said Parvez. "This temporary decline in channel demand in turn resulted in sapphire prices falling sharply in the second half of 2011. Out of consideration for our important customer relationships, we made certain concessions that we deemed to be in the best long-term interest of our company."
As LEDs Magazine reported last week, sapphire wafer prices had fallen to an all-time low of $10 per 2-in. wafer at the end of 2011 according to Karen Savala, president of SEMI America.