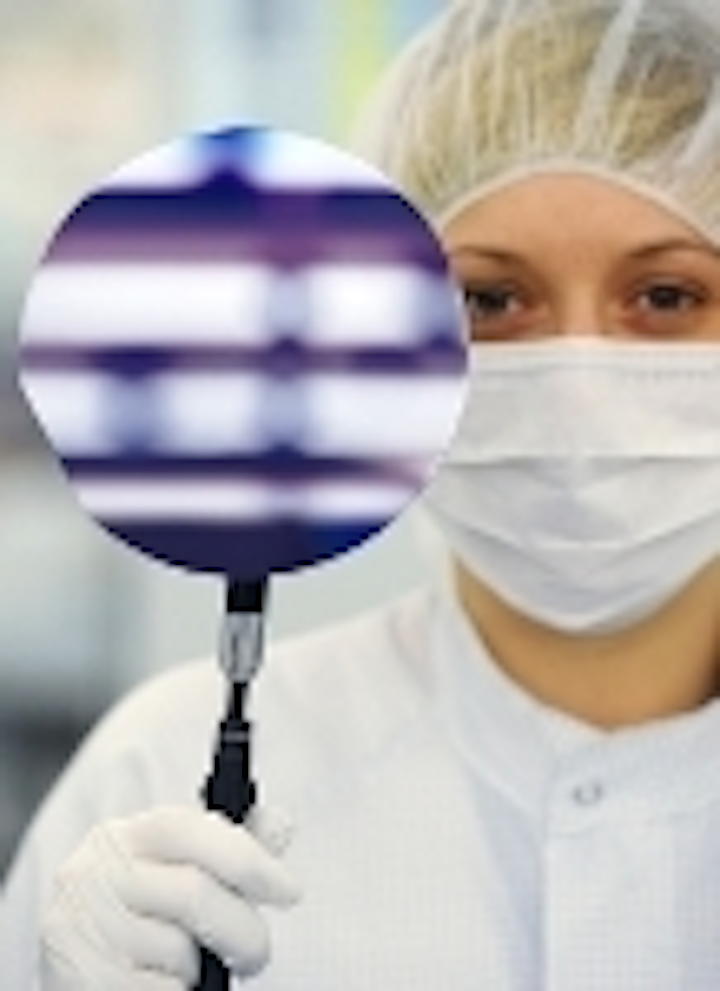 Osram Opto Semiconductors has reported a set of R&D results from LEDs fabricated using gallium nitride (GaN)-based layers deposited on silicon. The R&D devices made using GaN-on-Si material have performance levels that are similar to production devices fabricated on sapphire.
Most GaN-based LEDs are grown on sapphire or silicon carbide substrates. While Osram Opto has already started moving its standard production of GaN-based LEDs to
6-inch (150-mm) diameter sapphire substrates
, the real prize in moving to production on silicon wafers is the availability of larger, lower-cost substrates.
The new LED chips are already in the pilot stage, and will be tested under practical conditions, says Osram, adding that its first LEDs fabricated on silicon could hit the market in just two years.
"Our investments in years of research are paying off, because we have succeeded in optimizing the quality of the gallium-nitride layers on the silicon substrates to the point where efficiency and brightness have reached competitive market levels," said Peter Stauss, project manager at Osram Opto Semiconductors. "Stress tests we've already conducted demonstrate the high quality and durability of the LEDs, two of our traditional hallmarks."
The GaN-on-Si chips were fabricated using Osram's thin-film UX:3 process, which involves transfer to a silicon carrier and removal of the original silicon substrate (see diagram).
Blue UX:3 chips in the standard Golden Dragon Plus package achieved an optical power of 634 mW at 3.15V, equivalent to 58 percent efficiency. These are very good values for 1-mm2 chips at 350 mA.
In combination with a conventional phosphor converter in a standard housing, prototype white LEDs produced 140 lm at 350 mA with an efficiency of 127 lm/W at 4500K.
"For these LEDs to become widely established in lighting, the components must get significantly cheaper while maintaining the same level of quality and performance," said Stauss. "We are developing new methods along the entire technology chain for this purpose, from chip technology to production processes and housing technology."
Mathematically speaking, it is already possible today to fabricate over 17,000 LED chips measuring 1-mm2 on a 150-mm wafer. Larger silicon wafers could increase productivity even more; researchers have already demonstrated the first structures on 200-mm (approx. 8-inch) substrates.
Development details
LEDs Magazine spoke with Strauss and Ulrich Steegmueller, Osram Opto's chief technology officer, who will discuss this and other subjects in his presentation at Strategies in Light 2012. "About three years ago we began a research project looking at the MOCVD growth of GaN on silicon," said Steegmueller. At that stage it was very unclear whether the technology could approach similar levels to GaN-on-sapphire growth."
Initially, Osram Opto worked with Azzurro Semiconductors, another German company, using technology developed at, and transferred from, the University of Madgeburg. Recent work carried out internally by Osram Opto has been funded in part by the German Federal Ministry of Education and Research as part of its "GaNonSi" project network.
"We started initially on 2-inch silicon, and quickly moved to 4-inch," said Strauss. "Of course, we have moved to 150-mm manufacturing on sapphire in production, and our latest GaN-on-Si results are on 150-mm wafers. The eventual goal will be to move to 200-mm silicon or larger, which would be very difficult using sapphire."
The biggest challenge is successful MOCVD growth of the GaN-based layers. This requires complex stress engineering within the structure to overcome the difference in the thermal expansion coefficients of the different materials. Homogeniety and uniformity of the MOCVD-grown structure is very important, in order to make full use of the larger wafers and ultimately to achieve high yield in production. Steegmueller said that the uniformity is similar to material grown on sapphire.
Since silicon absorbs the emitted light, the substrate must be removed after growth. Thin-film LED structures are widely used by Osram Opto, and while the actual technology for removing the substrate is different for sapphire and silicon, the overall processes are compatible. Steegmueller points out that, because a thin-film approach (as opposed to wafer bonding to a carrier) is preferable, this creates a barrier to entry to companies that are not already working with thin-film structures.