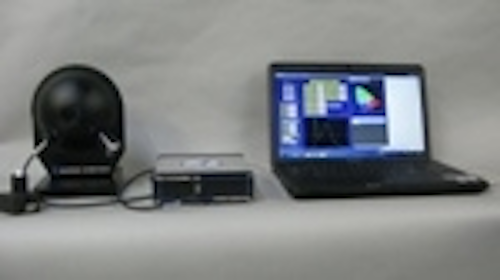 Gamma Scientific introduces low-cost spectrometer
Gamma Scientific has developed RadOMA Lite, a high-performance
linear CCD array spectrometer
that provides quick and accurate testing of LED intensity and total flux. With near real-time speed and NIST-traceable measurement, the spectrometer is optimized to provide maximum performance without sacrificing accuracy.
The spectrometer accepts an SMA905 fiberoptic input that can be connected to a wide variety of optics, including integrating spheres for total flux measurements or CIE127 Conditions A and B for intensity measurements.
Instrument Systems launches CCD array spectrometer
Instrument Systems' CAS 120 series of CCD array spectrometers were specifically developed for price-sensitive applications in spectral light measurement, such as LED production testing or quality assurance.
As in the company's proven CAS 140CT spectrometer, a crossed Czerny-Turner spectrograph with back-illuminated CCD detector forms the core of the spectrometer, ensuring exceptionally low stray light and very high optical precision. A newly developed filter wheel with density filters (OD = 1-4) comes without any mechanical position switches and ensures exact filter positions. It expands the total dynamic range of the spectrometer to 8 decades, enabling the measurement of low and high light intensities without manual intervention in the test procedure.
Instrument Systems introduces production tester for LEDs and LED wafers
The
LSM 350 4-quadrant source and measure unit
(SMU) from Instrument Systems was specifically developed to provide production testing of LEDs and LED wafers. The SMU supplies current or voltage to LEDs with low to medium power output, while offering multichannel capability for higher test speeds. When the LSM350 SMU is integrated with the company's CAS 140CT or CAS 120 series spectrometers, fully automated testing and binning of LEDs and LED wafers is enabled.
The LSM 350 is a bipolar current and voltage source with an automatic polarity test feature that can be used for single or multi-chip LEDs. Dedicated measurement ranges permit particularly precise testing at low forward currents of 1 μA, and nA-range measurements of reverse current. Test cycles can be 60 percent shorter than those of most standard current sources.
Labsphere appoints Canadian representative
Canstarpro Enterprise Inc, based in Ottawa, Ontario, and founded by former colleague Roger Xiao, has been appointed the direct Canadian representative for Labsphere's full line of photometry products and services.
As Labsphere's former general manager for sales and operations in China, Xiao oversaw the company's expansion into Asian markets. With several years in management positions at Labsphere, he is proficient in all of the company's product lines and applications. Canstarpro will bring a new level of technical sales and engineering support to Labsphere's Canadian customers.