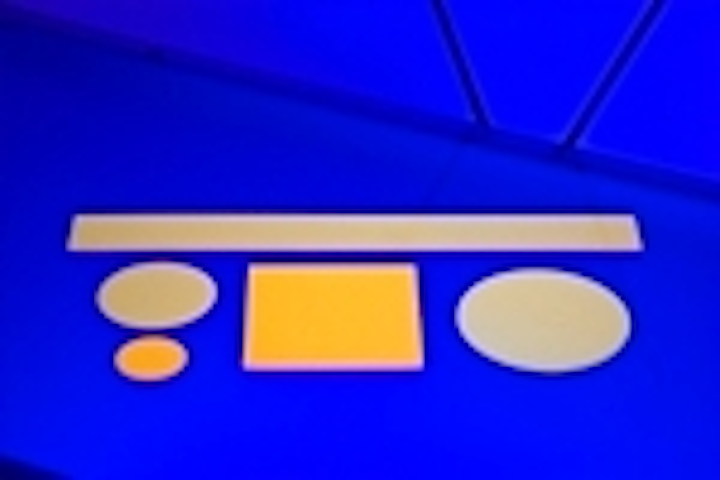 Intematix promised a broad set of sizes and shapes in its Chromalit family of remote-phosphor optics when it launched the line back in January, and the company has delivered announcing 110 combinations of shape, size, color temperature, and color rendering index (CRI). The company also announced that Future Lighting Solutions will carry the full Chromalit family.
At launch, Intematix asserted that its remote-phosphor approach could deliver 30% higher system efficiency relative to designs that use white LEDs and secondary optics. Traditional designs suffer inefficiencies both due to the phosphor used in the blue LED to create white light and to the remote optic. The Intematix approach utilizes blue LEDs with no phosphor and the Chromalit optic that combines the phosphor and secondary optic functionality.
The additions to the Chromalit family include square, linear, and rectangular-panel shapes that add to the circular products targeting downlights and spotlights that were announced in January. The technology can now be deployed in a much broader set of applications including under-cabinet, linear, task, area, ceiling-panel, and industrial luminaires.
"Chromalit is an incredibly versatile product that elevates luminaire design freedom," said Julian Carey, Director of Marketing at Intematix. "The new shapes, color temperatures and CRI values we've added to the collection offer virtually limitless options to our growing customer base."
Future will distribute Chromalit optics
The Future Lighting Solutions agreement, meanwhile , will allow luminaire designers with easy access to a stock of optics. And one of the selling points of the remote-phosphor approach is the ability for luminaire makers to develop one light engine and mixing chamber that can be combined with different phosphors for products that target different applications.
"This transformative technology opens doors for the lighting industry and effectively complements Future's extensive lighting technology portfolio," said Jamie Singerman, Corporate Vice President of Future Lighting Solutions. "We are pleased to offer the complete Chromalit light source family of products to our customers."
Intematix's Carey added, "We are excited to work with Future Lighting Solutions. Future's deep LED lighting knowledge and broad technology offering enable creative solutions and support for Chromalit customers."
Intematix has also pledged to extend the Chromalit concept to 3D shapes and enable an even broader range of product types. Moreover, while the existing Chromalit products all are based on plastic optical substrates, the company has said the phosphor-printing approach will support other substrates such as glass.
Intematix has also continued to build its business organization. Just last week the company added Maurice Carson as CFO. Carson has served in similar roles in at semiconductor equipment maker Kulicke and Soffa, and at semiconductor manufacturer Cypress. "Intematix's comprehensive portfolio of phosphor materials and components enables the global solid-state lighting market," said Carson. "I am very happy to join Intematix's strong leadership team and looking forward to helping the company bring innovative materials to a flourishing industry."