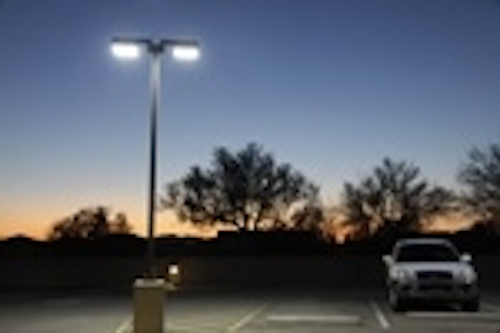 Rubicon Technology upgrades to 8-inch capable sapphire furnaces
Rubicon Technology, Inc. (NASDAQ:RBCN), based in Bensenville, IL, has installed enhancements to its crystal growth furnaces throughout the company, updating all furnaces to Version ES2-XLG3.0.
Version ES2-XLG3.0 is the company's latest proprietary furnace design for the production of large-diameter sapphire material. The ES2-XLG3 now operates in the company's high-efficiency crystal growth facilities in Batavia and Bensenville, Illinois. Rubicon also made headlines in June, when its facility in Penang, Malaysia began volume production of 6-inch and 8-inch sapphire wafers.
To date, the company has shipped more than 100,000 six-inch sapphire wafers.
Relume outdoor products awarded "Fixture Seal of Approval" by IDA
The International Dark Association (IDA) has awarded Relume Technologies (Oxford, MI), a manufacturer of LED products and smart-grid control systems for outdoor lighting applications, with the "Fixture Seal of Approval" for fourteen of its outdoor LED lighting products.
The products include outdoor parking, roadway and service station and canopy fixtures. Approval was awarded after evaluation of Relume luminaires' photometric data to ensure that they minimize glare, reduce light trespass, and do not pollute the night sky.
"Relume is pleased to have more of its products recognized not only for their high efficiency and unparalleled long-life in solid state lighting but also for their sensitivity to the environment," said Relume CEO Crawford Lipsey.
Recently, Relume was found to be compliant for the third year in a row, with zero non-conformances in its annual ISO 9001:2008 surveillance audit. In addition, eight of its outdoor pole/arm mounted area and roadway luminaires have been added to the Qualified Products List of the Design Lights Consortium, a bi-national list of qualified LED fixtures.
Aurora Lighting purchases Pro-Lite spectroradiometer
Pro-Lite has supplied a two-meter integrating sphere to Aurora Lighting, a UK-based LED lighting manufacturer. Aurora will use the sphere to accurately measure the total light output of their LED light sources.
The two-meter-diameter integrating sphere contains a Labsphere spectroradiometer, allowing for performance data more precise than that of a traditional photometer. The system reports lumen output, color temperature, color rendering index, chromaticity and binning accuracy.
Pro-Lite, a supplier of instruments for measuring light and the optical properties of materials, acquired SphereOptics GmbH in April, 2011 in hopes of expanding its light measurement business in Eastern-European markets.
Design LED Products raises $1 million in funding
Braveheart Investment Group has closed a second funding round worth over $1 million (£639,000) for LCD backlighting specialist Design LED Products (DLP), based in Livingston, UK.
Braveheart raised cash from several of its clients, with the Scottish Co-investment Fund, Highland Venture Capital and Tweed Renaissance Investors Capital (TRI Cap) also contributing.
This follows a $1.8 million investment round in January 2010 in which Osram was one of the investors. January's investment round, the first since DLP's launch in 2006, was designed to fund application development and commercialize existing product lines. Stuart Bain, chief executive of DLP, said the latest funding round will now see it "aggressively pursuing market entry."