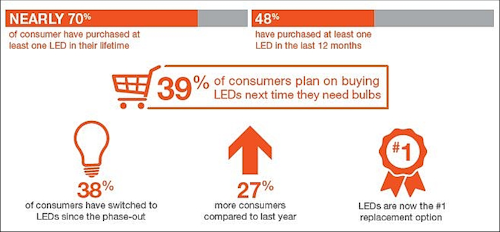 Cree will sharpen its focus on LEDs and SSL with sale of Wolfspeed, while LEDvance and Sylvania suggest a transition to smart lamps is coming and New York will build the solar-lit Lowline.
Cree has announced that it is selling its Wolfspeed business unit that makes power and RF semiconductors to Infineon, and now will have a sole focus on LEDs and solid-state lighting (SSL). The eighth annual Sylvania socket survey has been released by new parent LEDvance, and reveals that smart, connected LED lamps may find a bigger market in homes than some have predicted. New York City appears set to move forward on the underground Lowline project that will provide new recreational real estate underground for local citizens via an innovative approach to lighting.
Interested in articles & announcements on LED business?
Wolfspeed acquired
The deal struck between Cree and Infineon was for $850 million in cash. While the sale will surely provide resources for Cree to further invest in LEDs and lighting, the news is probably more important from the perspective that LEDs and SSL will be the total and razor focus of the organization going forward.
"Selling Wolfspeed to Infineon speeds our transition to a more focused LED lighting company while providing significant resources to accelerate our growth," stated Chuck Swoboda, Cree chairman and CEO. "Divesting Wolfspeed is targeted to reduce short-term profits, but increase free cash flow. We believe this is the right decision for the company, as it unlocks value, increases management focus on the core business, and supports our mission to build a more valuable LED lighting technology company. We target using the capital raised, combined with improved free cash flow, to fund select M&A, as well as to support additional stock buybacks."
Cree had restructured its core LED business back in 2015 as the industry dealt with price erosion in packaged LEDs and a transition to mid-power LEDs. Even in the face of that tough economic period, however, Cree had said it would invest in R&D and buying back shares on the market. And Cree had said at that time it would pursue an initial public offering (IPO) for Wolfspeed. But now Cree says a number of companies subsequently approached it about an outright acquisition, and clearly management thought the Infineon deal would generate the most value for shareholders.
Technically, there was some synergy between Cree's high-power LED manufacturing technology platform and the technology that underlies power semiconductors made by Wolfspeed. In both cases, silicon carbide (SiC) substrates offer some advantages in terms of current density and performance relative to legacy substrates. And gallium-nitride (GaN) epitaxial layers are used in each instance. But there was little synergy between Cree's main business and that of Wolfspeed beyond the manufacturing angle. Infineon, conversely, has a broad line of power and RF semiconductors.
Cree said the Wolfspeed business earned revenue of $173 million in the year that ended March 27,2016. That will be the short-term revenue loss referenced by CEO Swoboda. Cree said it anticipates $585 million in net proceeds after taxes and other costs central to the deal, and that the deal should close before the end of 2016.
Cree also used the announcement to provide a positive update on the LED and lighting businesses. The company said the commercial lighting sector has gained momentum during the ongoing 4th quarter of the Cree fiscal year. Formal results will be announced in mid-August, but Cree said it projects revenue at the upper end of its target range of $388 million. Moreover, in good news for the LED component industry, Cree said component revenue was up more than expected in the quarter.
Sylvania socket survey
Moving to the lamps space, Sylvania has been producing an annual socket survey for almost a decade and has published the first installment under new parent LEDvance with Osram having just completed the carve-out of the lighting business. Sylvania will continue to be the most prominent brand of LEDvance products sold in North America.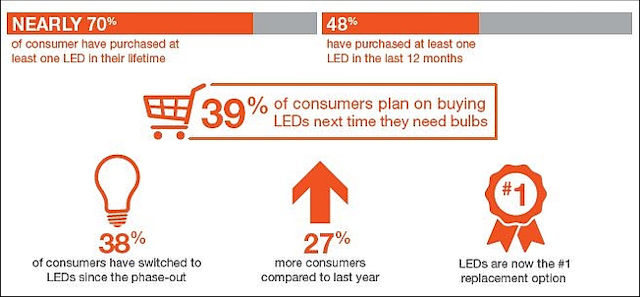 LED business news: Cree sells power semi unit, Sylvania socket survey, and NYC Lowline
For more details, click to download the PDF of the LEDvance Sylvania Socket Survey 2016.
In years past, including one year back, the focus of the survey has been on LED adoption driven by energy efficiency and lamp lifetime. But this year the results yielded significant positive feedback on consumer adoption of smart lighting products.
According to the survey, 76% of the respondents believe smart light bulbs will eventually displace regular light bulbs. Moreover, 80% indicated that some space in the typical home could benefit from smart lighting. "The LED revolution is changing not only how we light buildings and homes, but what light can do for us overall," said LEDvance CEO Jes Munk Hansen. "Lighting is more than just illumination. Now we have smart connected devices that not only save energy, but also can evoke emotions, make our lives easier, and ultimately help create a better quality of life."
It's worth noting, however, that other research has not been so bullish on widespread adoption of smart lamps. At Strategies in Light, the Strategies Unlimited research team was very bullish on LED-based lamps displacing incumbent technologies but projected that smart lamps would gain a relatively minor share of those sockets as we reported in a feature article.
The Sylvania survey and Strategies Unlimited data, however, both point to a rapid move by consumers to LED lamps. The data indicates that 70% of Americans have purchased at least one LED lamp.
Realizing the Lowline
For those familiar with New York City and specifically the island of Manhattan, you know that the city lacks recreational outdoor space despite the enormous Central Park. Creativity has previously come into play in seeking such space as with the Highline project on Manhattan's Lower West Side where a lushly-landscaped pedestrian trail was constructed on old elevated railroad tracks. Back in 2013 we covered a test conducted in an abandoned Manhattan warehouse that was the forerunner of building recreational areas underground — called the Lowline. And now the city is set to build its first underground park in the abandoned Williamsburg Bridge Trolley Terminal located on the Lower East Side under Delancey Street.
The one-acre park will be lit with an innovative solar concept that pipes daylight underground and distributes the beam omnidirectionally. The technology will presumably allow plants to grow in the space and provide an outdoor-like feel. We haven't yet gotten full details on the project, but we assume there will also be energy-efficient LED lighting involved for rainy day and night usage of the space.
The Lowline vision has been driven by co-founders Dan Barasch and James Ramsey. "We couldn't be more thrilled for this opportunity to turn a magical dream into reality," said Barasch, executive director of the Lowline. "The transformation of an old, forgotten trolley terminal into a dynamic cultural space designed for a 21st century city is truly a New York story. We know with input from the community and the city, we can make the Lowline a unique, inspiring space that everyone can enjoy."
"Every designer dreams of doing civic work that contributes to society and to the profession," saidRamsey, creator of the Lowline. "Over the last 8 years, we just stuck to what we thought was a great idea that could make our city and our community better. We're thrilled to move ahead on designing and building a space that people will enjoy for generations to come."