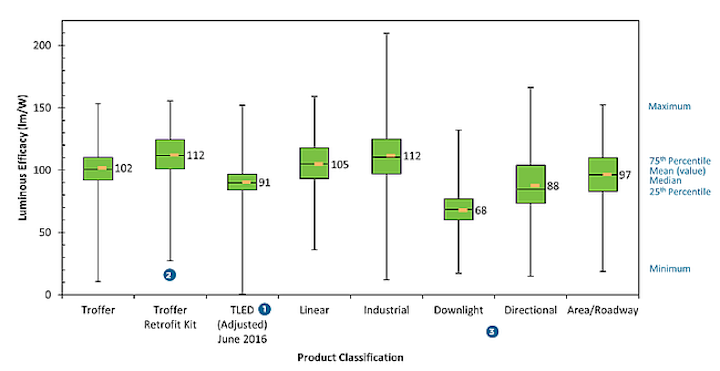 Despite a formidable challenge of low-cost, efficient fluorescent fixtures and tubes, LED-based troffers have of late begun to penetrate the commercial office and industrial market.
The US Department of Energy (DOE) has issued its latest Caliper Snapshot report, this time focused on LED-based troffer luminaires. The ubiquitous 2×4-, 2×2-, and 1×4-ft troffer fixtures are mainstays of the commercial space, and the fluorescent version using linear tubes has been cost effective and relatively efficient. The "Caliper Snapshot Troffers" report states that solid-state lighting (SSL) troffers represented a nascent portion of the products listed in the DOE Lighting Facts program through 2013, but have grown to represent 20% of the listed products when integral luminaires and retrofit kits are considered.
Interested in articles & announcements on LED & SSL research and development?
The DOE Caliper Snapshot reports are compiled strictly based on data in the Lighting Facts program. For example, the DOE issued a Caliper Snapshot report on the related LED-based replacement-tube market last year. In December 2016, however, the DOE removed all replacement lamps from the Lighting Facts database due to changes in lamp testing requirements and market conditions.
Based on the Lighting Facts data, LED troffers and retrofit kits offer clear efficacy advantages over the fluorescent incumbent despite the prior-noted fact that fluorescent technology is relatively efficient. The very best fluorescent troffers have reached levels in the 85-lm/W range. The DOE report reveals mean efficacy for the LED troffers at 102 lm/W and troffer retrofit kits even higher at 112 lm/W. Moreover, the DOE said 10% of the listed products achieve efficacy of 125 lm/W or better.
DOE issues Caliper Snapshot on LED troffer luminaires
The US Department of Energy has reported that together, LED troffer luminaires and retrofit kits represent 20% of Lighting Facts listed products.
The DOE had most recently issued a Caliper Snapshot report including troffers back in the spring of 2014. The agency said average efficacy has gone up by 25% in the near three years between reports. Moreover, the latest report is based on four times more LED troffer fixtures in the database.
What has not improved dramatically is light or color quality. We regularly write about LED-based products that offer superior color rendering to any legacy light source. In the troffer case, however, the bulk of the SSL products have a CRI of 80, in the same range as fluorescent lamps. In fairness, that CRI level is likely sufficient for most applications and is driven by cost/performance tradeoffs and not fundamental limitations of LEDs in a troffer application. And some LED troffers do a much better job of beam control than do fluorescent products, although the Caliper Snapshot report does not discuss beam patterns. There are readily available products across a broad CCT range including many at 3000K and some at even warmer CCTs.
The DOE issues Caliper Snapshot reports on a relatively frequent basis across many application types. For instance, the agency issued such a report on outdoor area lighting back in October. The Snapshot reports are not to be confused with the full Caliper reports that are based on laboratory testing of SSL products at a DOE lab. For example, the DOE published a Caliper report based on testing of OLED luminaires in October as well. You can read the new Caliper Snapshot report in its entirety on the DOE SSL website.