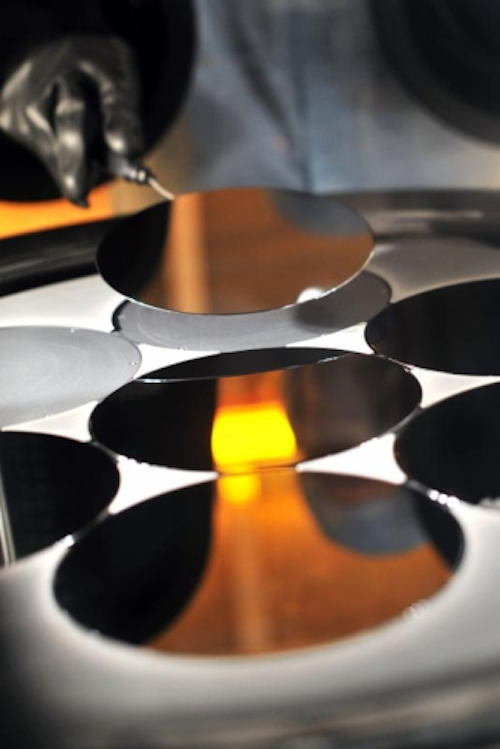 In our latest LED business roundup, Plessey nabs major funding for expansion of GaN-on-Si LED manufacturing capacity while Nichia continues its attack on Everlight, Bayer spins Covestro, RayVio expands, and Seoul Viosys acquires SETi.
Plessey has announced the receipt of a GBP6.7 million ($10.3 million) grant that will enable the company to expand its LED manufacturing facility in Plymouth, England. Nichia is again attacking Everlight Electronics over intellectual property issues (IP), this time indirectly, by bringing suit against Everlight subsidiary WOFI Leuchten Wortmann & Filz GmbH. Bayer MaterialScience, a supplier to LED and solid-state lighting (SSL) manufacturers, is now doing business as Covestro. Startup RayVio, focused on the ultraviolet (UV) LED space, has said that it will expand its manufacturing facility. Also in the UV LED space, Seoul Viosys has announced the acquisition of Sensor Electronic Technology Inc (SETi).
Interested in more articles & announcements on LED business & applications?

Plessey funding
The new Plessey funding marks the second recent instance where we have reported grant wins for the LED manufacturer that is focused on gallium-nitride-on-silicon (GaN-on-Si) LEDs. In July, the company received GBP1.3 million (about $2 million) for research activity related to the GaN-on-Si technology with the intent of moving the work to high-volume manufacturing. The latest larger grant is from the UK Regional Growth Fund (RGF).
The planned expansion will significantly increase the number of GaN-on-Si LEDs that Plessey can produce each year. The company chose to quantify the scope based on the area of the epitaxial wafers that will be produced. That number will grow from the present 100 million mm2 to more than 3 billion mm2. The building expansion will take place this year with manufacturing and test equipment coming on line starting late this year and extending through 2016 and into 2017.
"We are very proud of our local heritage and the RGF funding will contribute to our expansion plans for the Plymouth facility," said Chris Bailey, Plessey's finance director. "The expansion will bring additional well-paid technical jobs to the site, and strengthen our long-term future by providing the base for new lighting technologies and products to be manufactured in the UK. The project also aligns very well with national strategies, such as the Growth Review, and it aims to increase and support manufacturing in the UK to make the UK Europe's leading exporter of high value goods and services."
Nichia patent actions
Moving to the IP space, Nichia has filed suit in German court based on the newly granted patents covering phosphor-converted LEDs that we covered back in July. The target in this instance is lighting manufacturer WOFI, which Everlight acquired back in 2013.
Nichia specified three LED luminaire families that it specifically asserts infringe German patents EP 2 276 080 and EP 2 197 053. The WOFI products include the Orbit Series 946, Mercur Series 313, and Laurids Series 889. It's not clear whether Nichia is attacking the actual luminaire design, or more likely the LEDs used in the WOFI products.
Company business updates
There are several other stories focused on LED business changes and additions in the SSL space. Bayer AG has announced that it has spun its materials-focused Bayer MaterialScience into an independent subsidiary called Covestro. For now Bayer owns 100% of the subsidiary but plans to pursue a stock offering by mid-2016. "Independence will enable us to bring our strengths to bear in global competition more quickly, effectively, and flexibly," said Covestro CEO Patrick Thomas
In the US, UV-LED specialist RayVio said it is expanding its manufacturing capacity and will be capable of making more than two million UV LEDs per year. The company said growing demand from customers in industrial and consumer applications has driven the need for expansion. RayVio announced earlier this year that it hit record power levels with UV LEDs and had obtained additional venture funding. The company has also expanded its sales force.
"RayVio's superior performance and cost effective solutions have accelerated the mass adoption of UV LED enabled industrial and consumer devices," said Robert Walker, RayVio co-founder and CEO. "With the funding we received earlier this year, we have the capital required to grow the company aggressively. By expanding our international sales force and increasing our manufacturing and research capabilities, we will be well positioned to maintain a leadership role."
More UV tech
Overall interest in the UV LED business space is definitely heating up. Earlier in August, Seoul Viosys, a sister business to Seoul Semiconductor, had announced its acquisition of SETi. Seoul had long been an investor in SETi but had been limited from a full acquisition by the US Department of Defense (DoD) for which SETi supplied technology for the military and aerospace front. Now Seoul Viosys said it petitioned the DoD and received approval for the move.
SETi has long been prominent in the UV space. For example, that company worked with the US Department of Agriculture (USDA) to prove that UV LEDs could extend the shelf life of produce. We also covered the company extensively in a UV LED feature back in 2012. Now Seoul will likely add manufacturing muscle.
"With all original patents and the mass-production system required for the development and manufacture of UV LED, Seoul Viosys will continuously develop UV LED technologies to contribute to the improvement of technical competitiveness and industrial development in Korea and take the lead for energy conservation and environmental protection through the expansion of distribution of UV LED over the world," said Jae-jo Kim, the representative of Seoul Viosys. "The source technology of short-wavelength UVC and RF we recently secured by obtaining the approval of US Department of Defense is the future technology essential for space industry and defense industry, and Seoul Viosys will expand this business globally based on related patents and mass-production technology."