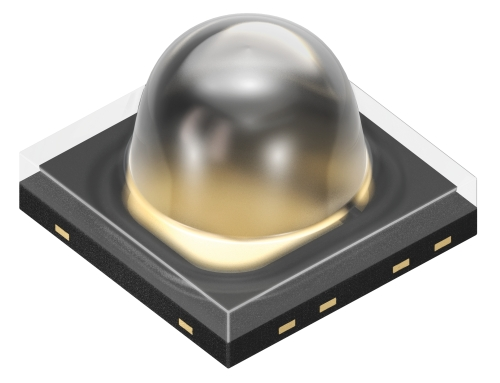 The infrared chip's narrow beam eliminates the need for secondary optics, the company says, as it continues to drive LEDs beyond general illumination.
Osram continues to push LED use into non-illumination applications, as it added yet another chip to its infrared line, this time narrowing the beam angle for optimization in security cameras.
Interested in articles & announcements on infrared LEDs and applications?
The new SFH 4718A joins the company's Oslon Black portfolio of infrared (IR) LEDs, with a beam angle of ±25°, more tapered than the ±45° and ±75° that were already part of the stable.
Osram's Opto Semiconductors (OS) group said the narrower beam eliminates the need for secondary optics in medium-capture range security uses, such as in parking garages.
"This makes the overall system more compact and cost-effective," Osram OS said.
The new chip emits a wavelength of 850 nm, part of the infrared spectrum of invisible light.
Osram has been steadily building up its offerings of IR LEDs – which it calls IREDs – as it pushes LED lighting beyond its established role as an illumination source.
In April, with a mix of interior and exterior automotive applications in mind, it added six new models in the Oslon Black family. That followed the introduction in February of a 940-nm infrared chip that assists in facial recognition systems to unlock laptops, phones, and other electronic devices.
A year ago, it added an 850-nm chip geared for use in virtual reality and augmented reality headsets.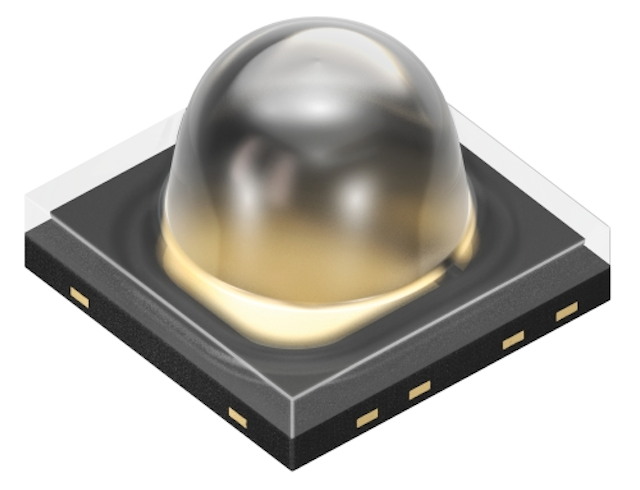 Osram's latest infrared LED targets security cameras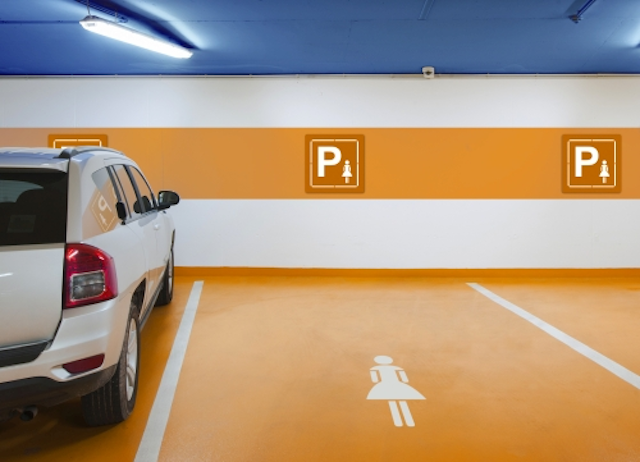 The new SFH 4718A IR LED (top) optimizes security cameras in medium-capture environments such as parking garages, Osram said.
The company offers IR LEDs at three different wavelengths — 810, 850, and 940 nm — each tailored for different applications.
Osram firmly believes that LEDs in both the visible and invisible spectra will be in great demand amid the world's insatiable drive to digitize seemingly everything. That's why the company is in the midst of a €1 billion LED chip factory expansion in Kulim, Malaysia, envisioning LEDs for applications spanning automobiles, fitness watches, drones, phones, laptops, and much more.
Meanwhile, IR LEDs are also featuring in a couple of trials of Li-Fi systems by Germany's Fraunhofer Heinrich Hertz Institute, in which infrared waves transmit data in two-way, Wi-Fi-like transmissions, using light rather than Wi-Fi's radio spectrum. Fraunhofer has experimented with infrared Li-Fi at a BMW plant, and is hopeful that its infrared Li-Fi will catch on for outdoor communications in partnership with Japanese telecommunications company Sangikyo.
Li-Fi in other instances also embeds data in visible light.
The non-illumination use of LED chips is part of a broader trend among lighting companies in which they are treating the lighting infrastructure as an information technology network aimed at gathering, analyzing, and monetizing data. The transformation has not been an easy one, as evidenced by recent financial revisions and results from major players such as Osram and Signify (formerly Philips).
MARK HALPERis a contributing editor for LEDs Magazine, and an energy, technology, and business journalist (markhalper@aol.com).