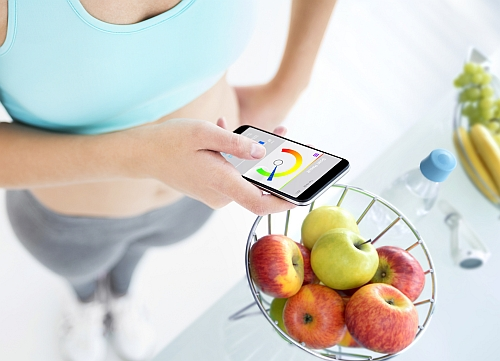 If you're a king, your smartphone can now replace your taster. The rest of us can use it for allergens, cholesterol, calories, or other dietary detections.
And now, something for spies, kings, vegans, allergy sufferers, or just good old calorie counters and cholesterol watchers: Osram has unveiled an infrared (IR) LED that enables smartphones to analyze the food you are about to eat or buy, helping you avoid everything from poisoning to letting traces of meat cross your lips.
Osram's Synios SFH 4776 packaged LED uses spectroscopy to identify the contents of foodstuff. End users would scan items at the supermarket, the cafeteria line, at home, or wherever to gain dietary confidence.
"Near-infrared spectroscopy enables such things as the water, fat, sugar, and protein content of food to be measured," Osram's Opto Semiconductors group said. "This technology uses the characteristic absorption behavior of certain molecular compounds. If a defined light spectrum is directed at a sample, it is possible to determine the presence and quantity of certain ingredients from the wavelength distribution of the reflected light. An IRED, such as the SFH 4776, acts as a compact light source for the spectrometer."
The 4776 is a shrunken version of the SFH 4775, which Osram introduced in late 2016. The larger 4775 has the same spectroscopy capabilities but is housed on peripheral devices such as USB sticks intended to connect to gadgets like phones. It is not clear whether Osram found much of a market for the 4775, or whether it has lined up any smartphone makers to embed the new 4776 LED package.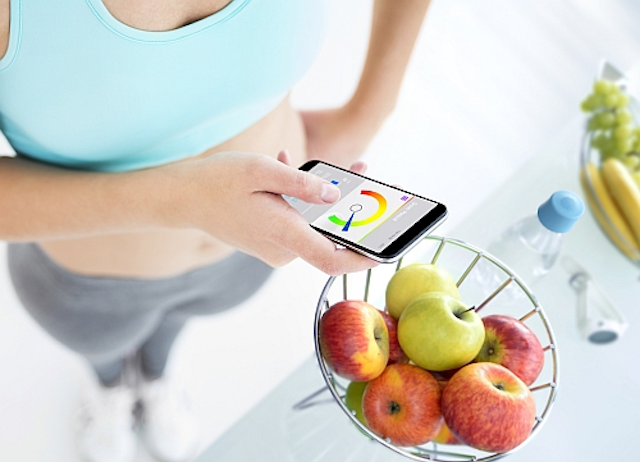 Osram's latest infrared LED identifies what's in your food
How 'bout dem apples? Whatever she's looking for inside, chances are good that the Synios SFH 4776 infrared LED (below) will find it. (Photo credit: Osram.)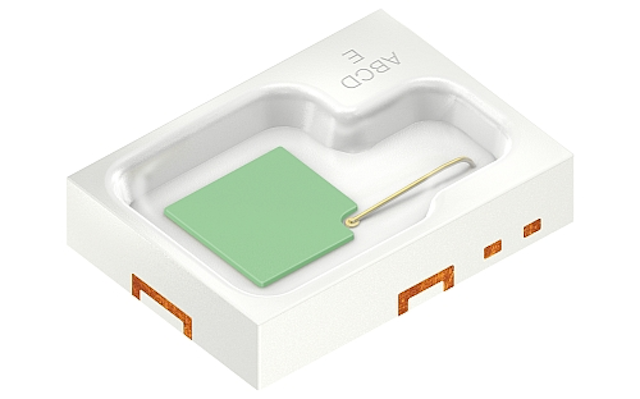 "The Synios package of the SFH 4776 is only 0.6 mm high and has a particularly space-saving footprint of 2.75 mm × 2.0 mm, making it ideal for use in smartphones," Osram said.
The IR LED is the latest example of Osram's efforts to push solid-state lighting (SSL) technology into applications well beyond general lighting. In July, it added an IR LED to the Oslon Black line that is optimized for use in security cameras. Also this year, the company has added chips for automotive safety uses such as pedestrian and object detection, while also adding LED chips that serve in facial recognition tasks such as locking and unlocking laptops.
Osram is big believer that LED chips, including IR LEDs, will play a huge role in digitizing things from drones, phones, and fitness watches, and connecting them and their findings to the Internet, in an IoT (Internet of Things) play. That's why the company is in the midst of a €1 billion LED chip factory expansion in Kulim, Malaysia.
With the new Synios SFH 4776, "Consumers will soon be able to use their smartphones to check how fresh supermarket food is, measure the calories in canteen meals, and verify whether the tablet in their hand really is a painkiller," Osram noted.
Technology once again has the potential to alter the work world, as this could be the end of the road for food tasters.
MARK HALPER is a contributing editor for LEDs Magazine, and an energy, technology, and business journalist (markhalper@aol.com).
*Updated Sept. 12, 2018 9:50 AM for Synios package clarification.