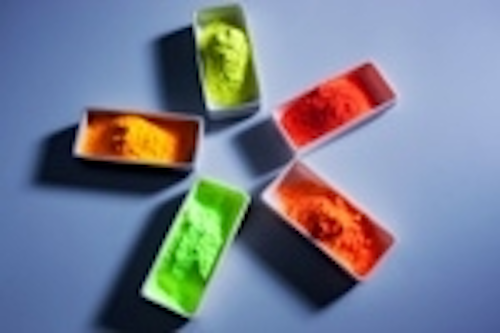 Intematix has added green aluminate (GAL) and red nitride materials to its phosphor portfolio. The new phosphors target more efficient warm-white solid-state lighting (SSL) for general lighting and TV/display backlight implementations with richer color gamut, while potentially freeing Intematix customers of packaging patent issues.
In related news, Intematix has signed a patent cross-licensing agreement with a consortium of companies led by Tridonic, which allows Intematix to use BOSE phosphor patents.
The new phosphors announced by Intematix provide LED makers with an alternative to the widely-used yellow YAG (yttrium aluminium garnet) phosphors used to create white light. The GAL material works similar to a yellow phosphor in creating white light from a blue LED source. And a red phosphor is commonly added to yield a warmer color temperature in the 2700-3000K range.
Intematix CEO Mark Swoboda said, "The GAL material when combined with the red phosphors allows the lighting market to achieve warm-white applications with much higher efficiency and much higher color rendering." Swoboda can't quantify the efficiency or color-rendering advantage for now, but notes that LEDs using the phosphors will ship in Q1 2011. Perhaps those products will demonstrate the claimed advantages.
Swoboda can detail the patent-centric advantages that he believes the new phosphors offer to LED makers. Swoboda said, "The materials are based on patent-protected innovative compounds that were developed by Intematix. They do contain unique ions that improve the efficiency of the product but also differentiate our products from all other red nitride phosphors on the market.
Swoboda mentioned red nitride specifically because of the recent legal actions undertaken by Nichia in enforcing red nitride and other patents. It turns out that the patent issues include both the formulation of the phosphor material and how those phosphors are applied in packaging white LEDs – the latter are called application patents.
"Nichia has a YAG application patent," said Swoboda. "Most companies that make white LEDs using YAG need a license from Nichia." Swoboda's point is that the license requirement applies to LED customers that buy a YAG phosphor from Intematix even though Intematix owns the IP in its YAG formulation.
About the new phosphors, Swoboda said, "They are built on Intematix IP which allows them to be more freely used versus some other phosphors that have limitations due to IP from LED package patent holders." Swoboda's claim is that Intematix customers will be free to use the new materials without licensing an application patent from Nichia, OSRAM (the holder of TAG or terbium aluminum garnet application patents), or others.
Swoboda claims that the new products make Intematix the "broadest supplier of phosphor powders" in the industry. He said, "It's significant for both our customers and our company."