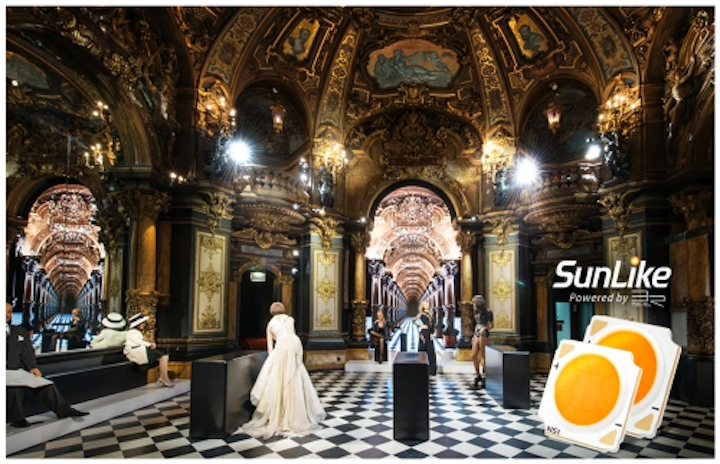 Famed Paris wax museum is now lighting the figures ranging from celebrities to scientists with 97-CRI SSL, thereby enabling visitors to experience vivid colors and subtle details of the art works.
Seoul Semiconductor has revealed a new solid-state lighting (SSL) project at the Grevin Museum in Paris, France that utilizes SunLike packaged LEDs to illuminate the wax figures of celebrities. French lighting manufacturer Ramo developed the downlights used in the project, and the 97-CRI output results in a more lifelike appearance of the figures which visitors will experience as more realistic color tones relative to the prior lighting.
Seoul introduced the SunLike technology almost two years back with, as the name implies, a spectral power distribution (SPD) that mimics natural sunlight over the human visual range. The packaged LEDs utilize violet emitters, sometimes called pumps, and a proprietary three-phosphor mix from Toshiba Materials called Tri-R. The result is the elimination of the blue peak common to phosphor-converted white LEDs and more uniform energy across the green, yellow, and red regions of the visual range.
Seoul has targeted demanding applications with SunLike and certainly museum lighting falls into that category. Indeed, tourist attractions such as the Grevin along with famous art museums are choosing LED lighting to reveal the intricacies of their exhibits while also delivering the energy-saving and long-life benefits of SSL. For example, we covered a large LED project at the Rijksmuseum in Amsterdam all the way back in 2013 just as LED light quality improved sufficiently to meet the demands of curators.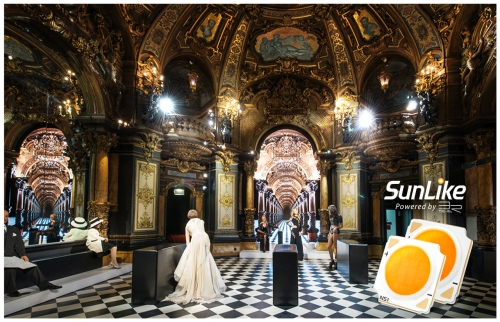 Grevin Museum installs Ramo downlights based on Seoul SunLike packaged LEDs
A museum lighting installation at the Grevin in Paris brings high-quality illumination to wax exhibits via downlights that rely on Seoul Semiconductor's SunLike LED technology. (Photo credit: Image courtesy of Seoul Semiconductor.)
Seoul said that in the Grevin project the SunLike LEDs deliver vivid colors and contrast that accentuates details while the lack of a blue peak eliminates scattered reflections and glare, leading Ramo to utilize the LEDs. "Seoul Semiconductor's SunLike Series natural spectrum LEDs are unique products that have redefined high-quality lighting with differentiated design in our industry," said Omar Rezki, chairman of Ramo. "In cooperation with Seoul Semiconductor, we were able to create a fixture design with outstanding performance to deliver an optimal lighting solution for the unique requirements of the Grevin Museum Paris."
The Grevin Museum is located on Boulevard Montmartre. The exhibits range from famed scientist Albert Einstein to deceased celebrities such as Michael Jackson to current entertainers such as Katy Perry.
Meanwhile, Seoul is finding success with SunLike in a wide mix of applications. The LEDs were used to light murals in ruins in a historical Pompeii setting. The uniform spectrum also has benefits in horticultural lighting, according to Seoul, and we recently covered a project in the Netherlands where greens grower Rofianda is using the technology to boost yield. Seoul also publicized research from a South Korean medical school indicating that the LEDs can deliver benefits such as improved circadian patterns in a lighting for health and wellbeing application.