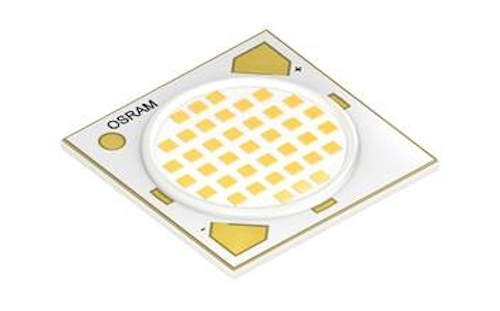 Osram Opto Semiconductors offers a new 13-mm COB LED with output to 6800 lm while Plessey has developed a 4.5×4.5-mm packaged LED that will be demonstrated at LuxLive this week.
Osram Opto Semiconductors has announced the Soleriq P 13 chip-on-board (COB) LED with significantly increased flux output to 6800 lm. The packaged LEDs target applications such as retail that require a tight beam pattern and high center beam candle power (CBCP). Plessey, meanwhile, followed up last week's announcement of small chip-scale packages (CSP) with a 4.5×4.5-mm gallium-nitride-on-silicon (GaN-on-Si) LED that will serve as a technology demonstrator for the company's Magic (Manufactured on GaN-on-Si I/C) portfolio.
High-output COB
The Osram announcement follows a recent trend of LED manufacturers boosting lumen output relative to the size of the light-emitting surface (LES) to deliver directional solid-state lighting (SSL) products with more punch. For example, Cree doubled the output of 6- to 12-mm COB LEDs earlier this year. And Philips Lumileds added a high-output 9-mm COB LED. The trend is based on the fact that smaller sources enable better beam control for directional lighting.
Packaged LEDs: Osram ups COB flux, Plessey expands Si family
Indeed, Osram is targeting the new packaged LEDs at high-powered spotlights for retail, museum, and commercial applications. The company demonstrated the LEDs at the Electronica trade fair in Munich, Germany last week. The new LEDs match the output of previously-announced 19-mm-LES Soleriq S 19 packaged LEDs.

"Customers could compare the P 13 with the formerly launched Soleriq S 19 due to its similar light output of 4000 to 5000 lm," said Mark Dyble, product marketing manager for general lighting at Osram. "In fact, the new Soleriq P 13 has smaller dimensions and is therefore the right choice for more compact lighting solutions."
The new LEDs, in fact, deliver 3300 lm at 3000K CCT and 90 CRI or 4000 lm at 80 CRI when operating at 85°C and 1050 mA. But you can double the drive current for maximum output. Like other manufacturers promoting high-output packaged LEDs, Osram notes that the new products can use simpler, less expensive lenses relative to larger COBs while enabling more applications with fewer LEDs relative to smaller COBs.
GaN-on-Si LED
Plessey, meanwhile, has produced what it acknowledges as a technology demonstrator in the 20-mm2 LED based on a silicon substrate. The LED is simply a blue source based on multiple emitters that delivers 5W in radiometric power. The packaged LED would require phosphor to generate white light.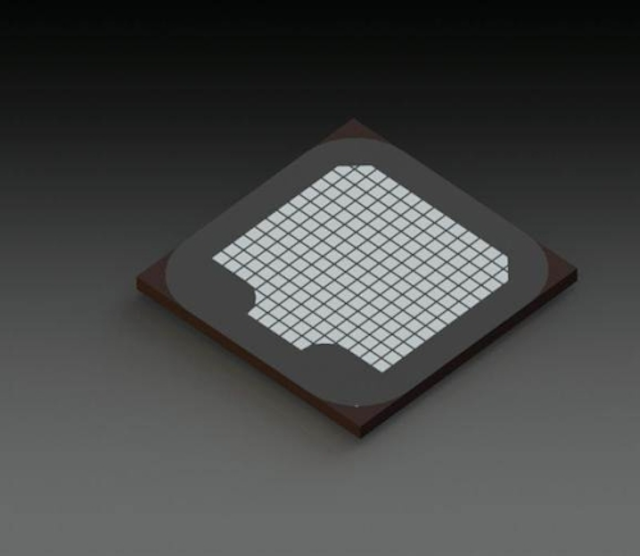 Plessey openly admits that it is seeking to allow customers to find an application fit for the technology in producing the demonstration LED. The company even mentioned the use of the LED in COB devices, but most such packaged LEDs use an array of smaller die presently.
"It is clear that the next wave of general lighting products will see LEDs applied in ways that truly exploit the benefits obtained through Plessey's leading GaN-on-Si technology," said David Owen, Plessey's marketing director. "This announcement marks the start of a phase where we engage with our key partner customers in defining the commercial realization of lighting products based on Plessey's large GaN-on-Si LED die."