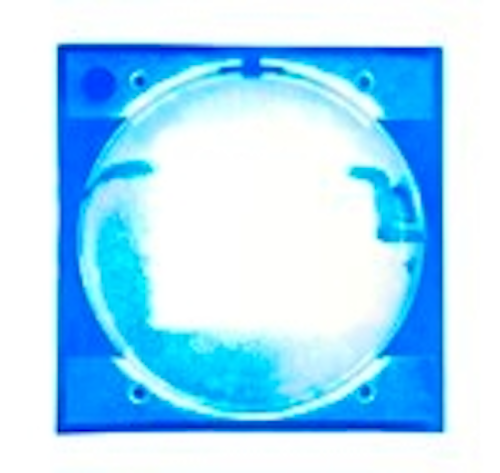 LED lighting manufacturers Aurora Energie Corp., Horner APG, Ledzworld Technology, Vexica Technology, and Wyndsor Lighting LLC have licensed Cree patents that are critical to making remote-phosphor solid-state-lighting (SSL) products. Moreover, a license to Cree's patents may be a requisite to any luminaire or lamp maker wanting to build remote-phosphor products. The company also just announced additions to its TEMPO testing program and new LEDs for large-outdoor-display applications.
Licensing agreements
These new agreements mark the first deals under Cree's remote-phosphor licensing program that the company announced in August along with the XLamp XT-E Royal Blue LED that targets such applications.
Cree has not previously detailed the specifics of the remote-phosphor IP (intellectual property) program, but director of intellectual property licensing George Brandes agreed to discuss the program. Describing the scope, Brandes said, "We are providing customers with access to essential IP for practicing remote phosphor luminaire design and manufacturing."
According to Brandes, the basic patent in the portfolio covers the generation of white light using a blue LED and a phosphor – whether the phosphor is applied directly on the LED or on a remote optic. He said other patents address geometric elements such as the distance between source and remote optic, the remote-phosphor structure, and how you design the cavity or mixing chamber.
Apparently, the IP portfolio is sufficiently broad, that any luminaire maker designing a remote-phosphor-based lighting product may ultimately require a Cree license. Brandes said, "If you want to make a white light with a blue LED and a phosphor, you probably want to have access to Cree patents."
For clarification, we asked Brandes if he was saying that anyone making a remote-phosphor luminaire would require a Cree license. Brandes said, "That's a pretty absolute statement, but certainly if you look at our patents we feel that they are fundamental to making a remote-phosphor luminaire."
Existing remote-phosphor products
Of course there are a number of remote-phosphor products on the market today including notable products from Philips Lighting. Brandes said that the cross-licensing agreement that Cree and Philips previously signed grants Philips the right to the remote-phosphor IP. It appears that other companies without a Cree licensing agreement may need to consider one.
Brandes said that Cree "would like to talk with" other companies selling remote-phosphor products. It's a fair question to ask how a proactive effort by Cree to license its technology might impact the use of remote phosphor. It may cost luminaire and lamp makers a premium to pursue such a path.
Remote-phosphor designs are legally different from those that use phosphor-converted LEDs. Brandes said that companies like Cree typically indemnify customers of phosphor-converted LEDs against IP concerns regarding the product. But customers that buy royal-blue LEDs for white-light applications will need the additional license because the ability to generate the white light isn't captured within the component.
Cree is walking a fine line between being an industry advocate for the capabilities of remote phosphor and tapping a secondary licensing revenue source. The company will provide its blue-LED customers with help on remote-phosphor designs via its application-engineering staff. The company hasn't identified licensing terms, but it appears that whether you buy blue LEDs from Cree or a competitor, Cree believes you will need its license to sell a remote-phosphor LED lighting product.
"We're quite excited to have these companies take licenses to our patents," said Brandes. "These companies are pioneers in remote-phosphor lighting. They are the first ones. And I suspect there will be additional licensees going forward." Brandes said it was still to be determined how often Cree would make licensee announcements or if they would announce each and every agreement.
New TEMPO services
In another recent announcement, Cree introduced enhancements to its Thermal Electrical Mechanical Photometric Optical (TEMPO) services that help luminaire makers get quality products to market. Specifically, Cree announced new thermal-simulation and photometric-testing options.
Cree announced the TEMPO services
including the Single Point of Test (SPOT) service back in September. Perhaps most noteworthy now is the customer feedback on the services.
"Ready access to the TEMPO thermal simulation service has saved our team weeks in the product engineering process," said Jim Shapiro, Feit Electric, director of product development. "And speed and quality are the name of the game in the LED marketplace."
"With the fast turnaround of Cree's new TEMPO SPOT service we were able to quickly validate our design assumptions," said Colin Piepgras, Digital Lumens, vice president of engineering. "Cree clearly understands the challenges of the LED fixture design cycle and its new service offerings hit the nail on the head, giving us precisely what we needed, in the time we needed it in."
LEDs for outdoor screens
Cree also just announced availability of the Screen Master C4SMT and C4SMD 4-mm LEDs. Cree says that the new components are the brightest in the P2 oval LED family. The LEDs are designed for large outdoor video screens with the C4SMD optimized for brightness at a 0° viewing angle and the C4SMT optimized for brightness at a -20° viewing angle.
Video screen specialist Lighthouse Technologies is certainly an authority on the topic and commented on the new LEDs. "The C4SMT LED is ideal for installations with viewing points below the screens," said William Tang, director of operation at Lighthouse. "With the introduction of the world's first high-brightness LED with a 20 degree tilted viewing angle, Cree continues to push the boundaries of innovation."