LED modules bring new light to Boise YMCA aquatic center
Custom LED retrofits from SimplyLEDs and Bridgelux rejuvenated a Boise, Idaho aquatic center while reducing energy usage by 80 percent.
Aug 5th, 2011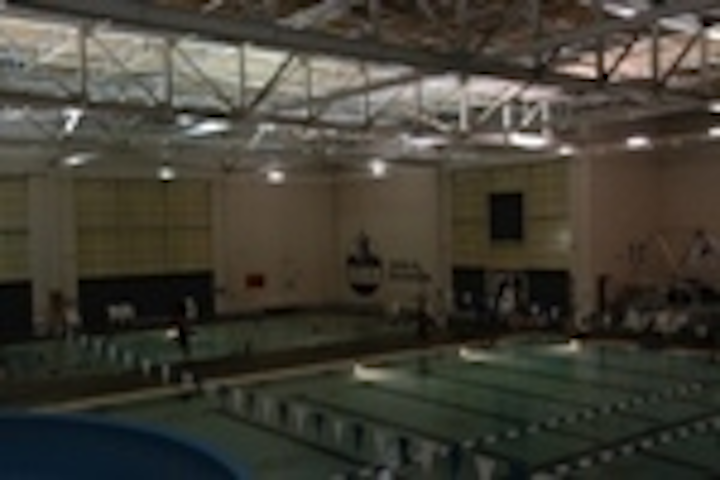 The YMCA in Boise, Idaho is open 20 hours a day. And up until several weeks ago, a midnight swim had begun to look like just that. Lighting levels had deteriorated. The metal-halide fixtures, designed to reflect light off a white ceiling, had burned out in several cases. Chlorine from the water had caused the ceiling to turn brown (see photo).
"Really, almost from day one the lighting solution was not what we had hoped for. But fifteen years into operation, the lifeguards couldn't see as well as they needed to and it was heading toward a safety issue," described Jim Everett, CEO of the Treasure Valley Family YMCA. Everett had other issues as well: maintenance on the lighting fixtures tended to be difficult because of the high ceiling and having to work around the pools.
Finally, an elaborate truss system held the existing 66 lighting fixtures and tearing it out was cost-prohibitive. "If we had to replace all those fixtures it would not have been cost effective," said Everett.
After weighing several options, including blanket replacement of the metal-halide luminaires and several different LED vendors, the YMCA decided to work with a provider of task-specific LED lighting, SimplyLEDs (Garden City, ID), and LED array provider Bridgelux (San Jose, CA). Together, they provided a drop-in replacement for each of the 66 fixtures, keeping the still functional and attractive truss system intact.
LED replacement modules
The replacement kit for each fixture consists of 4 Piazza Series LED modules and two power supplies, which consume 150W (see photo). This kit compares to two 400W metal-halide bulbs with ballasts, which consumed approximately 920W each. Energy savings is 770W per fixture or 80 percent.
One of the YMCA's main requirements was a rapid ROI. "We wanted something that was socially responsible with a reasonable return-on-investment," said Everett. "By retrofitting the existing fixtures with an LED solution, we saved a considerable amount of money," said Bob Deely, President and CEO of SimplyLEDs. Each fixture had a changeover time of approximately 20 minutes to remove the metal-halide light engine and ballasts and install the LED modules and reflector.
The design team chose aluminum reflectors to direct the LED light to the pool level. They experimented with various reflector shapes, finally settling on a gull-wing type design for optimal lighting effect.
A further design criterion involved adapting the LEDs to the caustic pool environment. High humidity and chlorine levels dictated that the LED modules be hermetically sealed. "We leveraged a technology from a company that makes LED marker lights for aircraft, AeroLEDs [Nampa, ID], described Deely. The LEDs are sealed in a water- and air-tight module. Epoxy adheres the polycarbonate lens to the LEDs and to the heat sink. The only wires (to the LEDs) exiting the heat sink are wrapped in heat-shrink tubing. The wires go through a silicon rubber grommet lined in silicone paste. The power supply is IP67 rated. Both the modules and power supply have a 5-year warranty.
The light output per fixture is now approximately 13,500 lm at 150W or 90 lm/W efficacy. Although the total lumen output is lower than with the metal-halide bulbs, SimplyLEDs was able to increase light output levels on the pool by 50 percent by taking advantage of the beam angle of the LEDs and the custom-designed reflector (see photo). A CCT of 5000K, very close to that of daylight (5500K), was chosen.
Beyond the savings in energy cost of approximately $20,000/yr, the removal of the metal-halide lamps also eliminated the fire hazard associated with these lights. In addition, whenever there was a power outage, the YMCA had to wait approximately 30 minutes until the metal-halide lamps cooled and could be restarted. This inconvenience no longer exists. Moreover, because the maintenance cost of the LEDs is nearly zero, Everett estimated a maintenance savings of $5000 per year.
Other advantages to the LED installation include increased lighting uniformity in the pool area and reduced glare off the water (see photo). "The quality of the light is really fantastic. I play a lot of water polo, and I really notice how much better I can see in the pool now," said Everett.
Everett said the strong drivers for adopting LEDs were really the terrific energy savings, fast installation and reasonable ROI. "Also, we don't have much tolerance for interruptions, since we're open twenty hours a day, seven days a week. The willingness to work after hours and work quickly made a big difference on this project. We needed people who understood our business model and could work within our constraints," he said.