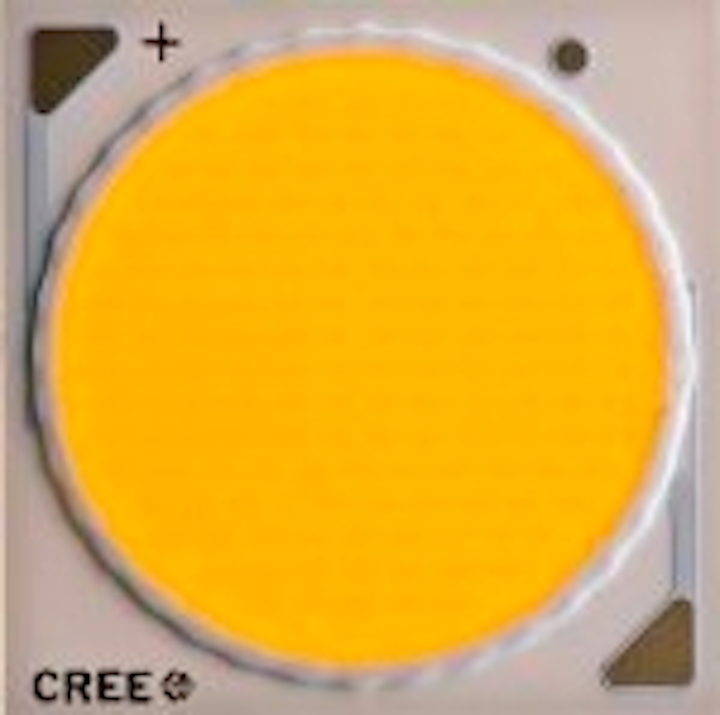 Cree has both extended its 19-mm light emitting surface (LES) COB LED array family with the CXA2540 and introduced a new 23-mm-LES series with the CXA3050. The new LEDs range in output from 5000 to more than 10,000 lm, and are intended as solid-state lighting (SSL) replacements for high-output metal-halide sources in applications such as high-output track lights and downlights, and high-bay lighting.
The CXA2540 shares a mechanical package with the previously-announced CXA2520 and CXA2530 LEDs. The CXA2540 boosts flux output about 20% with warm-white performance over 7000 lm and cool-white performance over 8000 lm. Cree says that the product delivers 20% better efficacy than similar-sized products at 5000-lm output and 3000K CCT. Warm white efficacy is about 108 lm/W when the LED is operated at 85°C typical of application usage scenarios.
The CXA3050 matches the efficacy of the smaller LEDs while breaking through the 10,000-lm level in cool white. Warm-white versions approach a maximum flux output of 9000 lm. The high-output will enable new application scenarios.
"We really like the ease-of-use and high performance of the CXA family and we're looking for higher lumen versions to address the high bay lighting market," said Jong Hyun Woo, chief project manager of Ilsung Ltd. "The CXA3050 LED Array gives us the performance that we need together with the high reliability that Cree is known for to create compelling designs for our customers."
Reference designs
As has been the case recently with Cree LED announcements, the company has provided a glimpse at what the LEDs could deliver in applications by publishing reference designs. The company described a track-light application in which the new LEDs were used in place of a widely-used 39W ceramic-metal-halide (CMH) source.
At the system level a 47W CXA2530-based design would produce 3846 lm, a 53W CXA2540-based design would produce 4471 lm, and the 44W CMH incumbent produces 2400 lm. That equates to a significant efficacy gain from 55 lm/W to 82-85 lm/W. Moreover the CXA2540 design also best the CMH lamp for center beam candle power.
Cree also said that TM-21 calculations project 130,000 hours of life for the LEDs at binning current. That projection, however, is based on LM-80 data from the CXA1507 LED that uses the same basic LED packaging technology. The company said SSL products that use the LEDs can be rated for 100,000 hours of life.