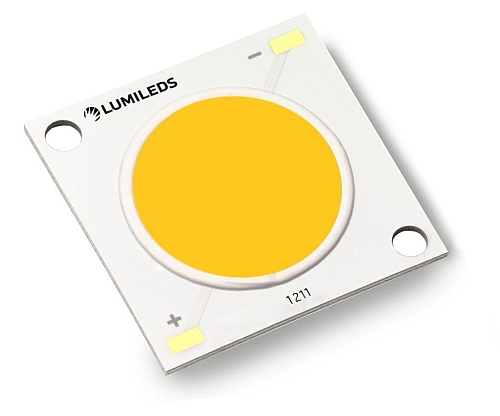 SSL lamp and luminaire developers can realize a 10% gain in efficacy with level lumen output relative to the Gen 2 products announced seven months ago.
Lumileds has announced its third generation of chip-on-board (COB) packaged LEDs in the Luxeon COB Core Range Gen 3. The new LEDs hit efficacy levels of 160 lm/W in a broad family of products that span light-emitting surface (LES) diameters from 6.5 m to 23 mm.
Interested in more articles & announcements on COB LEDs?
Lumileds announced the Gen 2 COB products less than one year ago in July 2015. Those Gen 2 COB LEDs were said to have maximum efficacy in the 140–150-lm/W range. The initial Gen 2 products topped out at an LES of 15 mm, but Lumileds subsequently added a 23-mm product to the family in October 2015.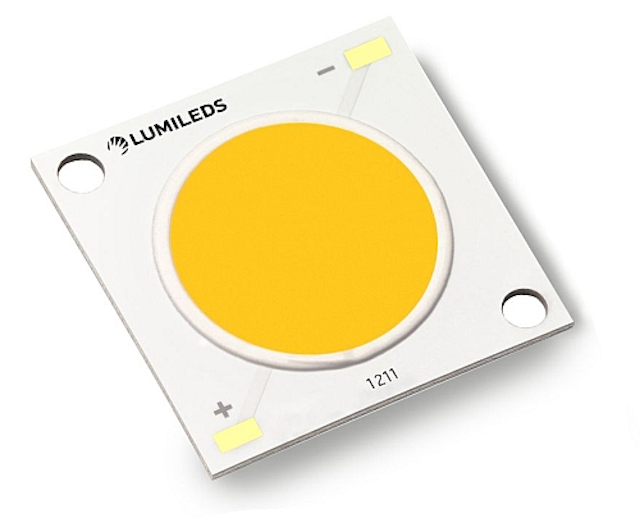 Lumileds delivers third generation of COB LEDs
Lumileds said it has maintained electrical, mechanical, and optical consistency in the COB line going back to the first-generation products announced in 2013. Generally, one of the benefits of COB LEDs is the simplicity of interfacing to a single LED package in product development. The Lumileds consistency further enables developers to substitute the newer, more-efficient components into lighting products while leaving holders, optics, and other elements of the product unchanged.
The latest Gen 3 COB LEDs will deliver another 10% ramp in efficacy to developers while keeping lumen output the same relative to Gen 2 products. Or developers can deliver higher output levels while maintaining efficacy. "This performance upgrade is the result of significant improvements in both die development and our industry-leading phosphor solutions that give us industry leading performance," said Eric Senders, product line director for the Luxeon COB family.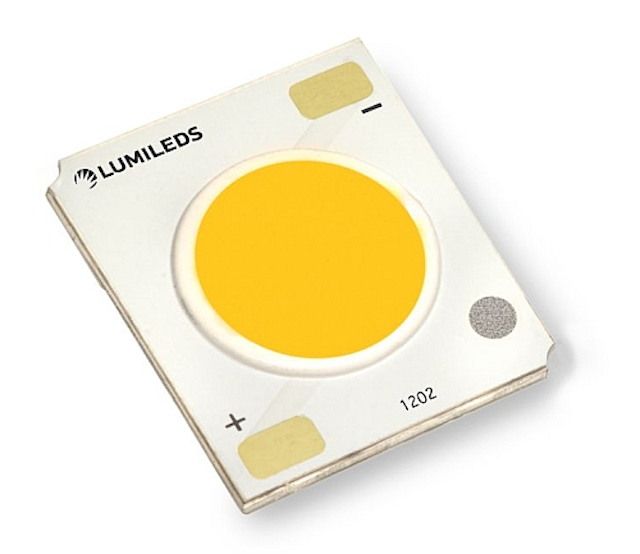 Senders also led the team that developed the CrispWhite option in the Luxeon COB line that delivers superior rendering of colors and bright whites. That development earned Senders and his team the 'Illumineer of the Year' award in the LEDs Magazine Sapphire Awards program in February of 2015.
The Luxeon COB Core Range is intended to cover a broad range of lighting applications. For example, the 1202 products with a 6.5-mm LES are capable of implementing spotlights with very narrow beam patterns. The largest 23-mm COB LEDs in the 1216 grouping can enable replacements for demanding applications that have been served by 100–150W high-intensity discharge (HID) lighting in indoor and outdoor applications. Lumileds offers the LEDs over the range of 2200K to 5700K CCT and in a choice of 70, 80, or 90 CRI.