Packaged LED news: Lumileds COB, Everlight automotive, and RayVio UV
Compact COB LEDs from Lumileds generate 76,000 cd in a narrow beam, while Everlight Electronics has new LEDs for front- and rear-facing automotive applications, and RayVio launches new UV-C LEDs for disinfection applications.
May 23rd, 2016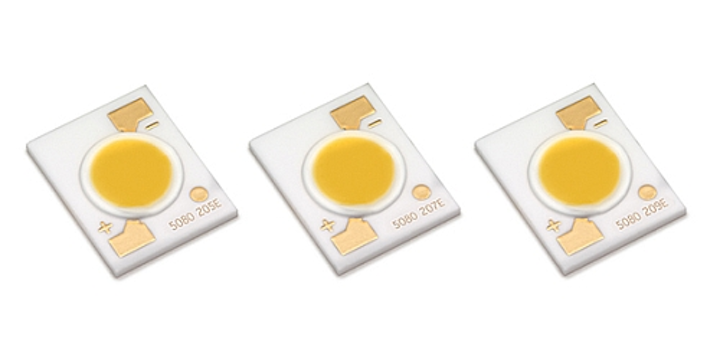 Compact COB LEDs from Lumileds generate 76,000 cd in a narrow beam, while Everlight Electronics has new LEDs for front- and rear-facing automotive applications, and RayVio launches new UV-C LEDs for disinfection applications.
Lumileds has introduced the second generation (Gen 2) of their Luxeon COB Compact Series of LEDs with center beam candle power (CBCP) hitting 76,000 cd in a 10° beam. Everlight Electronics has announced the 3030CLU Series of high-power LEDs that enable solid-state lighting (SSL) for both front- and rear-facing automotive exterior lighting. Startup RayVio, meanwhile, has added a small-footprint ultraviolet (UV) packaged LED to its portfolio targeting disinfection of water and other environments.
Interested in more articles & announcements on packaged LED technology?
Compact COBs
The Lumileds chip-on-board (COB) LED announcement was focused on LEDs with a 6.5-mm light emitting surface (LES). The company has two primary COB families — the Core and Compact Series. The Core family, for which Lumileds recently announced third-generation products, includes models that vary by LES from 6.5 to 23 mm. The Compact Series LEDs all have a 6.5-mm LES and include a variety of options in terms of drive current at 85°C binning temperature. The Gen 2 products in general deliver a 16% performance boost over the prior Compact packaged LED products.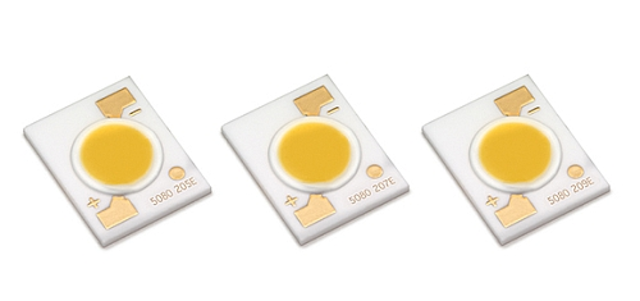 Compact COB LEDs from Lumileds generate 76,000 cd in a narrow beam.
The three primary offerings in the Compact family are the Luxeon COB 205, 207, and 209 models that are specified at drive currents of 150, 200, and 250 mA, respectively. In each model, Lumileds offers LEDs in the 2200K–5700K CCT range, and with either 80 or 90 CRI.
The new Gen 2 products will enable customers to upgrade existing SSL products and realize an immediate performance in lumen output and CBCP or optimize product cost. "Customers currently using first-generation Luxeon COB Compact Range are also particularly excited about this upgrade because they can replace a Gen 1 Compact Range 109 with a Gen 2 Compact Range 205 to attain the same performance at a significantly lower cost, or they can replace a Gen 1 Compact Range 105 with a Gen 2 Compact Range 205 and boost output by 16% in efficacy," said Ivan Tsoi, product manager at Lumileds.
Indeed, the fact that the Compact Series relies on the common LES allows product developers the luxury of using the same secondary optics and other components while delivering products in different categories. For example, Lumileds said a lighting manufacturer could offer 35W- and 50W-equivalent MR-16 lamps with essentially identical designs based on different LED models in the Compact family. Performance tops out at 1500 lm, and 76,000-cd CBCP in a 10° beam.
Everlight automotive
The Everlight 3030CLU packaged LED family includes phosphor-converted white and amber LEDs and monochromatic red and super-red LEDs. As the model number implies, the LEDs are in a 3×3-mm package with a highly-reflective surface and feature a 120° beam. The LEDs look similar to traditional mid-power LEDs but are high-power devices and the package is ceramic based with a gold lead frame for reliability in the harsh automotive environment. Indeed, the components are rated for operation at junction temperatures of 150°C.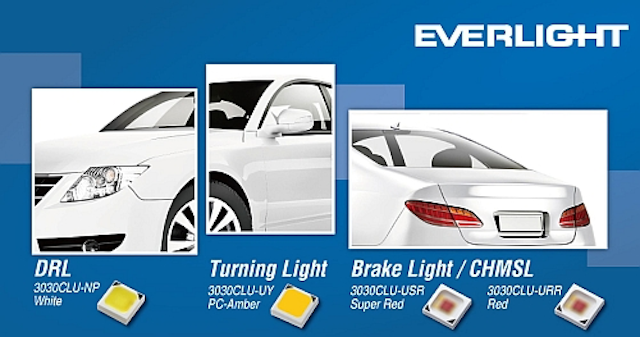 The white LEDs have a cool CCT in the range of 5180–6680K and are targeted at daytime running lights. The amber LEDs are intended for turn indicators and tail lights. Both of the red LEDs target brake and rear combination lamps. The standard red is in the 612–624-nm range while the super-red is in the 627–639-nm range. Everlight said the super-red is more vivid and easier for drivers to see and is especially in demand in Europe.
The 3030CLU LEDs are qualified to the AEC-Q101 automotive specification and passed the Moisture Sensitivity Level 1 (MSL1) standard. The components are ESD protected up to 8 kV.
RayVio UV
The newest RayVio UV LEDs are only 6.5-mm wide and are offered in a surface-mount device (SMD) form factor. Still, the LEDs deliver 40 mW of radiometric power at 100 mA of drive current. The LEDs emit in the 280–290-nm range, which is at the upper end of the UV-C band. We first covered RayVio and offered some background on UV LEDs in an article on the Strategies in Light conference two years back.
RayVio has been focused on the UV-C band where efficiency has been a major hurdle. Conversely, LEDs in the higher UV-A and UV-B bands offer much better efficiency. But it's the UV-C band that holds the potential of purifying water and disinfecting surfaces instantly whereas the higher UV bands are suited for industrial application such as curing.
The new SMD LEDs from RayVio have pushed performance forward for disinfection applications and offer a footprint that will enable integration into many products. "RayVio's innovative new form factor brings the protective power of ultraviolet light to a galaxy of innovative new products," said Robert Walker, CEO of RayVio. "We're facing serious global challenges around hospital-acquired infections and contamination of the food and water supply. This new technology marks an important step in providing peace of mind to billions of consumers around the world."
RayVio said the new packaged LED sources will be used in a number of applications. The LEDs can deactivate the DNA of bacteria and other pathogens. They could even be used in portable water bottles to purify water.
Everlight also recently announced new UV LEDs at the LightFair International tradeshow. Those LEDs were in the 365–400-nm UV-A band. The packaged LED devices topped out at 1.8W in power and clearly show the difference in what can be achieved at higher wavelengths. Everlight targets industrial applications with the LEDs.