Packaged LEDs: LED Engin integrates seven colors, Lumileds and Osram Opto
Stage and architectural lighting developers get wider color range from newest LED Engin product while Lumileds roles rugged mid-power LED and Osram Opto targets outdoor applications.
Apr 4th, 2016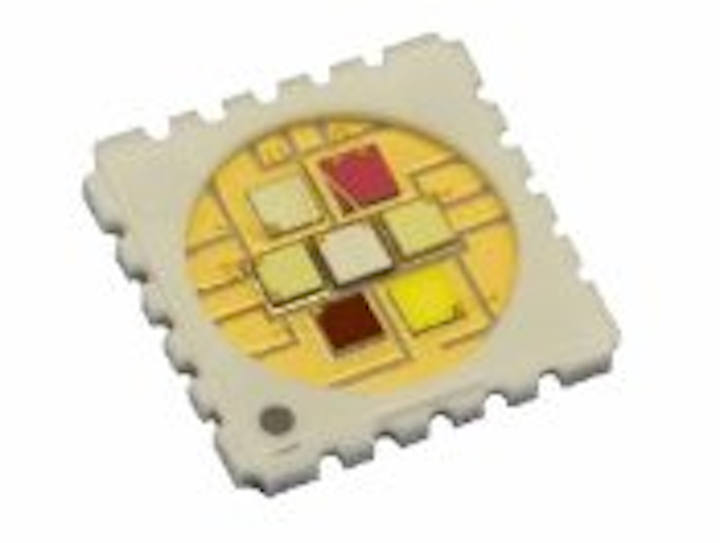 LED Engin has announced what it says is the first packaged LED to integrate seven emitters — each in a different color — for stage and outdoor architectural or façade lighting applications. Lumileds has concluded what it called mid-power March with the launch of the Luxeon HR30 mid-power LED intended for usage in the harshest environments and applications. Osram Opto Semiconductors has announced the Duris P 10 LED family that integrates a four-emitter array for outdoor solid-state lighting (SSL) applications.
LED Engin LZ7
LED Engin has long experience integrating multiple color emitters into one LED package. Earlier this year, for example, the company announced the four die red, green, blue, white (RGBW) LZ4 LEDs for stage and architectural lighting with a small 2.15×2.15-mm light emitting surface (LES). But some applications, especially in the entertainment area, can take further advantage of more colors in reproducing the full color spectrum. The new LZ7-04MU00 includes RGBW die and cyan, violet, and phosphor-converted amber die.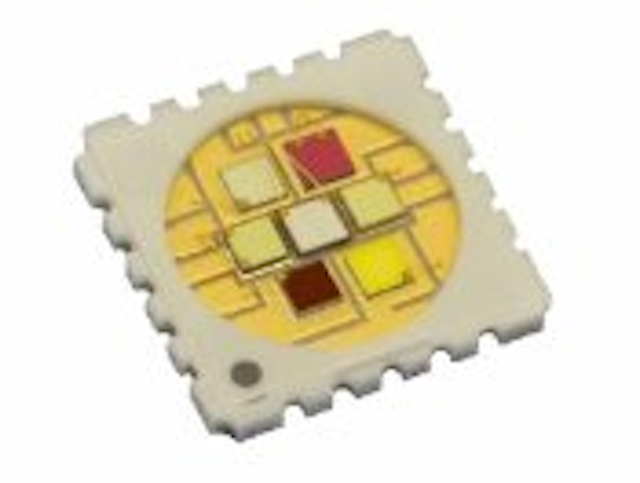 Packaged LEDs, LED Engin integrates seven colors, Lumileds and Osram Opto
The new LED was first shown in prototype form back at LightFair 2015. Now the devices are available from LED Engin and distributors and the company has published a full datasheet. Moreover the company said that mixing rods designed to work with the new LED are available from Fraen and Auer Lighting.
"There is growing demand for stage lighting that's capable of creating ever more dazzling and complex effects," said David Tahmassebi, CEO of LED Engin. "Our latest 7-color technology breakthrough means that fixture designers can deliver these without suffering the design complexity experienced when using multiple single-die LEDs."
The company said that by using phosphor-converted rather than monochromatic amber, that the amber die can deliver five times more flux. The cyan emitter fills the spectrum between green and blue. And the violet emitter enables crisp blacks and whites.
The LED has a 3.8×3.8-mm LES and the package has a 7×7-mm footprint. The 20W LED allows designs to drive all seven emitters simultaneously at 850 mA. The RGBW LEDs can be driven at a maximum of 1.5A while the other three emitters can be driven at a maximum of 1A.
Lumileds mid-power
We previewed the Lumileds HR30 LED back at the beginning of March when Lumileds launched its mid-power March initiative. Now we have full details of the new LED family that are designed both to operate at extreme temperatures and power levels and to be used in hazardous environments such as chemical plants and power-generation facilities.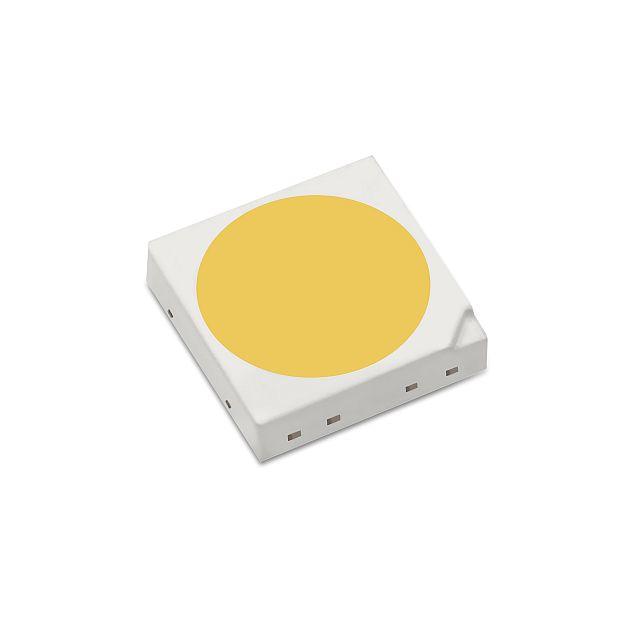 "The Luxeon HR30 is the only LED in its class to provide a service life in the 100,000 hour range while withstanding corrosive elements like sulfur and chlorine," said Matthew Everett, senior product director at Lumileds. "The LED's chemical resistance is partially attributed to its gold-plated leadframe and its optimized materials package." The device uses a SMC (silicon molding compound) package.
The LED has been tested in chemical resistance test such as IED68-2-43 and demonstrated excellent lumen and color maintenance after 21 days. Everett said, "Engineering for chemical resistance is all about selecting the best materials and then testing those materials under harsh conditions."
The LED, meanwhile delivers 134 lm/W when driven a 150 mA for a 4000K-CCT, 70-CRI device. Lumileds offers the LEDs over the range 0f 2700–5700K CCT and 70 or 80 CRI.
Osram Duris for outdoor
Osram, meanwhile, used Light+Building (L+B) to launch the Duris P 10 for outdoor applications. Generally the Duris brand has been associated with mid-power LEDs such as the Duris S 5 family that delivers CRI as high as 90 for general lighting applications. More accurately, Duris has most often implied a plastic package because some of the products such as the Duris S 10 operate at power levels far above the 0.5W range that is typical of mid-power LEDs.
The new Duris P 10 is in a traditional ceramic-based high-power package. And the LED has a domed primary optic that is more like traditional high-power LEDs As mentioned earlier, the LED does integrate four die into the discrete-like LED package, so perhaps those LEDs have heritage in the Duris portfolio. The 2×2-mm emitters all fit into a package LED footprint measuring 7×7 mm.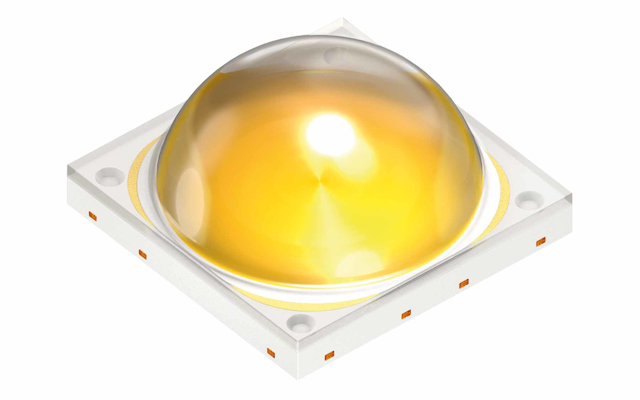 Indeed Osram touts the benefits of the package and its thermal properties that the company says enables use with minimal heat sinking. "We were able to deliver these product benefits thanks to our automotive expertise," said Ralph Bertram, an SSL system expert at Osram Opto Semiconductors. "In developing different headlight LEDs we gained extensive experience in package technology and high-current chips. We also made use of our experience in LED mass production to develop the new Duris P 10, an extremely powerful and cost-effective product for general lighting."
A 5000K-CCT Duris P 10 delivers 1100 lm typically and CRI above 70 which is the typical requirement in outdoor applications. Osram will offer the LEDs over the range of 3000–6500K.