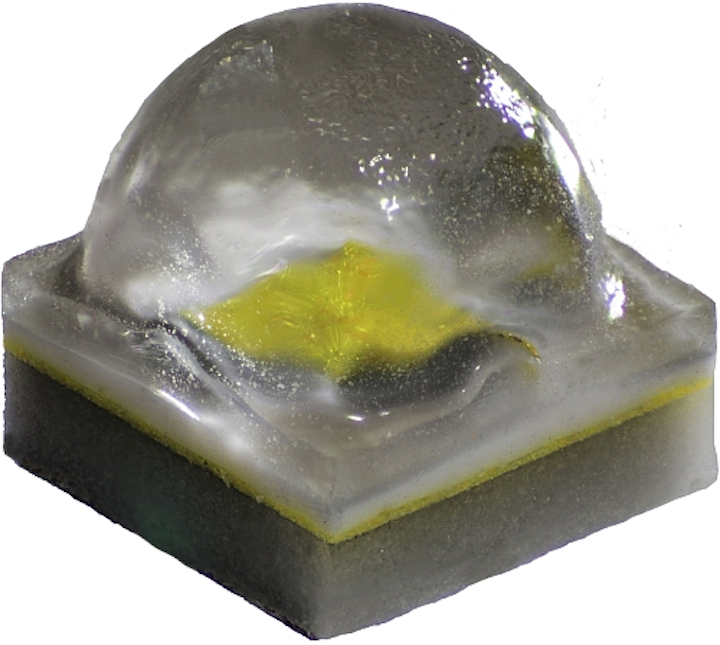 Cree's new XQ-A LEDs are intended to enable more flexibility in products that require small-footprint white and color LEDs while Samsung's LM561B+ and LM561C mid-power LEDs offer improved performance.
Samsung and Cree have each added to existing LED families with the former offering more efficacy to general lighting applications that use 5630-form-factor packages and the latter adding 1.6×1.6-mm LEDs in white and color versions for a wide variety of solid-state lighting (SSL) applications. Cree's XLamp XQ-A LEDs extend the XQ family with mid-power-class products from a power perspective that use a ceramic base for reliable and consistent lumen-output and color performance. Samsung's LM561B+ and LM561C 0.3W LEDs, meanwhile, extend efficacy to the 200-lm/W level.
Interested in more articles & announcements on packaged LEDs?
Cree XQ-A
The new packaged LEDs in the XQ family at Cree fill in at the bottom of the company's portfolio from a performance perspective, but are intended to operate at very low power levels and enable compact SSL product designs. Many of the applications for the color and white LED family will be in specialty industrial applications that can leverage the small footprint.
Packaged LED news: Cree adds to XQ Series; Samsung adds 5630 LEDs
"The introduction of the XQ-A LED gives us more options to increase the capability of our machine vision and industrial LED lights using the same compact XQ package that we know and like," said Matt Pinter, co-founder and lead design engineer for Smart Vision Lights. "Unlike mid-power color LEDs, the compact, ceramic-based XQ-A LED will allow us to put two, three, or even four LEDs under our new silicone lens technology where we could only use one LED before. This generates more light for industrial applications without compromising lifetime."
Cree had previously announced the XQ-E family of packaged LEDs in a very similar form factor to the XQ-A — both with an integrated domed primary optic. But the new XQ-A is rated for 1W operation while the XQ-E LED was rated for 3W operation. Cree also announced the XQ-E HI (High Intensity) family in September 2015 with the same footprint but with the low-profile HI primary optic that offers a tighter beam pattern.
The XQ-A outputs 89 lm at 1W maximum in phosphor-converted white flavors. Cree offers the white LEDs across the 2700K- to 6200K-CCT range with 70, 80, and 90 CRI options. Available colors include monochromatic red, red-orange, green, blue, and royal blue along with phosphor-converted amber.
Samsung LM561
Samsung, meanwhile, is pushing efficacy, color quality, and color consistency in its newest mid-power packaged LEDs attempting to serve a broader array of general lighting applications. The new LM561B+ is more focused on color attributes while the LM561C delivers maximum performance.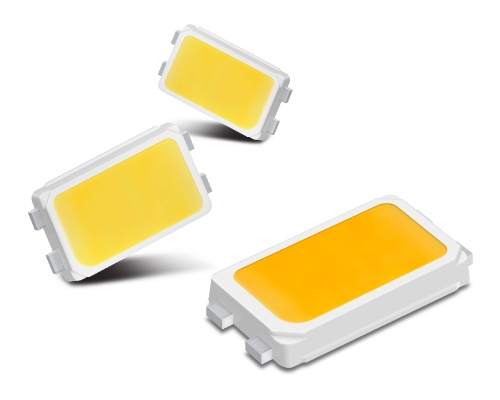 Samsung will now offer the LM561B+ LEDs in 3-step MacAdam ellipse bins and quarter bins in CCTs ranging from 2700K to 6500K. Moreover, the company said it has a new phosphor-control technology that will yield 90-CRI LEDs with 15% higher flux output at 90 CRI.
"To date, we have achieved outstanding performance in all of our mid-power LED packages," said Jaewook Kwon, vice president for the Lighting Marketing Group at Samsung Electronics. "By now offering premium light quality to a greater number of customers with our LM561B+ LED package, we are able to provide superior performance on a much wider scale."
While the LM561B+ LEDs max out at 190 lm/W, the new LM561C LEDs hit the 200-lm/W level. Samsung said it will bring the tighter color control to the LM561C family later this year. The company first introduced the LM561B family at 160 lm/W in early 2013, with those LEDs offering a 30% performance upgrade over the prior LM561A LEDs.