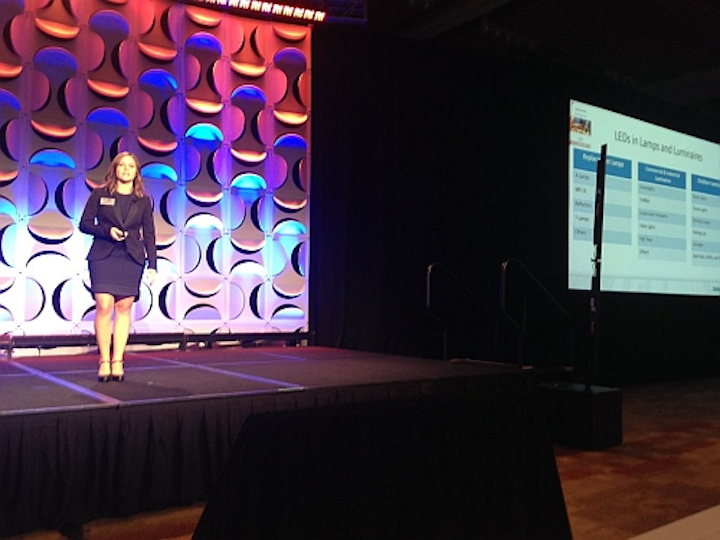 At Strategies in Light, Stephanie Pruitt delivered a summary of the latest packaged LED market research that acknowledges an oversupplied market and faster-than-expected price erosion.
On day two of the Strategies in Light (SIL) conference in Santa Clara, CA, Stephanie Pruitt, senior analyst of Strategies Unlimited, presented preliminary market data on the packaged LED sector that will be finalized in a report published at the end of March. The data indicates an unexpected decline in packaged LED revenue and projected a more modest 4.5% growth rate from 2015 through 2020.
Interested in more articles & announcements on packaged LEDs?
As has been the case, the highlight of Pruitt's presentation was the reveal of the annual top ten list of packaged LED makers by revenue. While the data is preliminary, it provides a good look into the current state of the market.
The top ten global packaged LED makers are:
Nichia
Osram Opto Semiconductors
Lumileds
Samsung
Seoul Semiconductor
Cree
LG Innotek
Everlight
Mulinsen (MLS)
Lumens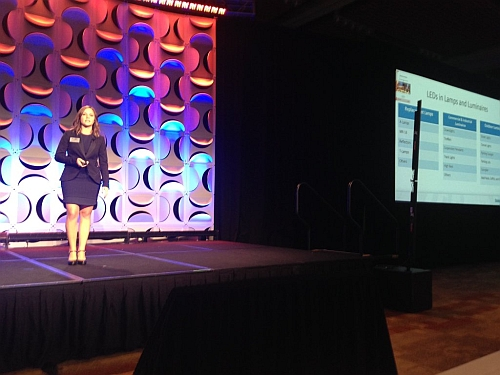 Strategies Unlimited reports packaged LED revenue has been stymied by oversupply
The top ten rankings were based on revenue in the local currency of each country. That data was then converted to US dollars and Pruitt provided the exchange rates used in the research. At the SIL Plenary presentation, Pruitt noted that only Lumileds, Seoul Semiconductor, and Mulinsen had growth or were flat in US currency. On the other hand, Nichia grew 7% when just the Japanese yen is considered. So exchange rates have added to the malady in the packaged LED market.
Indeed, at SIL 2015, Pruitt had projected 13% growth from 2014 to 2015. The update revealed that the actual growth was -2%. The biggest culprit was oversupply caused by government-subsidized LED production in China that led to the price erosion, which occurred at a far sharper rate than technology maturity would have warranted.
Looking forward, Pruitt said the more conservative 4.5% projection is based on a strong automotive market for LEDs. Lighting will continue to be the largest consumer of packaged LEDs by revenue. But Pruitt said the lighting sector will not grow as fast as projected last year.
The last growth cycle began In the 2013/2014 time frame. At SIL in 2014, Strategies Unlimited projected 13% growth through 2018. That projection followed the revelation in 2013 that lighting had become the largest consumer of packaged LEDs.