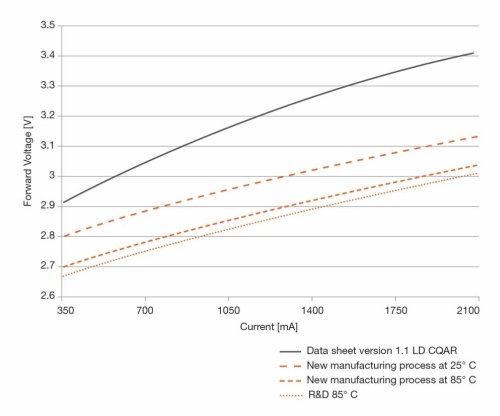 Osram Opto Semiconductors said that reductions in forward voltage in the blue pumps that underlie white LEDs are delivering a significant increase in efficiency with more progress due by summer.
Osram Opto Semiconductors has announced epitaxial improvements in blue Oslon Square LEDs in which a reduction in forward voltage is enabling efficiency gains near 10% and promises more advancements by summer. The company has also announced a new far-red addition to the Oslon SSL packaged LED family that is specifically designed for horticultural applications.
Boosting efficiency
LED efficiency includes many elements including light extraction, quantum efficiency, electrical efficiency, and others. The efficiency of a blue pump LED designed ultimately for use as a phosphor-converted white LED would be characterized in aggregate by radiometric watts out divided by electrical watts in, and expressed as a percentage. Note that efficacy (lm/W) is the accepted measure of efficiency for white LEDs and that metric accounts for the sensitivity and visual spectrum of the human eye.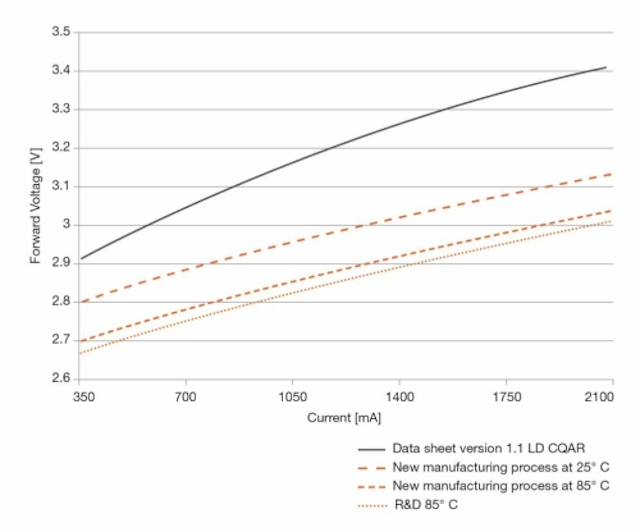 Osram delivers blue packaged LED efficiency boost, adds far red LED for horticulture
In any case, a reduction in the forward voltage of a packaged LED, while keeping current constant, would result in a smaller denominator in the efficiency calculation and thus a gain in the measure. The Osram researchers have achieved a reduction in nominal forward voltage from the 3.05V level currently listed in the Oslon Square specification sheet to a level of 2.78V. The company said that advancement has already translated to a 6–8% efficiency increase depending on drive current.
"The reduction in forward voltage was achieved thanks to a new process in the epitaxy," said Marcus Eichfelder, project manager at Osram. The company said it first started shipping the improved LEDs in August 2014.
Now Osram will migrate the technology to production of all LED chips based on the UX:3 technology platform. UX:3 is the company's flip-chip architecture that was first demonstrated back in 2011. The impacted LEDs include most of the high-power blue or white LEDs introduced in the last several years.
Further improvements
The Osram team believes that there are additional gains to come. "In the laboratory we have already succeeded in further reducing the forward voltage by as much as 30 mV," said Joachim Hertkorn, epitaxy expert at Osram. Such an advancement would nudge the efficiency gain upward by another percentage point.
"In view of the speed with which this first step has been implemented, we are confident that the improved process can be transferred to production by the summer of 2015," added Hertkorn. "Any further reductions in forward voltage will then only be marginal owing to the laws of physics."
Horticultural LEDs
Meanwhile, the company also added to the Oslon SSL packaged LED family with 730-nm products that the company calls "far red." The LEDs specifically target horticultural applications.
Osram already offered 660-nm hyper-red LEDs and 450-nm deep-blue LEDs. Those wavelength peaks are known to improve chlorophyll absorption and enhance photosynthesis to improve plant growth. The 730-nm light has now been found to improve flowering control in both vegetable and flower plants.
Osram offers the LEDs in two versions. A standard version delivers a 150° beam for broad distribution. A narrow 80° beam version allows the beam to be directed between rows of plants to reach the lower vegetation.