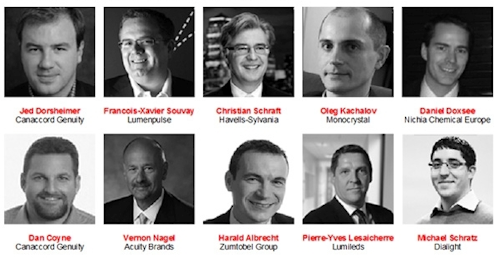 The Strategies in Light Europe Investor Forum featured speakers from LED manufacturers and SSL vendors talking component advancements, consolidation, and forward business strategies.
Strategies in Light (SIL) Europe and LuxLive are taking place at London's ExCel Center this week and the Tuesday SIL Investor Forum got the hectic week off to a quick start with a range of speakers from LED manufacturers, solid-state lighting (SSL) manufacturers, and investment bank Canaccord Genuity. Topics ranged from the technology side including component advancements to forward business trends in the LED and SSL sectors.
Interested in more articles & announcements on LED lighting & applications?

Jed Dorsheimer, managing director of equity research for display and lighting, and Dan Coyne, managing director of investment banking, both spoke on behalf of Canaccord. Coyne specifically addressed trends in the mergers and acquisitions (M&A) area just as he had back at SIL in the US early this year. At the Europe event, Coyne said he is seeing an increasing pace in M&A for both the LED and lighting sectors. He said there are more and bigger deals happening. But he said the trend in valuation of targets is to lower multiples of revenue.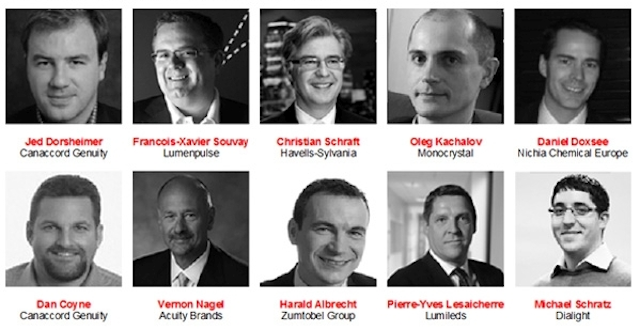 Investor Forum kicks off Strategies in Light Europe and LuxLive
Consolidation was indeed a hot topic. As we have noted repeatedly, there are too many manufacturers of packaged LEDs. At SIL, Christian Schraft, president of Havells-Sylvania, said the level of consolidation is based on where you look in the supply chain. He expects substantial consolidation in LED chip makers and packaged LED manufacturers. But he said you will see far less consolidation as you move up the value chain. A primary reason for the difference is the fact that LEDs are a global business whereas luminaires are a regional business, according to Schraft.
Acuity Brands also spoke at the event, and Acuity has been a company with a long M&A history including its most recent acquisition of Juno Lighting a few weeks back. At SIL, Vernon Nagel, CEO of Acuity Brands, said the company would continue to see strategic acquisitions especially in the connected lighting space, citing the Distech acquisition as an example. At the SIL Europe Investor Forum, Nagel said connected lighting is a key to growth for the company and that Acuity is also investing internally in controls and software capabilities.
The discussion on LED components invariably turned to technology despite the fact that the forum was primarily financially focused. But it's the technology trends that will determine the financial fate of many of the players. And the prime topic was the transition to chip-scale package (CSP) LEDs, just as we covered in a recent feature article.
Nichia and Lumileds each identified CSP and the next significant technology trend for LEDs, but for different primary reasons. Nichia is looking for CSP to deliver component cost reductions beyond what has been achievable with mid-power LED technology. Dan Doxsee, deputy managing director of Nichia Chemical Europe, said mid-power LEDs were half the cost of high-power LEDs and CSP LEDs for general lighting will cost even less in volume production.
Surely Lumileds is looking to lower component cost as well, but the company has been stalwart in its stance that CSP can offer improved thermals and performance in high-power LEDs. Pierre-Yves Lesaicherre, CEO of Lumileds, said indeed CSPs will lead to lower bill of materials (BOM) cost in general lighting as the new technology moves into volume production. But he added that Lumileds believes it can drive CSPs at 2–3A, making it a replacement for high-power rather than mid-power LEDs. Moreover, he said Lumileds is making progress on minimizing droop to further increase performance in CSP LEDs.