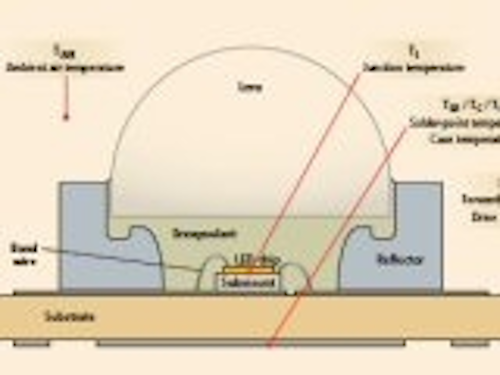 LED maker Cree recently released a white paper discussing the long-term lumen maintenance of their XLamp LEDs, specifically relating to their white XR-E devices. The company has accumulated millions of hours of long-term data under various test configurations, some of which are compliant with the recently-introduced LM-80 standard.
One key outcome is a clear relationship between lumen depreciation (the percentage decrease in luminous flux output over time) and the temperature of the ambient air around the lamp (TAIR). A higher air temperature clearly results in a faster rate of lumen depreciation, in other words a lower L70 lifetime (see "Definitions" box).
Cree describes the testing and characterizing of LED lumen maintenance as "an evolving science based on decades of work from the component semiconductor industry." The company has fully characterized the XLamp XR-E LED lamp and has developed an accurate predictive model for its long-term lumen maintenance. The key inputs are:
• LED junction temperature (TJ), calculated from the solder point temperature (TSP)
• Forward drive current (IF)
• Air temperature around the lamp (TAIR)
From these inputs, L70 for the LED lamp can be predicted with confidence. Figure 1 shows the predicted L70 lifetime for devices driven at 350 mA, and clearly demonstrates the effect of TAIR. Different curves have been measured for different drive currents.
++++++
This article was published in the Sept/Oct 2009 issue of LEDs Magazine. To read the full version of this article, please visit our magazine page, where you can download FREE electronic PDF versions of all issues of LEDs Magazine.
You can also request a print copy of LEDs Magazine (available by paid subscription) and sign up for our free weekly email newsletter.