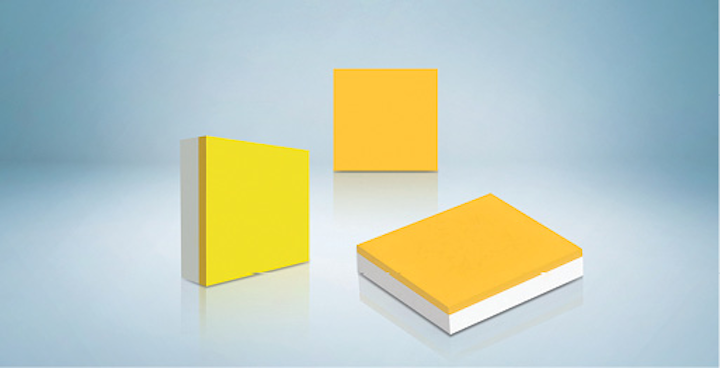 Packaged LEDs achieved the performance level several years back to displace legacy light sources in nearly all general illumination applications. But frankly, light and color quality, and just the human experience under many solid-state lighting (SSL) products needed improvement. Since our last roundup of packaged LEDs, the situation has changed dramatically. While there are still many commodity low-end LEDs populating products such as troffers for industrial spaces, and glare in some products remains an issue, there are far more premium-quality LEDs on the market that are more eye pleasing and that may deliver on the human-centric lighting promise. At the same time, the SSL industry is moving toward enhanced mid-power packages and chip-scale package (CSP) technology for many applications and stretching quality improvements across the low-to-superhigh-power sectors. And the overall technology march also extends beyond general illumination to hot sectors such as horticultural lighting and ultraviolet (UV) and infrared (IR) LEDs that operate beyond the human visual range. — MAU
RY WRIGHT
Seoul Semiconductor SunLike
Let's start with discussion of an LED family that touches several of the trends we mentioned in the opening paragraph. Seoul Semiconductor introduced the SunLike LED technology during the summer of 2017 with the architecture based on a violet emitter or pump in place of the more typical blue pump, and with a three-phosphor mix developed in partnership with Toshiba Materials.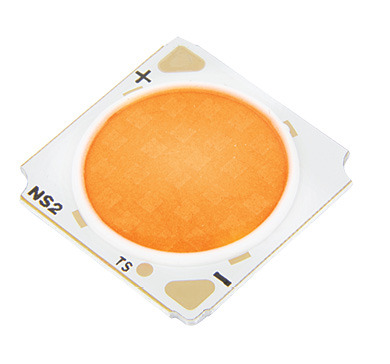 The spectral power distribution (SPD) mimics the sun and eliminates the blue energy peak that can potentially cause circadian issues for people exposed to the blue at night, and that some still believe is dangerous for the eye. Seoul recently released the results from research at a Korean medical school that associated working under SunLike LEDs with improved sleep patterns and less eye strain. Over the past year, Seoul has commercialized the SunLike technology across products from mid-power LEDs to chip-on-board (COB) components (a 15W COB is depicted). SunLike-family LEDs were used to improve the experience for visitors viewing murals in historic Pompeii, Italy ruins. Moreover, Seoul has begun to win customers in the lighting sector with products that necessarily carry a premium price. With the SunLike portfolio, Seoul targets applications such as high-end retail, museums, lighting for health and wellbeing or human-centric lighting, and even horticultural lighting.
Osram Opto Semiconductors Oslon Pure
There are many architectural approaches to light quality at the LED component level, ranging from materials like phosphor to steps in the manufacturing process to package design and more. Osram Opto Semiconductors has a unique approach that combines CSP concepts with laser lift-off of the active LED layers in manufacturing. The company announced the Oslon Pure LEDs in early 2018 with a target of high-end retail applications via directional lighting products used to highlight the goods a merchant has on display. The LEDs are manufactured on a typical sapphire substrate, but the sapphire is removed during the lift-off process and the LED chip is then flipped and affixed to an opaque silicon substrate.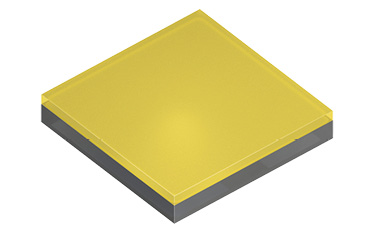 The architecture is a true CSP with the footprint of the LED chip being the same as the packaged device — although the package essentially consists of the silicon substrate and electrical contacts implemented in the backend of the manufacturing process (see more details in a LightFair International video interview). The primary advantage of the approach is that light emission only occurs from what ends up being the top surface of the LED. The emission is very uniform in intensity and color-over-angle aspects. Moreover, there is no side emission, which hampers many CSP LEDs that are inherently five-sided emitters and Osram doesn't have to use additional manufacturing steps to deal with the side emission. In arrays for directional lighting, the architecture allows LEDs to be more densely packed with no concern for crosstalk between components.
Samsung fillet-enhanced CSP
Samsung was an early mover in CSP technology, likely because that packaging technique was deployed in applications such as TV backlight units before being utilized in general illumination, and Samsung is a major player in TVs. At LightFair in 2016, the company said it had begun a major push of CSP technology into general lighting.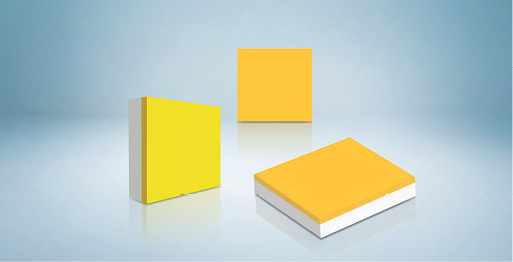 More recently, Samsung has announced what it calls FEC (fillet-enhanced CSP) LEDs. The architecture utilizes a reflective coating on the four sides of the structure to eliminate side emissions and ensure that all light is extracted from the top surface. Five-side emission is perfectly acceptable in applications such as troffers with wide beam distribution. But the FEC architecture is intended to support directional SSL applications such as spotlights. At launch, Samsung announced the FEC products in what it called a mid-power 1W component and in a high-power 5W component. The designs deliver efficacy in the 200-lm/W range at cool CCTs.
Cree XLamp XD16
Cree has questioned CSP technology repeatedly in the past, suggesting that LEDs on a ceramic substrate offer superior performance and that the component manufacturing steps eliminated by a move to CSP technology would not pay off. That concept was debated at a Strategies in Light panel back in 2015. Still, the idea of a packaged LED matching the footprint of the chip is attractive in applications such as directional lighting where many LEDs are tightly arrayed. And in early 2017, Cree announced the NX architecture that would deliver a footprint near that of the chip while still including a ceramic substrate.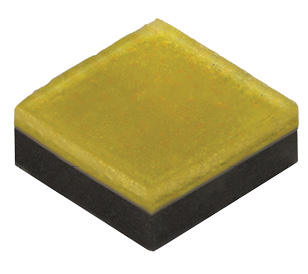 Just prior to the end of 2017, Cree announced the XLamp XD16 LEDs based on the NX platform with the XD prefix meaning extreme density. At launch, Cree said the components delivered lumen density of 284 lm/mm2. Other high-power LED architectures at the time reached levels around 140 lm/mm2. Cree has said the architecture offers improved optical and thermal performance relative to most CSP LEDs. The design includes features to reflect light emitted sideways to the top surface and also to reflect light emitted downward back to the top. The thermal topic, meanwhile, is a complex one. The ceramic substrate does provide a first level of thermal mitigation, but it also inherently adds thermal resistance between the LED chip and a heatsink or metal-core printed circuit board (PCB). An optimal SSL system design could spread the heat more easily using a true CSP architecture, but the thermal substrate might be easier for many luminaire designers to reliably work with.
Lumileds enhanced mid-power offering
Moving to the mid-power LED space, the most-discussed trend in the last few years may have been price erosion that exceeded projections, but the more important trend is a move to more robust designs, especially in terms of reliability and resistance to harsh environments. Lumileds has long touted the improvements it has made to mid-power packages going back to what the company called mid-power March in 2016. More recently, the company has announced mid-power LEDs that explicitly target applications in which high-power architectures have dominated such as high-bay luminaires and outdoor street and area lighting.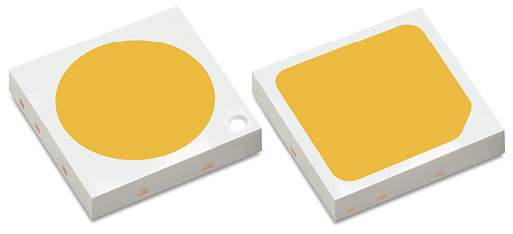 Just after the new year, Lumileds launched the Luxeon 5050 LED that, as the model number implies, features a 5×5-mm footprint. The component looks like a mid-power LED with no primary optic and what appears to be a plastic package. But the LED can operate at 2W, and Lumileds is targeting outdoor and industrial lighting applications and further said the performance would enable luminaires to meet premium-level DesignLights Consortium (DLC) specifications. A few months later, Lumileds rolled out the Luxeon 3030 2D LEDs with two emitters in the package and in models with a round or square light-emitting surface (LES). All the products utilize what Lumileds call "hot color targeting," meaning that the LEDs are binned based on operating at a typical lighting system temperature, and the approach means that luminaires using the LEDs will not exhibit color shift once deployed.
Nichia Optisolis
It's not just reliability improvements that are coming to mid-power LEDs but improvement in color rendering, white point, and other factors. That light quality message was the focus of the Optisolis LED announced by Nichia in early 2018. The announcement proclaimed that the LEDs deliver "Ultra-High CRI" across all models.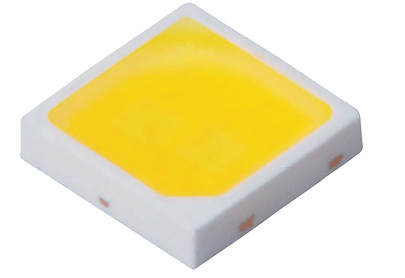 While CRI has been shown to be a poor metric for LED color quality, Nichia has chosen to promote the LED performance based on the aggregate CRI Ra score and on the 16 individual color sample scores (90 or better) because of just how widely recognized the CRI metric has been. Optisolis has been initially offered as part of Nichia's long-established 757 product family, but the technology will be spread across other types of LEDs in the near future. Nichia achieved the excellent color rendering by shifting the blue pump toward the violet region with warm white products using a 440-nm pump and cool-white products a 420-nm pump. The company stressed, however, that there is no UV energy in the SPD and that the LEDs would not degrade materials in museum lighting, which is one of the target applications for Optisolis.
LG Innotek Eye Pleasing LED
LG Innotek has also sought to deliver mid-power LEDs that are more pleasing for humans to work and live under. The company calls the products EP LEDs with the prefix meaning Eye Pleasing. Unfortunately, LG has not been forthcoming about performance details and, when asked, replied that the SPD characteristics and the architecture of the LEDs such as phosphor formulation are proprietary information.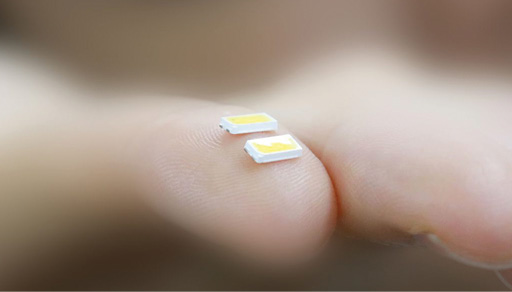 The company did share a slice of the SPD data showing that the blue peak has been shifted toward longer wavelengths with reduced emission below 465 nm. LG said it's the 415–455-nm range that has been shown to potentially damage the retina. Meanwhile, the LEDs have more energy in the 465–495-nm range, which LG said can improve physiological functions. The company also made several other recent LED announcements with sparse details including LEDs for horticultural lighting, UV LEDs, and most recently, violet-rich LEDs for the continuous disinfection application.
Cree mid-power and COB additions
The year 2018 will forever be a turning point for Cree. New management has the company tracking better financially, although the company may have a shifting focus toward power semiconductors with the Wolfspeed unit. Still, in LEDs, Cree continues to be a technology leader as with the aforementioned XD16, but the company has also broadened its overall portfolio with commodity mid-power LEDs, and with COB products based on aluminum substrates.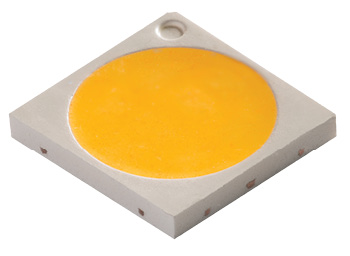 At LightFair, the results of the Cree partnership with San'an Optoelectronics of China was on display. The J Series of mid-power LEDs come in industry-standard square and rectangular footprints and provide Cree a way to do business with lighting manufacturers that are focused on commodity products. In the COB space, the company has been a leader in LEDs manufactured on ceramic substrates, but some luminaire developers prefer aluminum substrates. Cree had added some aluminum-based products last year, and going into LightFair earlier this year added form factors compatible with Citizen products as that company has been a leader in COBs based on metal substrates.
Lumileds Luxeon CZ
Color LEDs remain a niche in terms of general lighting applications but a very interesting specimen in terms of component architecture and design, and in terms of applications that range from emergency vehicle lighting to façade lighting to dynamic entertainment illumination. We covered the LED technology and application angles in a detailed feature article a few years back.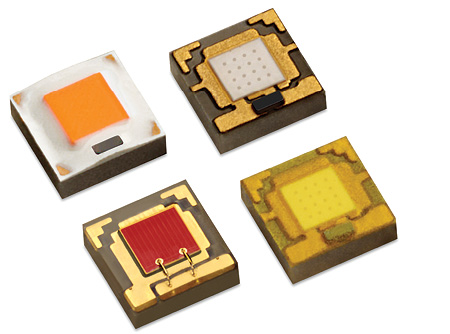 Lumileds has long been one of the primary players in the color LED sector delivering both monochromatic and phosphor-converted components across a broad color range. Early this year, the company launched the Luxeon CZ family of LEDs that are high-power products but that don't feature the typical domed primary optic. Lumileds said the architecture delivers more punch in the center of the beam than would a component with a primary optic such as the existing Luxeon C LEDs. Lumileds further said the CZ architecture was better suited for tightly packed arrays because of the minimal crosstalk between adjacent devices.
Nichia color Direct Mountable Chip
Of course, you would expect that as color LEDs proliferate and more applications for dynamic color-tunable lighting emerge, technology such as CSP would come to the sector. Nichia has a first-mover advantage in color CSP LEDs as part of its DMC (Direct Mountable Chip) product family. In April 2018, the company added royal blue, green, amber, and red LEDs to the previously-available white DMC LEDs.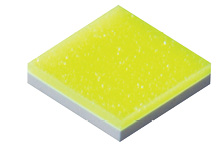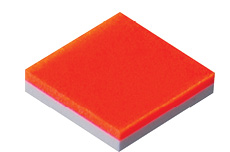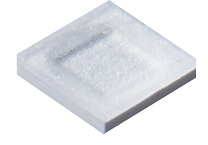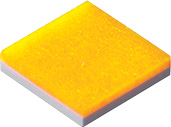 Nichia relies on phosphor conversion for all of the color and the white LEDs. That means all have similar operational characteristics such as forward voltage, lumen depreciation, and color shift. The company believes that consistency simplifies SSL system design. The primary target application for the color LEDs is emergency vehicles followed by façade and entertainment li
ghting.
Seoul Viosys UV WICOP
Seoul Semiconductor has been a leader in CSP LED technology calling its approach WICOP (wafer-level integrated chip on PCB). The company was first to deliver a truly broad line of CSP products for general illumination with a portfolio that could serve in what had been mid- or high-power applications. Meanwhile, the Seoul Viosys business unit has been among the leaders in UV-LED technology targeting applications such as disinfection and purification.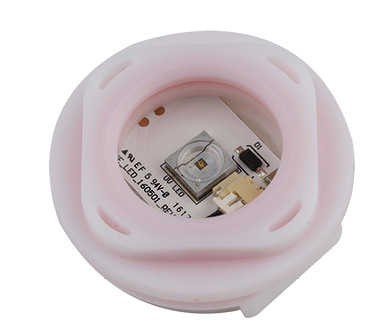 And Seoul Viosys recently announced that it had begun to manufacture a UV WICOP line. It doesn't appear that the LEDs are commercially deployed as this article goes to the press. But the company has clearly tested products in actual application scenarios. Seoul says the CSP approach has allowed it to extend reliability and product life, increase radiometric power output, and lower manufacturing costs. The nearby photo shows one of the LEDs mounted in a waterproof module. Moreover, Seoul announced it had received a patent based on the development.
Crystal IS Klaran WD
The prevailing wisdom has been that UV-C-band (generally 180–280 nm) LEDs still lacked the maturity for broad commercial deployment, although the potential for use in sterilization applications is extremely exciting. But LED manufacturers have struggled to produce UV-C LEDs with lifetimes longer than 10,000, or even 5000, hours. And power output and cost challenges remain.
Still, early in 2018, Crystal IS announced the Klaran WD (Water Disinfection) LEDs that it said crossed the $0.25/mW threshold of cost-to-power-output ratio that some have projected as the point where commercial water purification products would move to LED technology. Crystal is unique in the UV field in that it relies on a homogeneous approach to manufacturing — growing AlN (aluminum nitride) epitaxial layers on an AlN substrate. The Klaran WD products can deliver up to 40 mW of radiometric power output. Crystal also authored a contributed article earlier this year that discussed usage scenarios for sterilization products that make today's UV LEDs far closer to volume deployment than some have thought. The instant on-off capabilities of LED technology mean that SSL UV implementations do not have to run continuously in the manner of disinfection systems that use legacy lamps.
Osram Oslon Black IR
At the other end of the non-visual range, we have the IR spectrum that also has a number of interesting applications including security, range finding, biometrics, and more. Osram Opto has targeted many such applications with products that the company calls IREDs. Earlier this year, Osram announced a family of Oslon Black IREDs in high-power packages with a domed primary optic, which target automotive applications both in the cabin and on the exterior of a vehicle.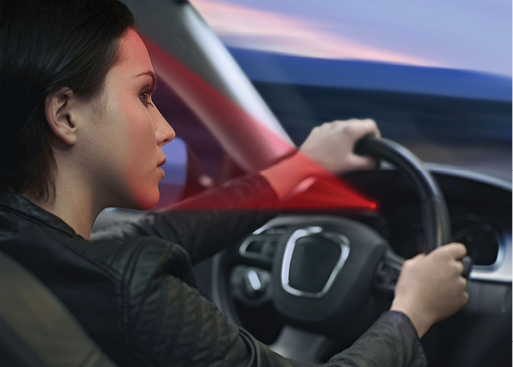 The domed lens delivers tight beam control, eliminating the need for a secondary optic and thus making the package more compact for low-profile application use. LEDs at 850 nm could be used externally to detect pedestrians, monitor lane departure, and more. The products aimed for in-cabin usage emit at 940 nm. Among the most interesting of uses would be a system that monitors the driver's eye movements and face to ensure alertness and avoid potentially dangerous conditions.
Samsung horticultural LEDs and modules
Horticultural lighting remains among the hottest of specialty markets for LEDs with the application spanning supplemental lighting in greenhouses, top lighting in traditional indoor growing chambers, and indoor vertical farms featuring layers of LED lighting. Lumileds and Osram Opto pioneered the space and had the market to themselves for years.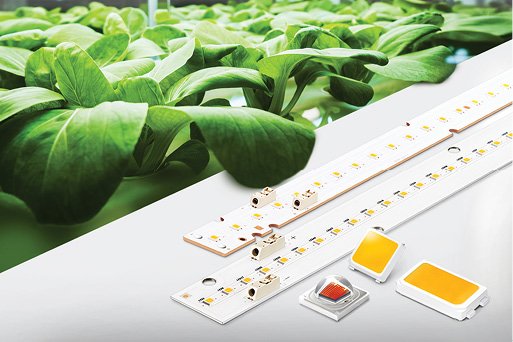 Cree actively entered the sector with far-red LEDs a few years back followed by Seoul. And Nichia has quietly added a horticultural bin in white LEDs intended for the application. Just before LightFair, Samsung announced a broad line of LEDs and modules targeted at horticultural lighting. The company announced the LH351B Red LED at 660 nm with a PPF (photosynthetic photon flux) value of 2.15 μmol/s when driven at 350 mA. That product is based on a high-power architecture. The company also published horticultural specifications for two of its mid-power, broad-spectrum white LED lines. And the company is targeting the market with the Q Series and H influx level 2 modules.