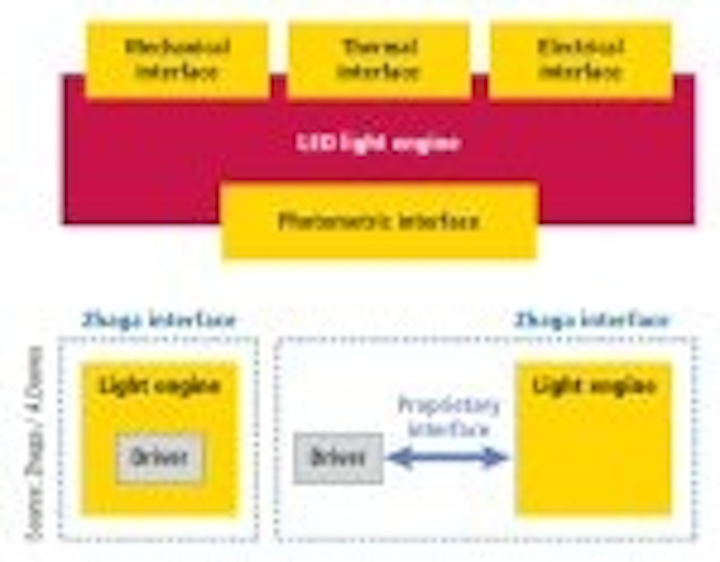 After defining LED modules and explaining their benefits, Andy Davies of GE Lighting discussed the Zhaga consortium, which is developing standards for LED light engines (the terms module and light engine were used interchangeably in his presentation).
As explained in Fig. 1, Zhaga includes the mechnical, thermal, electrical and photometric (optical) interfaces of a module, but does not include internal workings, allowing manufacturers to differentiate their products. Likewise, driver connectivity will be defined, but internal circuitry will not.
"Expect the first Zhaga standard in the first half of 2011," said Davies, "and expect more than one standard by the end of 2011." Several standards will meet different market needs, but unnecessary duplication will be avoided. "There is room for standards with different features – let the market decide," he said.
+++

FIG.1.
The Zhaga consortium is developing standards for LED modules/light engines. (top) Yellow areas are within Zhaga's scope, allowing interchangeability between modules from different manufacturers. The red areas are NOT within Zhaga's scope, allowing differentiation (e.g. remote phosphor vs. discrete LEDs). For drivers and electronic control gear, features such as the size, fixing points and connector positioning are in the scope of Zhaga, but the internal circuitry is not. This applies whether the driver is integrated into the module, or connected via a proprietary interface (bottom).
+++
A key driving factor for module adoption is the need to design reliable luminaires, which requires an understanding of the LED packaging performance under application conditions. "Buying an LED module from a trusted brand can remove much of the risk," said Davies.
Also, said Davies, using modules that can be upgraded or replaced when necessary adds value throughout the supply chain, he said. For example, luminaires can take advantage of the most current technology, while distributors can hold a smaller number of parts, since each module can serve a wide range of luminaire brands.
"2010 is the year of the LED module," concluded Davies, "but 2011 will be the year of the standardized LED module."