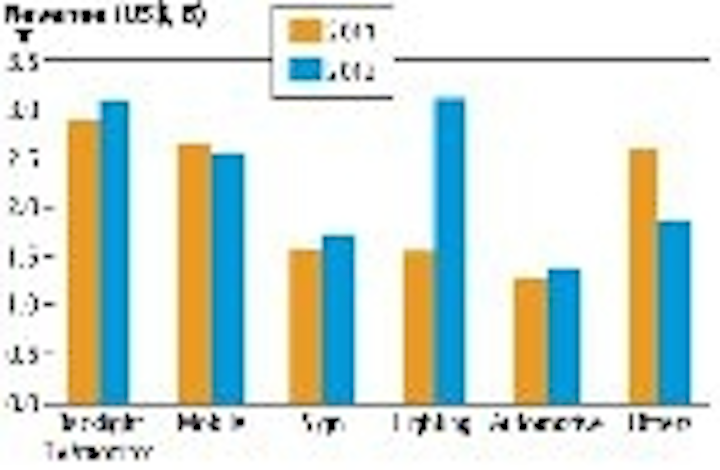 +++++
This article was published in the March 2013 issue of LEDs Magazine.
View the Table of Contents and download the PDF file of the complete March 2013 issue, or view the E-zine version in your browser.
+++++
Opening and closing the Plenary session at the Strategies in Light (SIL) conference, Ella Shum and Vrinda Bhandarkar of Strategies Unlimited reported on the 2012 market for packaged LEDs and SSL products respectively. Packaged LED revenue hit $13.7 B (billion) in 2012, while solid-state lighting (SSL) revenue for lamps and luminaires combined reach $11.8 B. Both markets will continue to grow through 2017 although LED revenue growth will be moderated by falling component prices even as more LEDs are manufactured.
Shum, director of the LED practice at Strategies Unlimited, reported that the global market for packaged LEDs in 2012 totaled $13.7 B. That total does not include the sale of bare die or modular lighting products, but solely packaged LEDs whether the product in question is a single-emitter LED, a multi-die package, or a chip-on-board (COB) LED array. The total market was up from $12.5 B in 2011 as we covered in our SIL report from last year.
LED market by segments
Shum segments the packaged LED market into backlight (TV/monitor), mobile, signage, automotive, lighting and other categories. For the first time in 2012, general lighting became the largest market for packaged LEDs globally at $3.1 B. Fig. 1 depicts the market breakdown by revenue for packaged LEDs across the segments and shows the growth or decline in the segments from 2011 to 2012.
Shum's talk was entitled, "The art of war" and she opened saying, "We have had a bloodbath in the last few years in the LED industry." As she reported last year, there has been an oversupply of components in the market driven primarily by a surplus of products made for the backlight segment. The TV market has been slower than some expected to transition from fluorescent to LED backlights while LED manufacturers sought to win in that segment.
The result of the surplus has been even lower LED prices than could be justified by advancements in LED manufacturing technology – especially in low- and mid-power devices. But the low prices have impacted pricing expectations even in high-power LEDs designed specifically for lighting applications. And LED manufacturers have competed tenaciously to win market share, leading to the title of the presentation.
Manufacturer rankings
Continuing with the battle theme, Shum provided her rankings of the top 10 packaged LED vendors for 2012 (Table 1) and then discussed strategies that different manufacturers are pursuing and specific challenges that some face. There was little change in the order of the suppliers relative to 2011, although Shum also supplied growth/decline rates by manufacturer that could foretell future changes.
Samsung was a major mover in terms of growth, although its overall position in the ranking was unchanged. The growth, according to Shum, comes from its production of LEDs for use in Samsung consumer products such as TVs. Likewise, Lumens entered the rankings in a tie for the tenth spot – actually making the rankings a top-11 list. And Lumens is another major supplier to Samsung for consumer products. Samsung, however, seems intent on continuing to ramp its LED manufacturing numbers, becoming even more vertically integrated in terms of its consumer products. Toyoda Gosei jumped a spot in the rankings. Shum said that the company's 37% growth came thanks to supplying LEDs for Apple mobile products.
Cree and Philips Lumileds appear to be the most prominent beneficiaries of the ramp in LEDs used for general lighting applications. Both experienced growth in the 20% range. And as we will discuss in more detail shortly, general lighting is the segment with the most long-term growth potential.
Shum said that the top 11 companies in her rankings accounted for 72% of the global packaged LED revenue. Manufacturers in Japan led with 30% of the overall market followed by Korea at 28%, Taiwan and South East Asia at 15% and China at 8% (Fig. 3). It might be worth noting that Shum has expressed the opinion that China will have a player in the top ten within five years. Manufacturers in the US and Europe combined make up 19% of the total market.
Technology and market strategy
In terms of strategy, Shum described different approaches that manufacturers are taking to differentiate their products and grow their market. For example, she cited the recent
100W COB LED announced by Sharp
as an example of greater lumen output through larger size. She noted that Cree has continued to push performance in terms of efficacy, specifically mentioning the recently announced
200-lm/W XLamp MK-R LED
. Shum said that Bridgelux was attempting to simplify luminaire design with its
Vero COB LEDs
that separate the LED and plastic holder that can include either large solder pads or a connector.
Of course lower-component cost is a common goal among LED manufacturers, although the manufacturers take different approaches to the fact that higher volumes and maturing manufacturing technology is enabling cost reduction. Cree, for example, tends to try and keep LED cost relatively constant while offering higher performance – still providing cost savings at the SSL system level as fewer LEDs are required. Shum cited Nichia for being at the forefront of LED price drops and noted the company's 757 high-power LED family that is packaged more like a low- or mid-power device (Fig. 2). Nichia packages the 757 LEDs in a plastic QFN (Quad Flat No-leads) package developed and widely used in the broader semiconductor market.
Separate from technology strategy, Shum also noted that LED manufacturers are taking different business and market approaches such as the aforementioned Samsung strategy of vertical integration. She siad that many companies were seeking to grow through mergers or alliances mentioning specifically Epistar and Huga Optotech; Nichia and Citizen; and Toyoda Gosei and Showa Denko. Cree, Osram, and Philips are all helping to drive the LED component market by pushing SSL deployment – essentially another approach to vertical integration. Shum did not have positive thoughts for the small- and mid-size LED manufacturers essentially predicting that most will not survive as independent LED manufacturers.
Market segment details
Getting back to market segments, Shum discussed each in depth. The 2012 sales were broken down by SSL at 23%, backlights for TVs and monitors at 22%, mobile at 19%, signage at 13%, automotive at 10%, and other at 13 %. Referring back To Fig. 1, it's clear that most of the segments are saturated or are moving quickly toward that position, with the exception of lighting. The lighting segment experienced tremendous growth from just over $1.5 B in 2011 to the $3.1 B number in 2012.
Still all of the segments are substantial in terms of LEDs consumed and warrant further examination starting with the backlight segment that had been the largest growth segment for LEDs prior to 2012. Last year at SIL, Shum predicted that a new class of low-cost, direct-backlit TVs were headed to market and that the trend could greatly impact LED sales. At that time no companies were actually producing what Shum calls chubby TVs. She said that from March to December of 2012, however, there were around 20 million such TVs sold globally.
The driver behind thicker TVs is lower cost. Making the TV thicker allows the TV manufacturer to use fewer brighter LEDs to effectively backlight the screen. That may seem completely ironic given that the value proposition of LED-based TVs has been either super-slim edge-lit models, or direct-lit models that greatly enhanced picture quality via large numbers of LEDs and local dimming. But now LED backlighting can be a low-cost play for LED manufacturers at the lower end of their portfolio.
TV trends
Shum predicts that the chubby TVs will represent an increasingly larger portion of the market over the course of the next five years. Fig. 4 depicts both the revenue value of the LEDs used in different types of TVs on the left axis and the number of LEDs that the types of TVs will consume. You can clearly see the impact of reductions in LED prices going forward as the TV segment will consume more LEDs while the market value of those LEDs declines.
There are a number of factors that could yet impact the forecast. At the Consumer Electronics Show back in January, for example, a number of companies demonstrated what are being called Ultra HD or 4k TVs that feature 4000×2000-pixel resolution – four times the resolution of today's best HDTVs. It remains to be seen how fast those sets come to market or if consumers will pay a premium price for them. But they will use significantly more LEDs. Such TVs will almost universally use a direct-backlight scheme with local dimming. Shum said each set could consume more than 5000 7030-package LEDs.
Energy regulatory issues could also come into play including the Energy Star program administered by the US Environmental Protection Agency and at the state level by programs such as California Title 20. For example, Energy Star 6.0 requires that TV sets larger than 55 inches consume no more power than 55-inch sets. Direct-backlit designs with local dimming consume less power because the backlight LEDs for much of the display may be dimmed at any given time. So such regulations could increase the use of local dimming, or TV manufacturers could use the chubby model and further reduce the number of LEDs used and maximum light levels that TVs are capable of delivering.
Mobile, auto, and signage applications
Just behind the backlight market in terms of revenue, the mobile segment remains significant, consuming more than $2.5 B in LEDs and is comprised of both phones and tablets. The phone segment alone totaled $1.4 B in 2012. There are two factors driving more LED sales – the transition to smartphones requiring more and better backlights and the broad inclusion of an LED as a camera flash on phones.
Fig. 5 shows Shum's market projection for the mobile phone space over the next five years. Sales into the flash usage are the only place where she sees revenues rising. But the rising penetration of smart phones will to a degree mitigate the impact of falling LED prices. The tablet market is less certain at this point, although Shum did note the overall trend of an increase in tablet sales relative to decline in notebook computer sales.
The auto market includes both interior lighting and exterior lighting including headlamps. The latter promises to be the growth sub segment. It is being enabled by what Shum termed the magic bullet – new optics. Manufacturers are developing total internal reflection optics (TIR) that can enable a number of different headlamp types that will ultimately allow auto manufacturers to move to LED-based designs across their entire fleet.
At the low end of the auto market you will see reflector-type designs with a transition to projector-type headlamps that use TIRs on higher-priced vehicles. At the high end, there are products classified as direct-projection headlamps that have multiple LED/optic elements for different illumination angles that can go far beyond the legacy low- and high-beam settings in terms of beam control.
The total market for LEDs used in exterior auto lighting applications in 2012 was $737 million. Fig. 6 details the total exterior lighting market broken up by how the LEDs are used projected through 2017. The daytime running lamps (DRL) usage has been the largest consumer of LEDs although that will give way to headlamps in the 2014-2015 timeframe. And the headlamp usage is growing at a CAGR of 36% based on LED revenue. Shum projects a relatively flat market for LEDs used in interior applications. More LEDs will be utilized in more ways than ever, including as backlights for what are becoming almost ubiquitous video panels. But LED component price drops will keep the market flat from an LED revenue perspective.
The signage market is one that is fully saturated in terms of using SSL technology. Still, Shum projects steady, although unspectacular, growth for the segment. In 2012, LED revenue for the segment totaled $1.7 B and Shum projects that it will cross $2 B in 2015.
LEDs in lighting
Coming full circle, the real growth in LED sales will come in general SSL applications. Shum projects that LED revenue from lighting to grow from the previously mentioned $3.1 B in 2012 to $4.4 B in 2017, representing a CAGR of 7% (Fig. 7).
The projected growth is especially impressive if you consider the rate at which prices are dropping. Fig. 8 depicts the increase in efficacy over the past five years plotted against the decrease in dollar per kilo lumen ($/klm) – the latter a metric that the US Department of Energy (DOE) tracks and projects in its SSL program. Indeed in the DOE's latest SSL Multi-Year Program Plan published in April 2012, the agency projected that it would be after 2013 before packaged LED prices dropped to the $3/klm level and after 2015 before prices hit $2/klm. The $3.45/klm number in Fig. 8 represents the average for the year 2012. At SIL, Shum said she thinks the figure has already dropped to $2/klm via products such as the Nichia 757 mentioned earlier.
Later in the Plenary session Bhandarkar, director of research for LED lighting at Strategies Unlimited, presented data on the actual market for lighting products. Bhandarkar said replacement lamp revenue grew from $2.1 B in 2011 to $2.58 B in 2012. The largest jump came in Japan where energy concerns caused by the earthquake and tsunami that occurred in 2011 knocking out major energy-generation facilities.
In the luminaire sector, revenue grew from $7.2 B in 2011 to $9.2 B in 2012. The commercial market segment is leading the adoption of SSL, representing 23% of the market. Growth in luminaires is fairly consistent across the globe. For the first time, Bhandarkar also reported on another category that includes products such as flexible strings, furniture lighting, airplane lighting, toys and other products that totaled $2.75 B bring the overall market total to $14.5 B.
Bhandarkar also addressed some specific types of products. She said, "LED downlights became a commodity market in 2012 – more than 50% of products sold in Japan were LEDs." Looking forward, she said "Troffers will be the next major wave of SSL deployment starting this year." She expects the troffer market to be strong in 2014 and going into 2015.
Overall, the SSL market will enjoy a CAGR of 12% through 2017. Bhandarkar projects that SSL luminaire revenue will exceed $20 B in 2017. For more details from on Bhandarkar's presentation, watch for an article in the next issue of our sister publication Illumination in Focus.
Projecting the packaged LED market
Given the push that packaged LEDs are getting from lighting applications, where are we headed you might ask? The news was better than last year. At SIL in 2012, Shum projected a slight increase in packaged LED revenue in 2013 followed by a -0.2% CAGR through 2016. Given the continuing price drop in components, the revenue forecast hasn't changed tremendously but the five-year CAGR projected this year is positive at 1.8% as depicted in Fig. 9.
Lighting will continue to grow and drive the market. Shum predicts that packaged LED revenue will hit $15 B by 2017. For the first time, Shum also showed a chart reflecting the number of packaged LEDs sold (Fig. 10). We include it here to make the point that in terms of unit volumes, the industry is still in a tremendous growth mode. But as Shum pointed out, the numbers can be misleading because the units sold include everything from single-die packages to COBs that have dozens of emitters in a package. A chart that showed LED die unit volume would show even steeper growth.