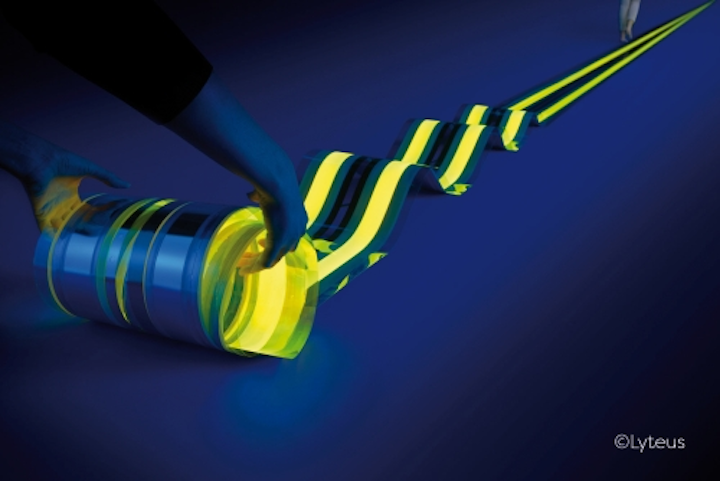 It rolled off the line at nearly 50 ft in a lower-cost production process that could now be ready for prime time.
The long road to OLED just got longer, and that's good.
Two leading innovation and research groups, Holland's Holst Centre and Germany's Fraunhofer FEP, said they have created the world's longest OLED, rolling a 15m (49.2-ft) version off a pilot production line at Holst facilities.
The development could lead to a much-needed decline in production costs for the technology, something that has prevented widespread use of OLEDs as a light source for architectural and general illumination.
OLEDs are swatches of material that light up in response to electricity. They have for years been heralded as the future of lighting because they can be woven into the fabric of buildings, furniture, decorative items, clothing, and just about anything — especially those that are flexible rather than rigid.
While they have made inroads as television and gadget screens, they have yet to fulfill their more general promise.
Holst and Fraunhofer themselves have been trying for a decade to perfect a production process known as roll-to-roll (R2R), which they used to unfurl the 50-footer that they announced this month.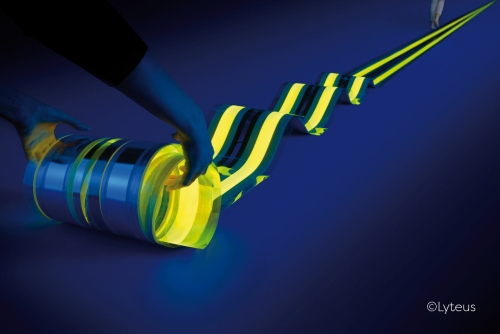 OLED technology is on a roll via the EU's Lyteus project with Holst and Fraunhofer.
"Roll-to-roll production promises higher volumes and lower costs for flexible electronics applications like OLEDs," said Holst Centre program manager Pim Groen. "At Holst Centre we have been developing a unique, solution coating roll-to-roll line for 10 years. The 15m OLED shows that the technology is now ready for industrialization, and can deliver cost-effective, high-volume OLED production."
Holst, based in Eindhoven, and Fraunhofer FEP, based in Dresden, worked together under the EU's €14 million ($15.9 million) Lyteus initiative, aimed at helping to commercialize R2R OLED technology. Lyteus in turn is part of PI-SCALE, an EU R2R OLED development project.
"Holst Centre and Fraunhofer FEP successfully demonstrated the possibility for continuous production of OLEDs of any length," the groups said in a joint statement. "This both reduces the cost of production and enables 'cut-to-fit' lighting for applications such as transportation, architecture, and interior design."
Elaborating on the production technology, they explained:
"It is the first OLED source produced using a unique R2R process that combines the performance of an evaporated OLED stack with solution processing of auxiliary layers … Fraunhofer FEP deposited an indium-tin oxide (ITO) anode onto a protective multilayer barrier film produced by Holst Centre. The roll was processed at Holst Centre, where slot-die coating was used to structure the anode and deposit the first layer of the OLED stack. Fraunhofer FEP then evaporated the rest of the OLED layers and finalized the devices by lamination of Holst Centre barrier. The resulting devices have a good homogeneity and an efficacy of 15 lm/W at a light output of 1000 cd/m2."
At 15 lm/W, the efficacy of the OLEDs is well below LEDs, which are single-point light emitters. OLED developers continue to face efficacy challenges to go along with their manufacturing cost hurdles.
Meanwhile, OLEDs continue to hold promise for all sorts of innovative applications. For example, earlier this year, Fraunhofer FEP — its full name is Fraunhofer Institute for Organic Electronics, Electron Beam and Plasma Technology FEP — led a research team that developed a prototype flexible OLED bracelet that could potentially help heal wounds and treat depression. LEDs are also working their way into such areas.
MARK HALPERis a contributing editor for LEDs Magazine, and an energy, technology, and business journalist (markhalper@aol.com).